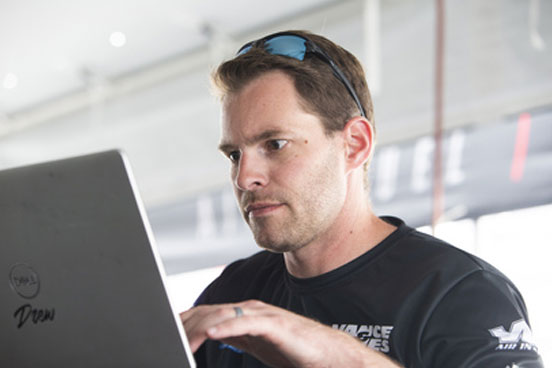 ANDREW HINES
Crew Chief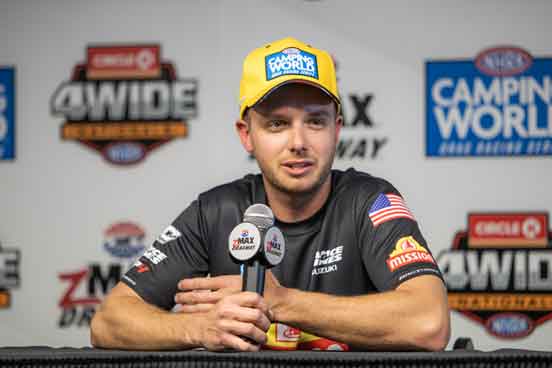 GAIGE HERRERA
Pro Stock Racer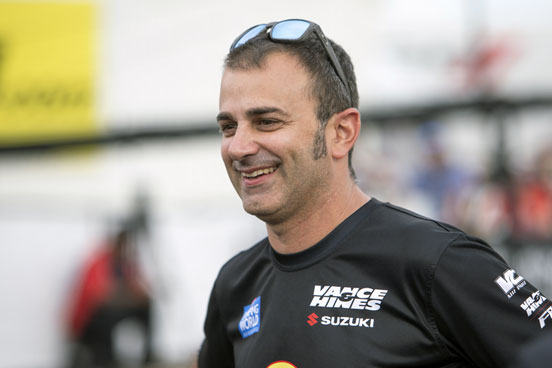 EDDIE KRAWIEC
Pro Stock Racer
MEET THE BIKE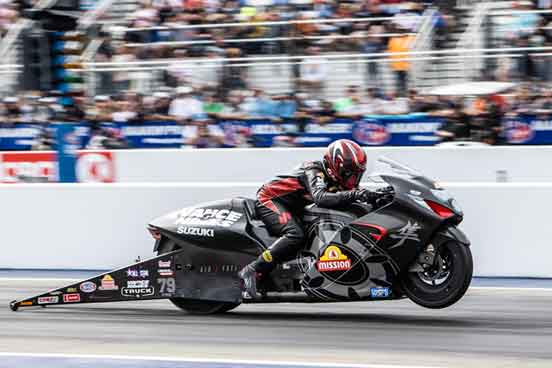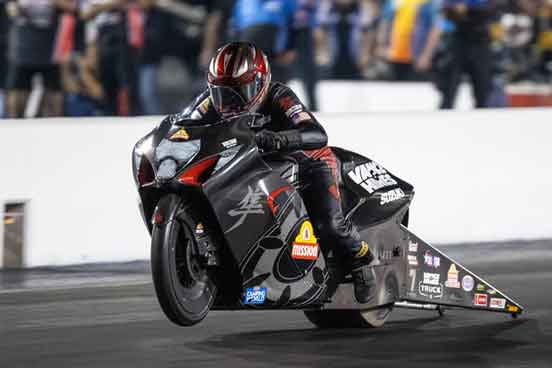 SEE THE DEVELOPMENT OF THE GEN 3 HAYABUSA NHRA PRO STOCK MOTORCYCLE IN PARTNERSHIP WITH SUZUKI HERE
Santa Fe Springs CA – January 23, 2023 – Vance & Hines today announced the members of the Vance & Hines/Mission/Suzuki NHRA ProStock Motorcycle (PSM) Team, which will feature four-time champion Eddie Krawiec and 29-year-old Gaige Herrera competing for the 2023 championship. The riders will be aboard Suzuki Hayabusa motorcycles. Six-time champion Andrew Hines returns as crew chief in 2023.
Gaige Herrera is a fourth-generation racer who has had success in XDA's Pro Street and Outlaw racing classes, with race wins in both classes earned over the past several years. Herrera is no stranger to fast bikes, having numerous runs in the 6.30's over 200 MPH. He is a long time Suzuki rider, holding the record for the fastest Nitrous Suzuki Hayabusa in the country. He's also familiar with great equipment, since he's been a customer of Vance & Hines for the past five years.
In 2022, Herrera competed in six NHRA events, his first taste of NHRA PSM racing. He qualified in four of the six races he entered. Herrera impressed the Vance & Hines team when he rode Eddie Krawiec's Suzuki in a test following the Las Vegas round in October.
"This is such a tremendous opportunity," said Herrera. "I never expected to get a call with an invitation to join the Vance & Hines team, and when I told my dad (long time drag racing fixture Augustine Herrera), he was as excited as me."
"We love finding and supporting talented riders," said Terry Vance, co-founder of Vance & Hines. "We have another guy on the team that we hired before he had ever qualified for an NHRA PSM race. That worked out really well."
Eddie Krawiec's success in PSM is unquestioned. A member of the Vance & Hines team since 2007, Krawiec has accumulated 49 NHRA PSM wins and four championships (2008, 2011, 2012, 2017). He was the first member of the team to enter the Denso 200 MPH Club with a current top speed of 203.49 MPH.
"This will be my second year on the Suzuki Hayabusa and I'm ready for a big year for me and for the team," said Krawiec.
Andrew Hines, a six-time NHRA PSM champion, leads the team as Crew Chief again this year. Andrew is the son of Vance & Hines co-founder Byron Hines and has notched 56 race wins in the PSM class.
"I watched Gaige's first run at the US Nationals and immediately knew this guy was something special, he's a long-time Suzuki rider and it was easy to see how confident he was on the bike," said Andrew Hines. "I can't wait to help him develop into a championship level rider in PSM on one of our bikes."
Suzuki continues its partnership with the Vance & Hines team and will have a significant presence at several of the stops on the 2023 schedule. The Suzuki display will host rider autograph signings at most races and Suzuki's 2023 motorcycles will be on display for race attendees.
"We're happy to continue our relationship with the Vance & Hines squad for 2023," said Kerry Graeber, Senior Vice President, Sales & Marketing at Suzuki. "We look to continue our shared history of success in NHRA drag racing and welcome Gaige to the team to pilot the legendary Hayabusa ProStock motorcycle alongside Eddie and crew chief Andrew."
The 2023 NHRA Pro Stock Motorcycle season begins at the Gatornationals in Gainesville FL March 9-13, 2023. The PSM schedule includes 15 stops in 2023 with the finale at the In-N-Out