Exhilaration Comes Standard
If you want to conquer the roughest terrain, go with parts that absolutely dominate on the track. Made by the same engineering team behind a small mountain of motorsport championship titles, Vance & Hines performance parts have the style, sound and punch to completely transform your next backcountry adventure. Soar up rock crawls. Tear across the dunes. All with the brawny sound of raw horsepower filling your ears. Because when you go off-road, go all out.
Vance & Hines SxS Exhaust
Off Road Proving Grounds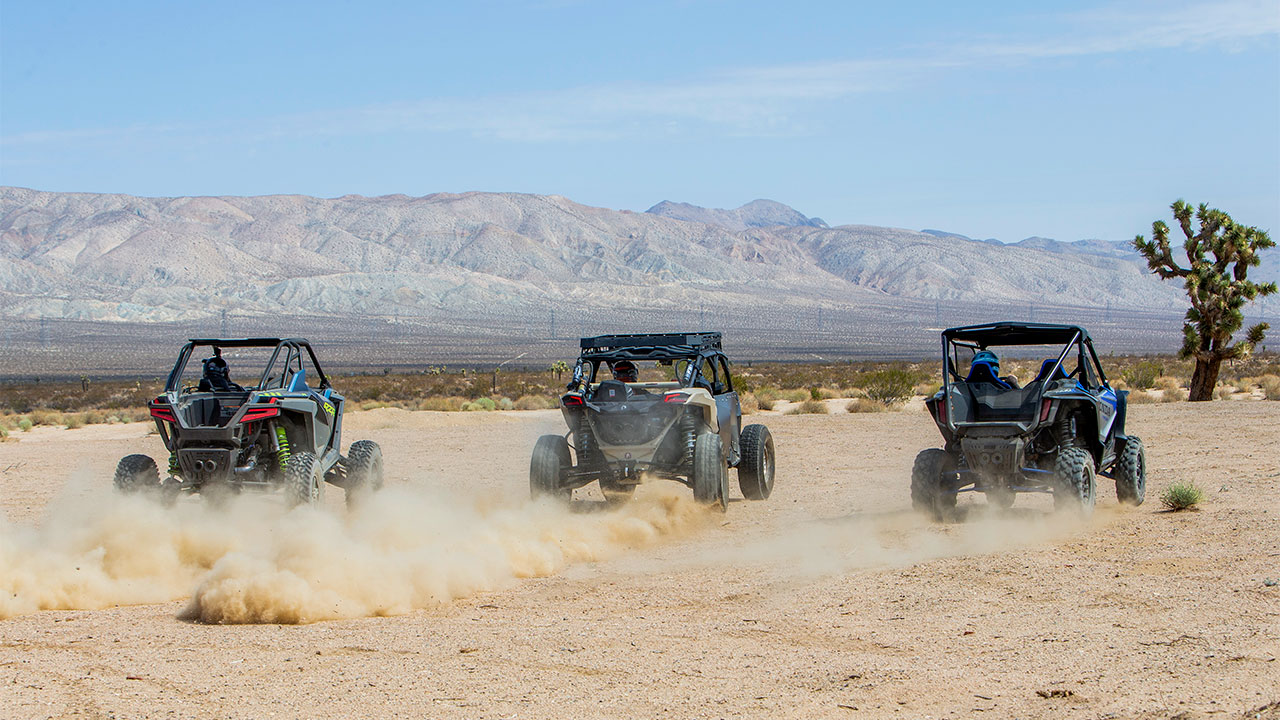 Click Here to See Us in Action!
Every Adventure Needs a Good Twist
Forged by the toughest and most grueling terrain in the southwest, the Vance & Hines Mojave Eliminator Series of exhaust systems has arrived to bring even greater excitement to the quickest SXS off-road performance vehicles on the market today.  Tested and developed at the Vance & Hines Off Road Proving Grounds in the Mojave Desert, every aspect of this new line of exhaust systems has been tailored to meet the rigorous demands of off-roading. From heavy-duty bracketry to an automotive-grade all-mechanical muffler design that is maintenance-free, every engine-specific application produces power gains along with a deeper and more satisfying growl during spirited driving, while still meeting SAE J1287 sound standards.
Each of the Mojave Eliminator Series systems are visually striking, featuring impressive 4-inch dual center exit tips fitted with spark arrestors and encased in a custom laser-cut rear guard that transforms the rear of the vehicle.  The initial launch of the series includes three part numbers which fit Honda, Polaris and Can-Am units dating from 2017 to today (see below for specific fitments).
Get ready to rumble!

Style, sound and performance are the three pillars of our brand… We knew we wanted to enter the side-by-side market with a bold statement about Vance & Hines. Not just great performance, not just great sound, but also a style that totally transforms the rear of the vehicle. I think our team nailed it, and I can't wait to show it to customers this weekend and the Sand Sport Super Show."
~ Mike Kennedy, Vance & Hines President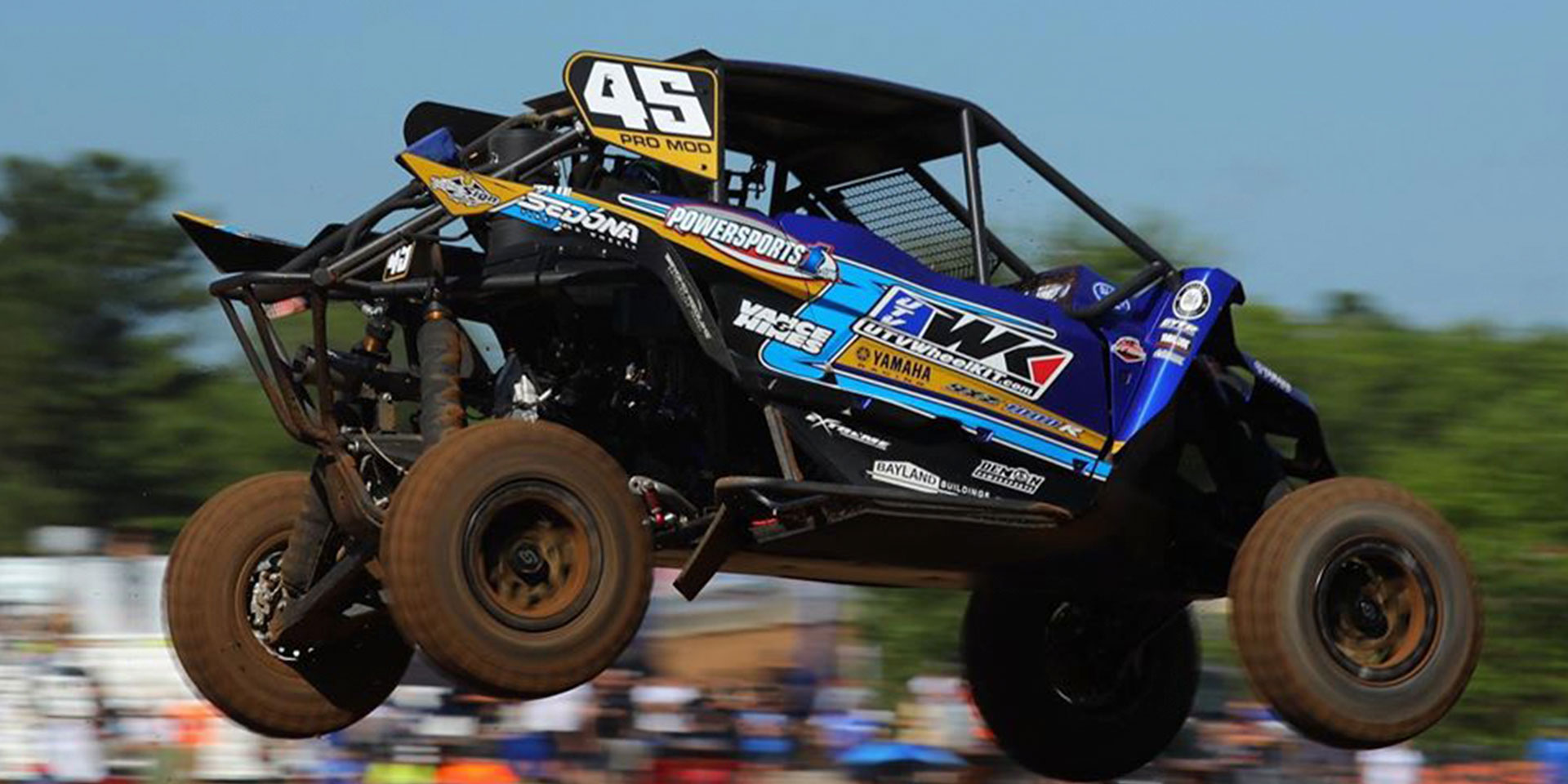 Built Through Racing
Since Day One, we have used motorsports as the basis for product development. Our learnings at the race track with the Yamaha YXZ1000R have heavily influenced the evolution of the Mojave Eliminator Series, refined through many miles of testing at our Off Road Proving Grounds.
MOJAVE ELIMINATOR SERIES
Available for:
2019-2023 Honda Talon
2017-2023 Can-Am Maverick X3
2020-2023 Polaris RZR Pro XP and Turbo R
304 Stainless Steel Construction

4-inch Dual-Tip Center Exit

CNC Machined Billet End Caps

Laser-Cut Rear Guard

Deeper Exhaust Note

Meets SAE J1287 Sound Standards

Includes SAE J350 Compliant Spark Arresters

49-State and/or 50-State Emissions Compliant

Mounts to Factory Header or Down Pipe
Can-Am Maverick X3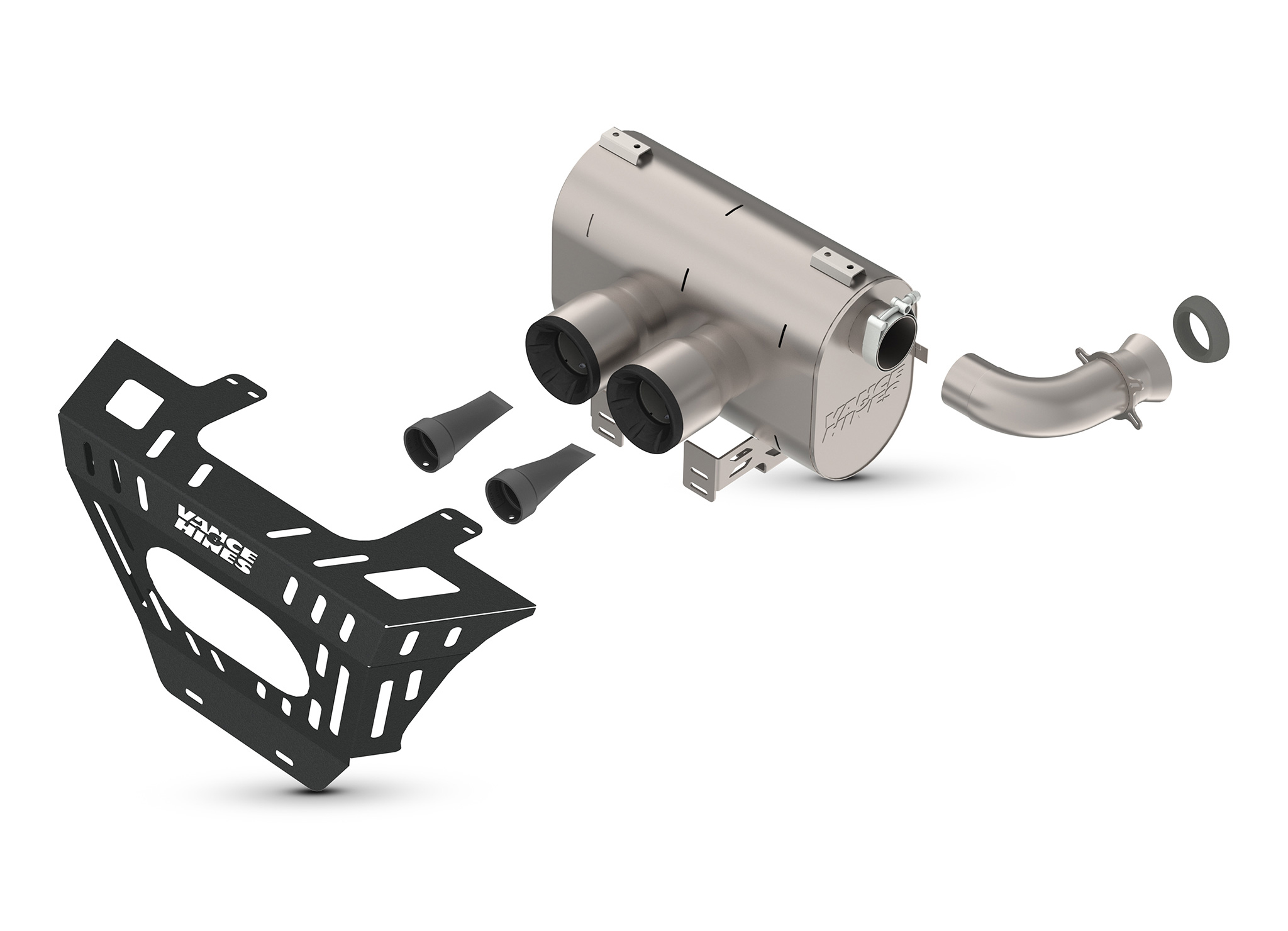 Click Here for More Information on Mojave Eliminator for Maverick X3
Honda Talon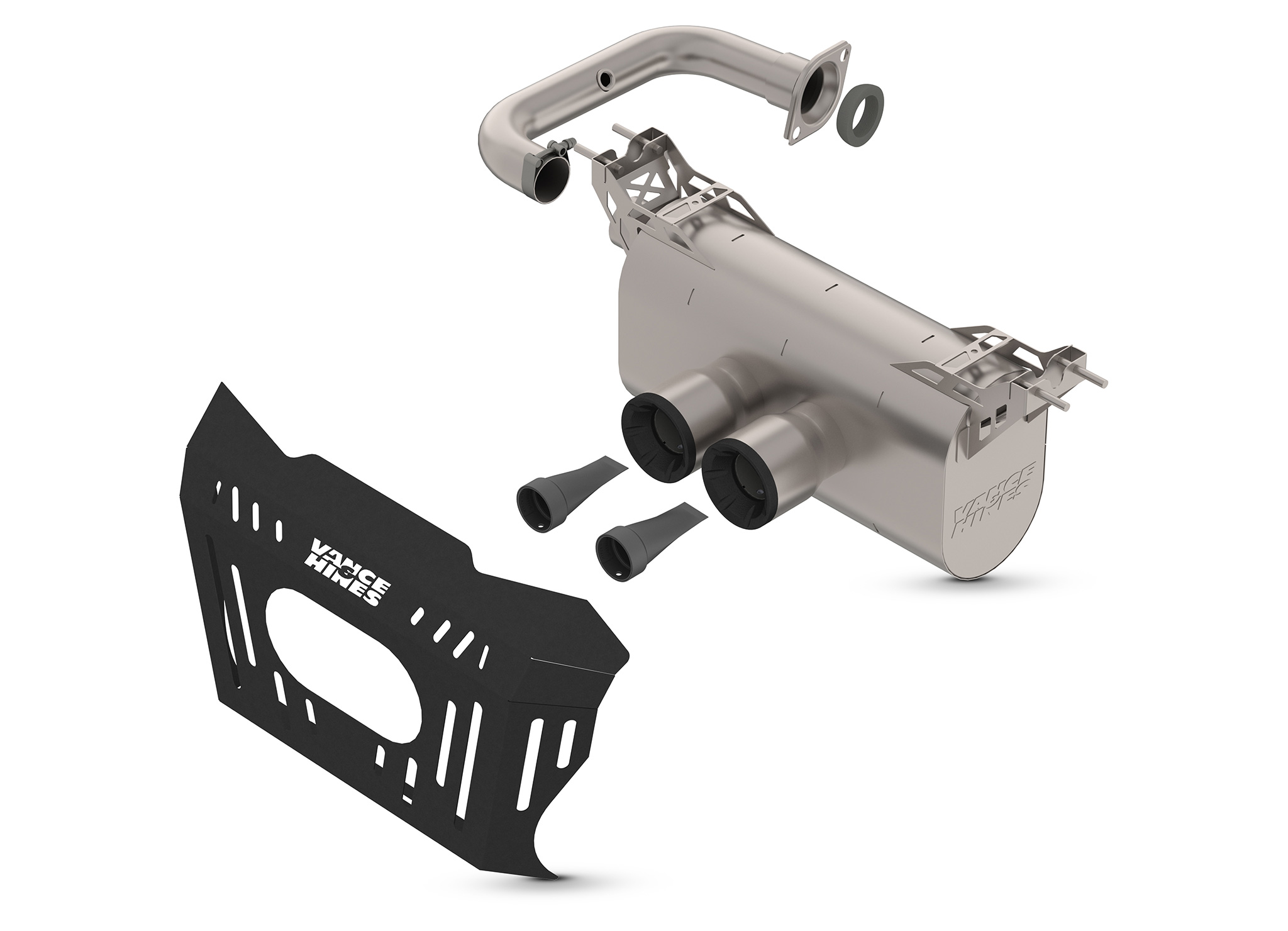 Click Here for More Information on Mojave Eliminator for Talon
Polaris RZR Turbo R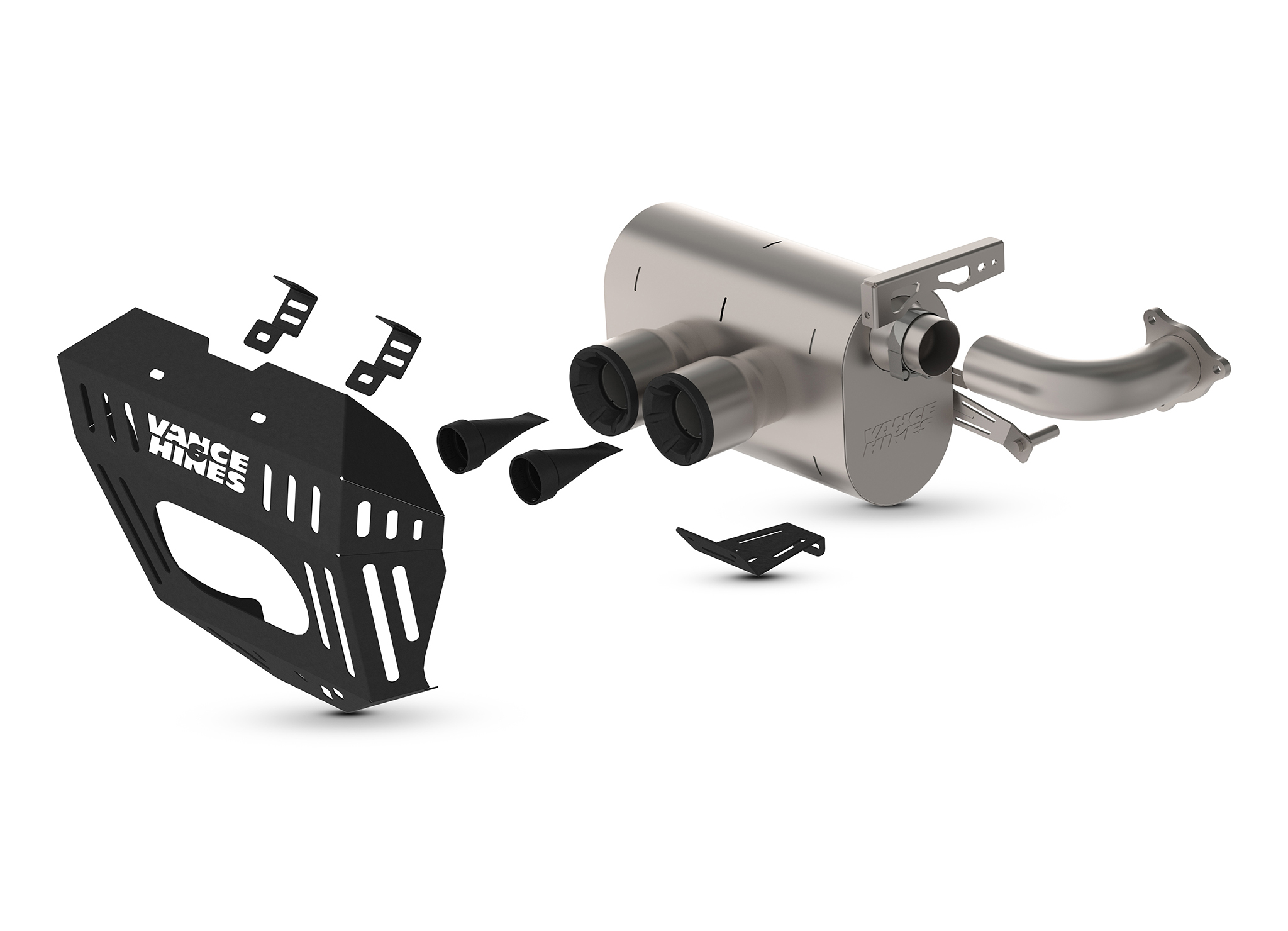 Click Here for More Information on Mojave Eliminator for RZR Turbo R