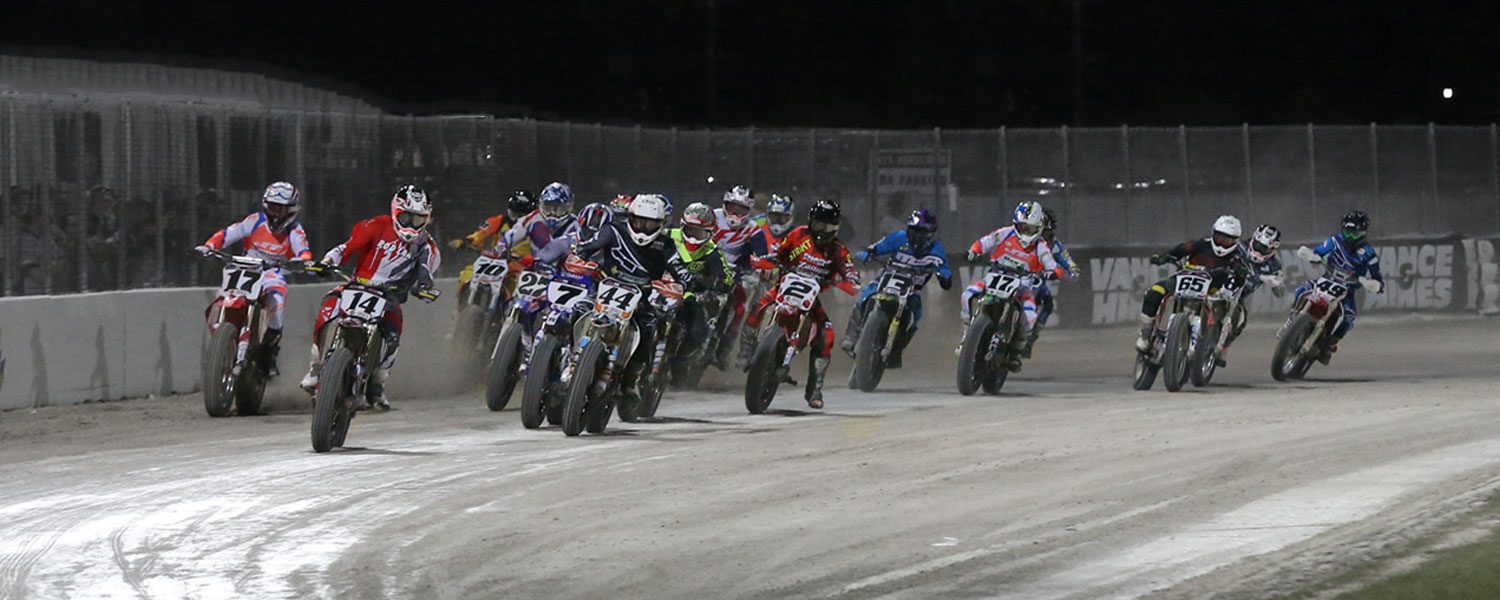 The 2016 AMA Pro Flat Tack racing season kicks-off this week on the DAYTONA Flat Track at Daytona International Speedway (DIS) where rounds one and two of the Harley-Davidson GNC1 presented by Vance & Hines and the GNC2 classes will take place this Thursday and Friday, March 10 – 11.
Hosting the season-opening event for the seventh consecutive year, the DAYTONA Flat Track is located just outside of DIS's Turn 1 and 2 West banking, and AMA Pro Flat Track riders will race there for the first time under the impressive backdrop of the recently completed "Daytona Rising" Motorsports Stadium.
One of the riders to watch in the top-tier Harley-Davidson GNC1 presented by Vance & Hines class is three-time and reigning GNC1 Champion Jared Mees (No.1 Honda CRF450R).
"I can't wait to get out there and compete," Mees said. "It's been a productive off season for me and I just really want to get back into competition and start off this season on the right foot. There are a lot of great riders in GNC1 and I know it's going to be another grind this year. It's what I live for and I'm just so excited for Daytona."
Mees will once again battle with the likes of 2014 and 2015 DAYTONA Flat Track winner Kenny Coolbeth, Jr. (No. 2 Honda CRF450R), Brad Baker (No. 6 Honda CRF450R), Bryan Smith (No. 42 Kawasaki KX450F), Jake Johnson (No. 5 Honda CRF450R) and more.
Smith has finished second to Mees in the GNC1 title race each of the last two seasons.
"It was really bittersweet for me last year to come up just shy of winning the championship for the second-straight year," Smith said. "It really fired me up this offseason, I've trained way harder and I'm even hungrier for 2016. I never stopped training since our final race in Las Vegas all the way up until now. I think I will be physically and mentally better this season."
Joining Coolbeth as former DAYTONA GNC1 winners that could make it to victory lane again this week are Briar Bauman (No. 14 Honda CRF450R), Sammy Halbert (No. 69 Yamaha YZ450F),Johnny Lewis (No. 10 Yamaha YZ450F), Mikey Rush (No. 54 Honda CRF450R), Brandon Robinson (No. 44 Honda CRF450R) and Stevie Bonsey (No. 80 Suzuki RMZ450), who split last year's DAYTONA victories with Coolbeth.
The rookie class in GNC1 will be led by standout 2015 GNC2 Champion Davis Fisher (No. 67 Honda CRF450R).
A showcase of the nation's up-and-coming riders, GNC2 competition is frequently just as intense as the GNC1 class. The list of riders to keep an eye on includes last year's DAYTONA class winnersAndrew Luker and Justin Jones, 2014 DAYTONA victors Ryan Wells and Brandon Wilhelm, and other young talents such as 2015 class runner-up Dan Bromley, Bronson Bauman, Jamison Minor, Brandon Wilhelm, J.R. Addison, Tristan Avery and several others.
After a pair of successful appearances at AMA Pro Flat Track events last year, the Super Hooligans will make their DAYTONA Flat Track debut as part of this Thursday's schedule of events. A flat track class organized by designer Roland Sands, the Super Hooligans feature big, custom twin-cylinder motorcycles that look like they rolled straight off of Main Street.
New for 2016, every round on the schedule will feature a large format high definition screen bringing the FansChoice.tv production to the fans in the grandstands.
The full DAYTONA Flat Track schedule begins each day with practice sessions for GNC2 at 3:00 p.m. and 3:20 p.m. for GNC1 riders. Qualifying rounds follow from 3:40 until 4:40 p.m. Opening ceremonies will commence at 7:00 p.m. and lead into three heat races for the GNC2 class before the GNC1 heats. After an 8:00 p.m. track prep intermission, the semis will begin to build momentum straight into the featured main races at 8:40 p.m., eliminating the Dash for Cash and removing any chance that one of the stars could be forced to miss a main event.
Tickets are available at https://www.daytonainternationalspeedway.com but race fans unable to attend can watch all of the racing live as it happens, free of charge, on www.FansChoice.tv. Every session from the DAYTONA Flat Track will be streamed live for fans around the globe. Visit www.FansChoice.tv for more information and session programming times.
Learn more 2016 AMA PRO FLAT TRACK SEASON BEGINS THIS WEEK WITH ROUNDS ONE AND TWO AT THE DAYTONA FLAT TRACK, MARCH 10-11 on VANCE & HINES NEWS