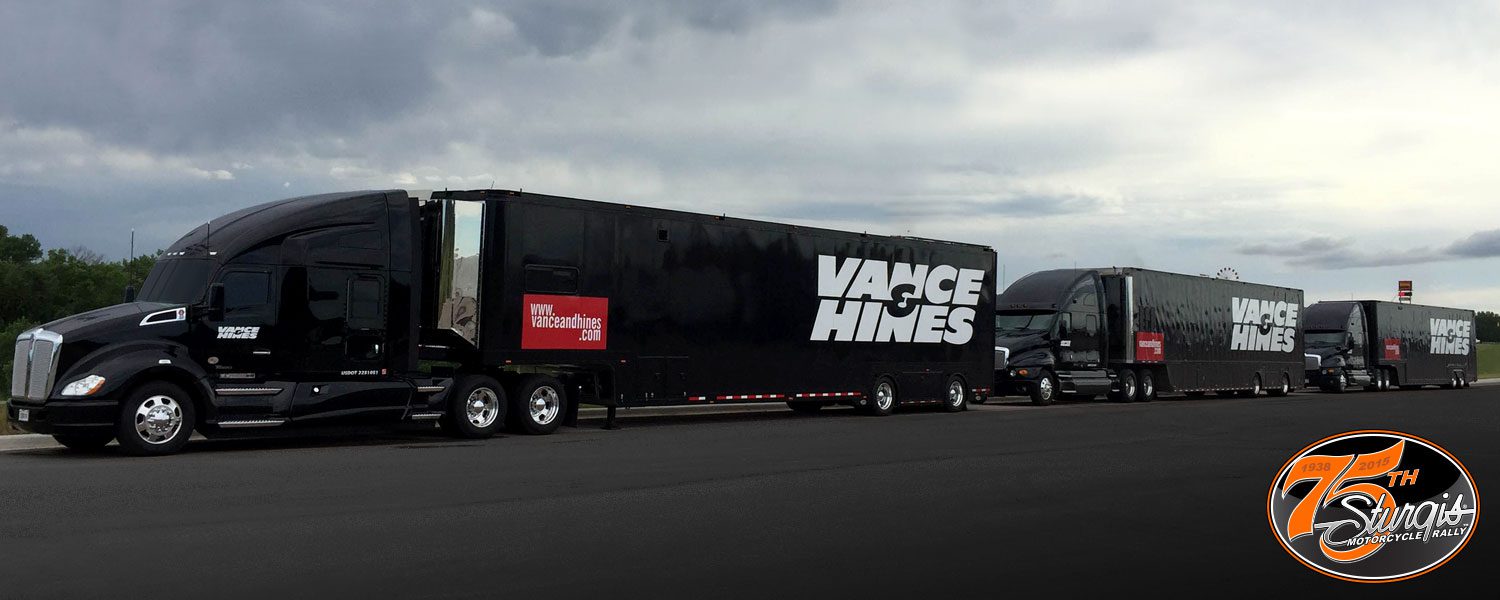 Sturgis – this is the big one. The Black Hills Classic. This is the Rally people have been talking about and planning for all year. #75. The small town of Sturgis will be taken over by an estimated 1 million motorcyclists. But really, it is bigger than just one town. It is about the great state of South Dakota. South Dakota is a motorcyclists dream – with beautiful twisty roads, open highways, lush forests for camping and vacationing.  You know the places you are going to hang out and twist the throttle to: Deadwood, Keystone, Rapid City, Mount Rushmore, Custer State Park,  Downtown Sturgis, Buffalo Chip. It is going to be a monumental event.
And Vance & Hines is making it their biggest Rally ever as well.  For the first time, we have three semi-trucks to support the Rally and Racing.
Rapid City Rally Location: Black Hills Harley Davidson, I-90 exit 55 In Rapid City, we are open 8am-8pm, July 25 – August 8 and located directly off the I-90
Downtown Sturgis Rally Location: J&P Cycles Store, I-90 exit 30 In Downtown Sturgis, we are open 9am-7pm, July 28 – August 8 located at the J&P Cycles store on Lazelle.
Both Rally trucks will be available to assist you with making twisting the throttle of your Harley a little more fun during the Rally. We will have skilled technicians available to tune your Harley with our award winning Fuelpak FP3, VO2 Air Intakes and, of course, our legendary exhaust systems.
And we haven't forgot the racing heritage of Vance & Hines and Sturgis. Sturgis originally started with a motorcycle race and V&H is keeping the tradition going. The Black Hills will come alive with the AMA Flat Track Race on August 4th. And up until the night of the race, you can see the X-Games Harley Prototype Flat Track racing bike on display at Black Hills Harley. We will have our Vance & Hines Flat Track Semi-truck at the Black Hills Half-Mile on the night of August 4 to support the event. Make sure you come out to the track to cheer on the racers and enjoy some of the most competitive racing in the world!
And if you didn't already have enough to do at Sturgis this year, on August 6, make plans to visit the Buffalo Chip. Daredevil Doug Danger will attempt a 22-car jump on Evel Knievel's vintage 72' Harley Davidson XR-750. Vance & Hines will be there to cheer him on and help him twist the throttle a little harder.
For those of you that are fortunate enough to make it out to Sturgis, don't worry. Stay tuned to Vance & Hines Facebook and Instagram social media feeds as we will be posting 75 of the greatest moments from this year's Sturgis Rally.
#vanceandhines #vhpower#vhsturgis75
Learn more 75TH ANNUAL STURGIS MOTORCYCLE RALLY on VANCE & HINES NEWS