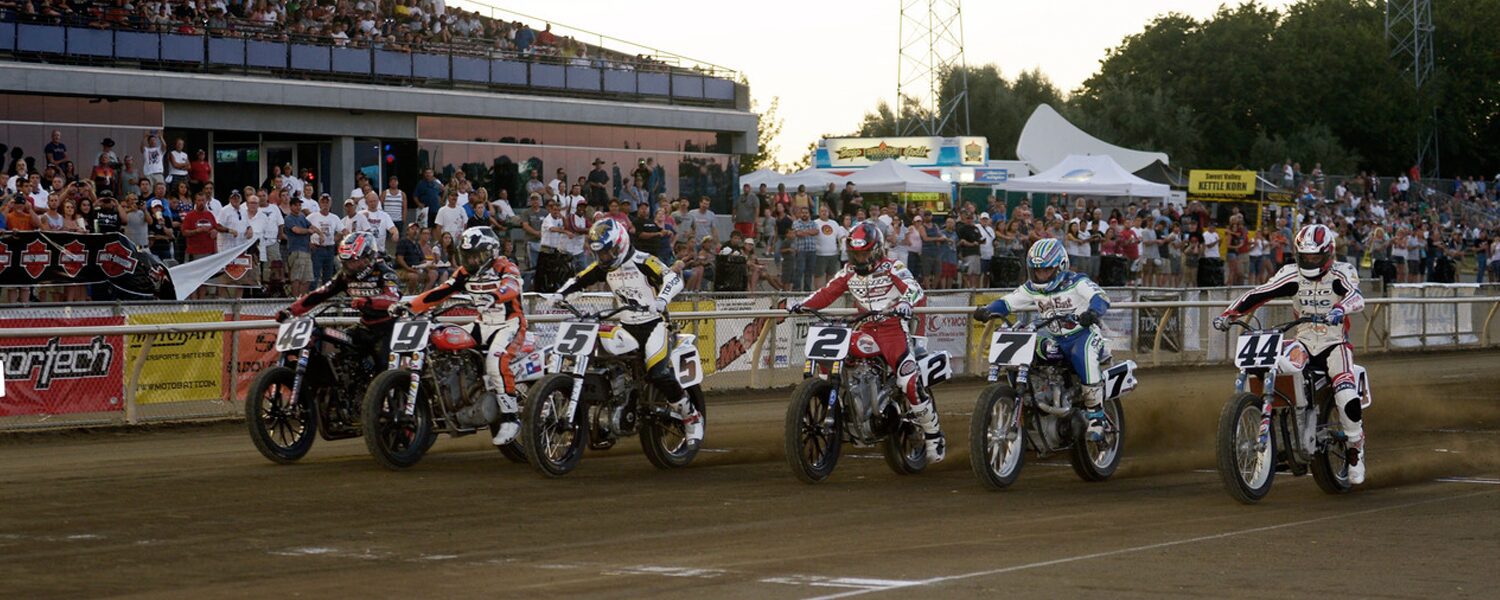 Courtesy of AMA Pro Racing
DAYTONA BEACH, Fla. (May 28, 2015) – Just days ago, the motorcycle racing world was buzzing around the Springfield Mile, where Bryan Smith scored a thrilling victory, Troy Bayliss made his AMA Pro Flat Track debut on his Ducati and Yamaha entered the fold, among many other exciting stories. Now the show rolls into California and the Cal Expo for the Sacramento Mile with the excitement reaching a fever pitch.
The race, which is set for Saturday, May 30, will also be the 50th running of the Sacramento Mile.
Fans can watch every moment live online, in high definition and free of charge at www.FansChoice.tv. Practice and qualifying are scheduled for 2:15 p.m. PT (5:15 p.m. ET) with an exclusive pre-race show at 4:30 p.m. PT (7:30 p.m. ET). Heats begin at 6:45 p.m. PT (9:45 p.m. ET) and the mains are slated for 8:55 p.m. PT (11:55 p.m. ET).
Smith will mount his black and green No. 42 Crosley Radio Kawasaki and try for his fifth Sacramento Mile victory in a row Saturday in the elite Harley-Davidson GNC1 presented by Vance & Hines class. He set the record with his fourth consecutive win at the Cal Expo in 2014.
Bayliss, the three-time World Superbike Champion who is testing his immense talents against the best flat track racers in the world, showed incredible improvement in Springfield on his No. 21I Lloyd Brothers Motorsports Scrambler-inspired Ducati. Over the course of the day, he shaved seconds off his lap times and wound up roughly one second off the fastest riders' pace. Sacramento will be the only West Coast appearance during Bayliss' five-race stint with AMA Pro Flat Track in 2015.
Bayliss' Lloyd Brothers teammate, Johnny Lewis, will also be carrying the hopes of Ducati on his No. 10 machine. Lewis was fast in Springfield, but crashed in the main event after a steering malfunction. He'll be ready to rebound in Sacramento.
Kenny Coolbeth Jr. and his No. 2 Zanotti Racing Harley-Davidson lead the Harley-Davidson GNC1 presented by Vance & Hines point standings by seven over defending Grand National Champion Jared Mees (53-46) on the No. 1 Rogers Racing Harley-Davidson. Smith is seventh in points with 28 following a slow start in Rounds 1 and 2 at DAYTONA Flat Track, but he's looking to quickly close the gap.
Sammy Halbert, rider of the No. 7 Kawasaki, is off to a fast start with his new Briggs Auto/Scott Powersports team and sits third in points with 44. Brandon Robinson and his No. 44 Latus Motors/Castrol Triumph are fourth with 37 points, four in front of Briar Bauman, who rounds out the top five entering Sacramento on his No. 14 USC/Hart Racing Kawasaki.
Last year, Smith fought off challenges for the lead on nearly every lap from a handful of riders, ultimately preventing a last-second draft pass by Jake Johnson and Mees, who finished second and third, respectively. The top three were separated by a scant .056 seconds. The last four Sacramento Mile margins of victory were all less than a tenth of a second.
This year's Sacramento Mile will also see the return of the "Clash of the Titans," which pitted two AMA Pro Flat Track legends, Chris Carr and Jay Springsteen against each other in a one-on-one on-track battle. The two thrilled fans with a back-and-forth exhibition which ultimately saw Springsteen take the win. Carr will be out to even the score this year.
Harley-Davidson GNC1 presented by Vance & Hines top 5 in points
1. Kenny Coolbeth Jr. 53
2. Jared Mees 46
3. Sammy Halbert 44
4. Brandon Robinson 37
5. Briar Bauman 33
Learn more AMA PRO FLAT TRACK CARRYING MOMENTUM TO THE WEST COAST FOR THE SACRAMENTO MILE on VANCE & HINES NEWS