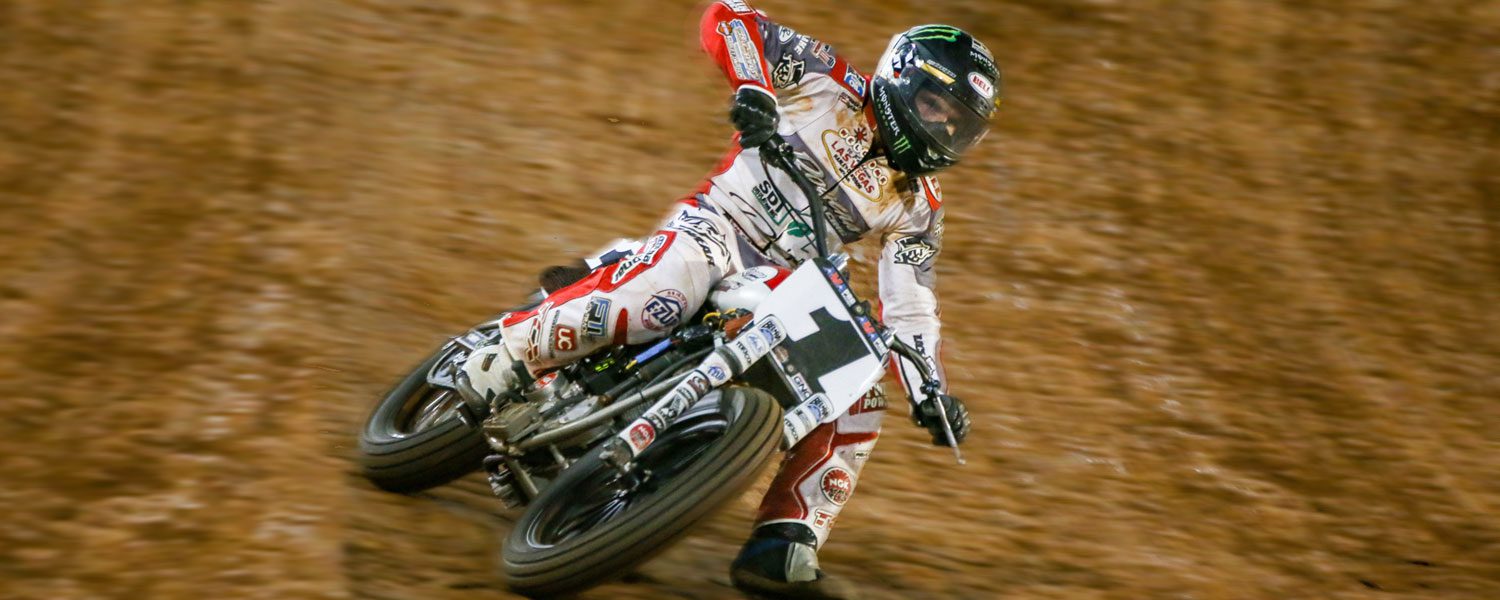 The AMA Pro Flat Track action resumes this weekend in Elbridge, N.Y. for the Central New York Half-Mile on Saturday, August 20 at Rolling Wheels Raceway Park. It's an all-new venue for the series and marks the return to The Empire State after an eight-year absence.
The fight for the Harley-Davidson GNC1 presented by Vance & Hines Championship is at fever pitch for Round 12 as time is running out with just three rounds remaining. In addition to Henry Wiles' record-breaking 12-straight win at the Peoria TT, there was a big shakeup in the GNC1 championship after Bryan Smith (No. 42 Crosley/Howerton Kawasaki Ninja 650) crashed out of the race and rival Jared Mees (No. 1 Rogers Racing/Las Vegas Harley-Davidson XR750) took advantage by finishing best of the rest, second behind the unstoppable Wiles.
Mees not only retook the points lead, but sits 12-points ahead of Smith going into the Central New York Half-Mile. The defending GNC1 champ will look to further extend that advantage before the championship heads to the final two rounds on the 2016 schedule – Smith's favorite, the Springfield Mile II and the season finale, the Ramspur Winery Santa Rosa Mile.
"Well you know that's (Rolling Hills Raceway Park) another track for me to hopefully extend some points," Mees said. "So if we can go in there and get the job done, we'll be looking good."
As for Smith, it's all about getting "W's" at this point. This rider will be "all in" to stay on track to reach his goal of claiming his first-ever Grand National Championship.
"What happened in Peoria can happen to any racer at any point," Smith said. "So I've got to keep charging, keep winning, that's all I can do."
Jake Johnson's third-place finish at the Peoria TT moved the No. 5 Zanotti Racing Harley-Davidson XR750 rider up into third in the GNC1 standings, displacing Brandon Robinson (No. 44 Kennedy Racing Harley-Davidson XR750) a spot. After a rough day at the Peoria TT with a 12th place finish, Robinson will look forward to get back on track at the Central New York Half-Mile.
Sitting fifth in the standings is Sammy Halbert (No. 69 Wieblers Harley-Davidson XR750) followed by Johnson's teammate Kenny Coolbeth, Jr. (No. 2 Zanotti Racing Harley-Davidson XR750) The veteran also happens to be the last rider to win a GNC1 National in New York, the series' previous outing back in 2008 at the Half-Mile in Monticello, N.Y. Coolbeth has also put together a pair of third-place finishes at the previous two Half-Miles – Charlotte and Rapid City. He will look to repeat his 2008 performance to score his first win in 2016.
Learn more AMA PRO FLAT TRACK HEADS TO ROLLING WHEELS RACEWAY PARK FOR THE CENTRAL NEW YORK HALF-MILE on VANCE & HINES NEWS