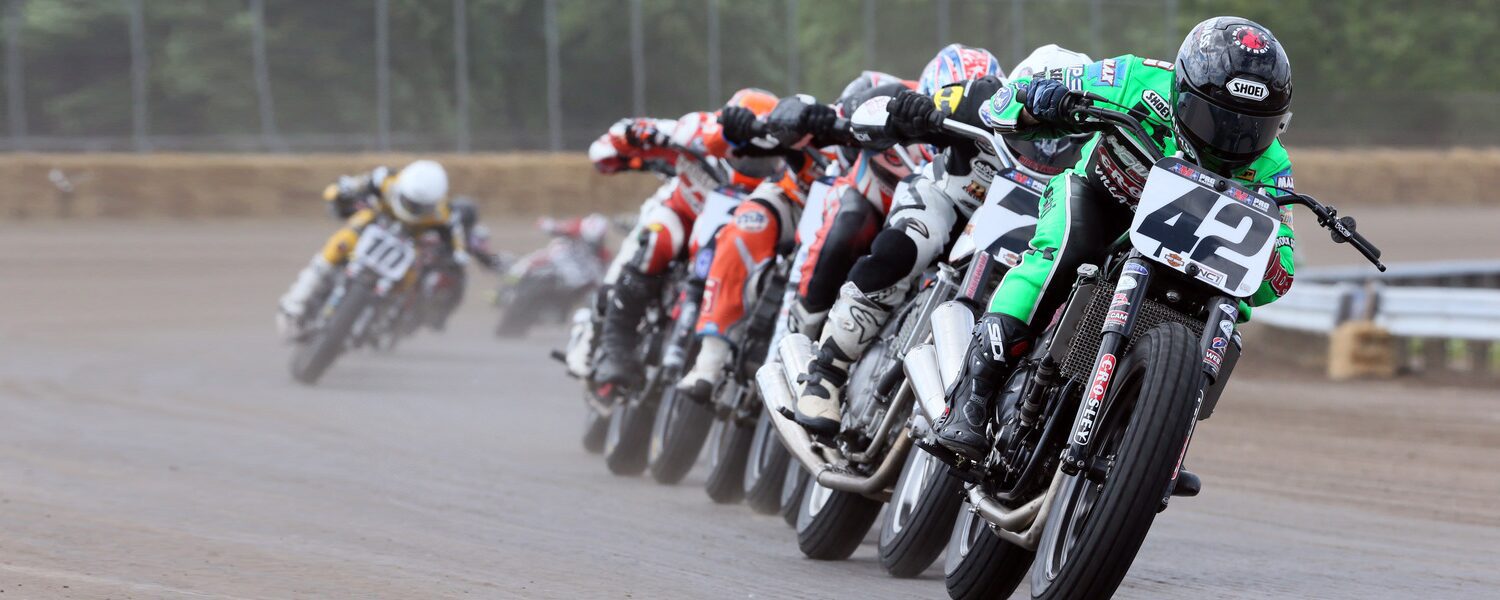 AMA Pro Flat Track heads to Santa Rosa, Calif. for the much anticipated final showdown for the Harley-Davidson GNC1 presented by Vance & Hines championship at the Ramspur Winery Santa Rosa Mile presented by Triumph. Two titans face off – Bryan Smith (No. 42 Crosley/Howerton Kawasaki Ninja 650) and Jared Mees (No. 1 Rogers Racing Harley-Davidson XR750) – with just two points separating the pair.
Going into the finale sitting in the driver's seat with that two-point lead is Mile Specialist Smith. The Flint, Mich. rider regained the points lead after the ruling was made by the independent Appeal Board last week, on Sept. 13, to overturn his disqualification from the Central New York Half-Mile and restore his finishing position and points. Smith has been close to claiming the GNC1 crown many times, so second isn't an option. He's going to Santa Rosa with one objective: winning.
"I'm pumped to be going into the final race with the points lead and let the championship be decided on a Mile track," Smith said. "And yeah, technically I can still clinch it without the win at Santa Rosa, but I'm going there to win it and leave no question about it."
As for three-time Grand National Champion Mees, he's not going to hand over that number one plate without a fight. Even though he knows it's a different scenario in 2016 with the finale at Smith's favored Mile track instead of a short track, Mees is still focused on keeping his streak rolling with his third-straight title.
"I'm excited for the last race," Mees said. "It should be good, separated by just two points … It's going to be an awesome battle. Of course Santa Rosa being a Mile, Bryan is going to be tough. We are not racing a short track this year, so I expect him to be the toughest guy out there. Let's get it on!"
Mees and Smith aren't the only riders looking for the last win of the season. Jake Johnson (No. 5 Zanotti Racing Harley-Davidson XR750) looks to end his six-year drought on the Mile tracks and end the season how he started it – with a win at the DAYTONA Flat Track II. Johnson sits third place in the GNC1 championship by one point over Brandon Robinson (No. 44 Kennedy Racing Harley-Davidson XR750), who is also looking to add another "W" to his tally in 2016, winning earlier this season at the Lima Half-Mile.
In fifth is the last rider to record a win at the Santa Rosa Mile – Sammy Halbert. The 2012 winner returns as the new addition to the Lloyd Brothers Motorsports team on the No. 69 Ducati 1100, while injured rider Johnny Lewis is still on the mend.
Coming off of his win at the Springfield Mile II, Kenny Coolbeth, Jr. (No. 2 Zanotti Racing Harley-Davidson XR750) would like to end the year with back-to-back wins. The veteran sits sixth in the GNC1 standings and is no stranger to the Miles either, Coolbeth, Jr. is very much the dark horse in this race.
In addition to the anticipation of who will take the GNC1 crown, the finale at the Ramspur Winery Santa Rosa Mile presented by Triumph will see the much-anticipated return of Indian Motorcycle to AMA Pro Flat Track competition. Piloting the No. 3 Indian Scout FTR750 will be former Grand National Champion Joe Kopp.
"We want to go there and show that we have a good, solid product," Kopp said. "Everybody knows this old guy is riding it, so it's not like I'm expected to go out there and whoop-up on the young guys but hopefully we can surprise a couple of them!
My goal is to go out there and win," Kopp continued. "In reality, I know it's going to be pretty darn tough on a track like that, with a new bike and everything there will be curve balls thrown at us that we may not be ready for, but I think we've done our homework pretty good, and I think we should hopefully be in the mix somewhere in there.
In the GNC2 class, 2016 GNC2 champ Ryan Wells (No. 1 Parkinson Brothers Racing Kawasaki Ninja 650) will go for win number five, his third on the Mile tracks. Sitting comfortably in the second spot in the GNC2 standings, Dalton Gauthier (No. 14A Racing Unlimited Kawasaki Ninja 650) would also like to add to his win total and tie Wells with four wins on the season. In third is Kolby Carlile (No. 36B K.C. Cycle Kawasaki Ninja 650) followed by Tristan Avery (No. 16A Ron Ayers Motorsports Kawasaki Ninja 650). Completing the top five in the GNC2-points race is Kevin Stollings (No. 99J Ben Evans Kawasaki Ninja 650).
It's an action packed weekend of racing, not limited to the season finale of the Ramspur Winery Santa Rosa Mile presented by Triumph. The weekend kicks off on Saturday, Sept. 24 with amateur and Super Hooligans racing at the Short Track.
Gates for the Ramspur Winery Santa Rosa Mile presented by Triumph will open on the morning of Sunday, Sept. 25 at 9:30 a.m. local time.
Tickets for the Ramspur Winery Santa Rosa Mile presented by Triumph start at just $25.00 for General Admission with Reserved Seating options available for purchase. Advance tickets can be purchased by visiting https://santarosamile.com/ticket-info/.
FansChoice.tv will broadcast the entire Ramspur Winery Santa Rosa Mile presented by Triumph LIVE and in high definition on Sunday, Sept. 25. Coverage will begin with Practice and Qualifying at 1:00 p.m. ET (10:00 a.m. PT). The Pre-Race Show will take place at 2:00 p.m. ET (11:00 a.m. PT), followed by Opening Ceremonies at 2:30 p.m. ET (11:30 a.m. PT) and Heat Races immediately afterward.
The GNC2 class will grid up for their Main Event at 4:32 p.m. ET (1:32 p.m. PT) followed by the 18 fastest flat track racers in the world at 5:00 p.m. ET (2:00 p.m. PT). Log on to FansChoice.tv and tune in at https://www.fanschoice.tv/watch-live/ama/flat-track.
Following racing action on Sunday night, tune into FansChoice.tv for live streaming from the season ending awards banquet starting at 11:00 p.m. ET (8:00 p.m. PT), which will include video highlights from the season, award presentations and a number of major announcements for 2017.
How to Watch:
FansChoice.tv is the official home for live streaming coverage of AMA Pro Flat Track events. The site also provides coverage of IMSA's development and single-make series, and NASCAR's touring and weekly series. Catch all the action at https://www.FansChoice.tv.
Learn more AMA PRO FLAT TRACK HEADS TO THE SEASON FINALE THIS WEEKEND FOR THE RAMSPUR WINERY SANTA ROSA MILE PRESENTED BY TRIUMPH on VANCE & HINES NEWS