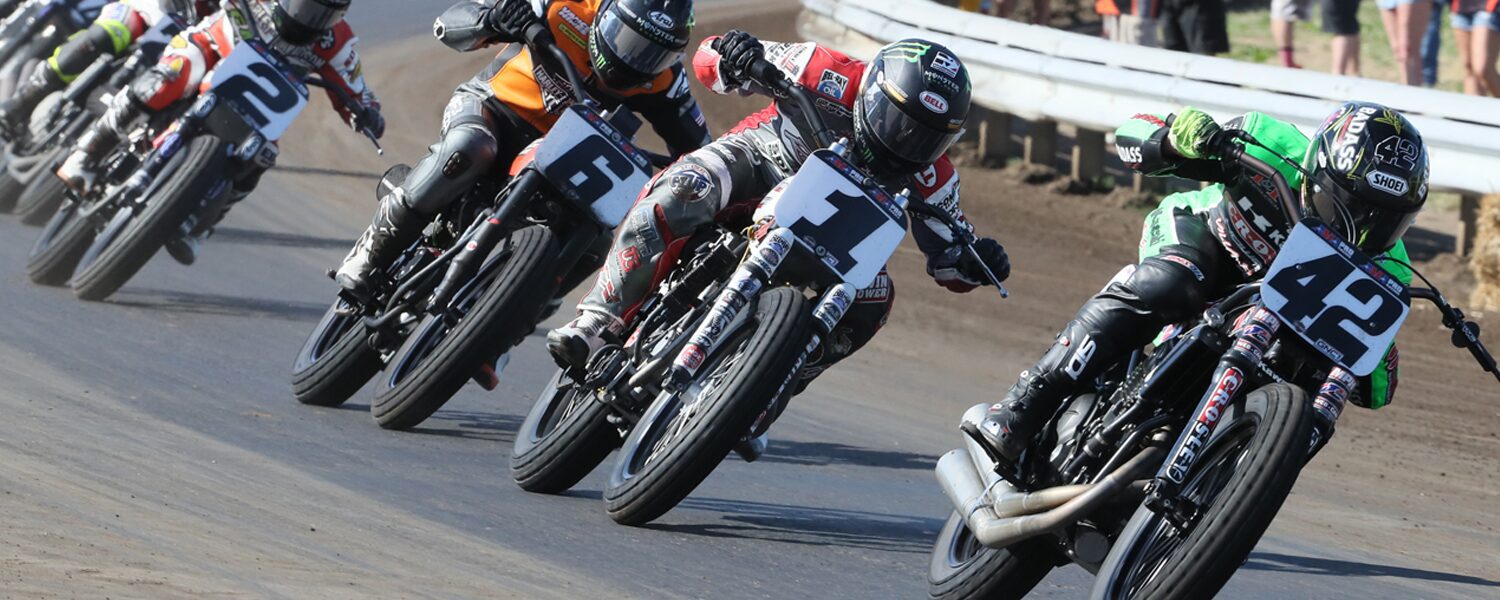 As per tradition, AMA Pro Flat Track returns to the Illinois State Fairgrounds in Springfield, Ill., on Sunday, September 4 for the Labor Day edition of the Springfield Mile. The legendary Mile flat track has hosted many a fierce battle and this year's second running of the event promises to be no exception.
Jared Mees (No. 1 Rogers Racing Harley-Davidson XR750) holds a 35-point lead in the Harley-Davidson GNC1 presented by Vance & Hines championship following a technical protest and subsequent disqualification of rival Bryan Smith (No. 42 Crosley/Howerton Kawasaki Ninja 650) from the previous round at Rolling Wheels Raceway Park. Smith and his team have appealed the protest and await a decision from an independent appeal board to be convened on September 13.
In the meantime, they are going to Smith's house. The Flint, Mich. rider has won four of the last five Springfield Miles and looks to keep his streak rolling to tie Ricky Graham with four-straight wins, just one behind Scott Parker and Chris Carr who are tied at five.
"Nothing against the new Miles, but there's just something about winning at places like Sacramento or Springfield," Smith said. "I've got the win-streak record at Sacramento, and I'd like to add one from Springfield as well. It's all about wins now. As we've seen this year anything can happen. I've just got to dominate these Miles like we have been and hope luck's on my side."
As for Mees, his strategy is pretty simple: keep those podiums rolling. The series points leader has amassed nine podiums – four of those wins – this season.
"Definitely favoring his forte for sure," Mees said. "But we just got to keep doing exactly what we've been doing pretty much all year since Daytona, and that's staying on the podium, first or second. Not much to do other than that. Just stay consistent and try to get the win."
Regardless of the outcome of Smith's appeal, if Mees can leave Springfield with 43 points over Smith, he will have amassed enough points to clinch the 2016 championship. If he fails to leave Springfield with a 43 point advantage over Smith, the championship chase will roll on to the Ramspur Winery Santa Rosa Mile on September 25.
Jake Johnson (No. 5 Zanotti Racing Harley-Davidson XR750) sits third in the GNC1 championship and will be looking to score his first win at the Springfield Mile since 2009. Fourth place in the standings, Brandon Robinson (No. 44 Kennedy Racing Harley-Davidson XR750) will also be looking to return to former glory at the famed mile track. Robinson is no stranger to success at the track, having pulled off a Springfield sweep back in 2013 when the weekend was run as a doubleheader to make up for a Memorial Day weekend rain out.
The last rider not named Smith to win at Springfield was none other than veteran Kenny Coolbeth, Jr. (No. 2 Zanotti Racing Harley-Davidson XR750). Coolbeth, Jr. sits sixth in the GNC1 standings, trailing Sammy Halbert. Halbert will make his debut on the No. 69 Lloyd Brothers Motorsports Ducati 1100, filling in for injured rider Johnny Lewis.
"We are disappointed Johnny can't make Springfield," said David Lloyd, co-owner of Lloyd Brothers Motorsports. "Big thanks to Sammy Halbert for helping us out and filling in. For Sammy to debut at Springfield where our Ducati motors go so well, keeps us in the possibility of a great result."
In the GNC2 class it's definitely all about the wins now. Ryan Wells (No. 94B Parkinson Brothers Racing Kawasaki Ninja 650) clinched the title two rounds early at the Central New York Half-Mile. Dalton Gauthier (No. 14A Racing Unlimited Kawasaki Ninja 650) sits comfortably in second followed by Kolby Carlile (No. 36B K.C. Cycle Kawasaki Ninja 650) and Kevin Stollings (No. 99J Ben Evans Ninja 650). Rounding out the top five in the GNC2-points race is Brandon Price (No. 92S Don's Kawasaki Ninja 650).
Gates for the legendary Springfield Mile II will open on the morning of Sunday, September 4 at 9:00 a.m. local time. Opening Ceremonies will begin at 1:00 p.m. with a tribute to more than 150 former Grand National Championship riders in attendance who have held National Numbers. Also during Opening Ceremonies, fans wishing to ride on the World's Fastest Mile can donate $10.00 for their chance to take to the track for a parade lap. To sign up, fans are invited to head to the infield inside of turn four. All proceeds from the parade lap will go to Aid to Injured Riders to support riders in need.
Stevie Bonsey, who is recovering from injuries sustained at the Springfield Mile in May, will be in attendance this weekend and would like to show his appreciation to all the fans that supported him during his recovery. The California native invites fans to come by his tent in the pits during the fan walk for photos and autographs.
Fans also have the opportunity to enter for their chance to win a Harley-Davidson Heritage Softail in the on-site ABATE Bike Raffle. Raffle tickets are $5.00 and will be sold in the grandstand pavilion. The grand prize winner will be announced during the intermission before the GNC2 Main Event.
Tickets for the legendary Springfield Mile start at just $40 for adults and $5 for children, and can be purchased online by visiting https://www.springfieldmile.org/Tabs/Events/EventList.aspx.
FansChoice.tv will broadcast the entire Springfield Mile II LIVE and in high definition on Sunday, September 4. Coverage will begin with Practice and Qualifying at 11:15 a.m. ET (8:15 a.m. PT). The Pre-Race Show will take place at 1:00 p.m. ET (10:00 a.m. PT), followed by Opening Ceremonies at 2:00 p.m. ET (11:00 a.m. PT) and Heat Races immediately afterward.
The GNC2 class will grid up for their Main Event at 4:15 p.m. ET (1:15 p.m. PT) followed by the 18 fastest flat track racers in the world at 4:45 p.m. ET (1:45 p.m. PT). Log on to FansChoice.tv and tune in at https://www.fanschoice.tv/watch-live/ama/flat-track.
Learn more AMA PRO FLAT TRACK RETURNS FOR THE SPRINGFIELD MILE II THIS SUNDAY DURING LABOR DAY WEEKEND on VANCE & HINES NEWS