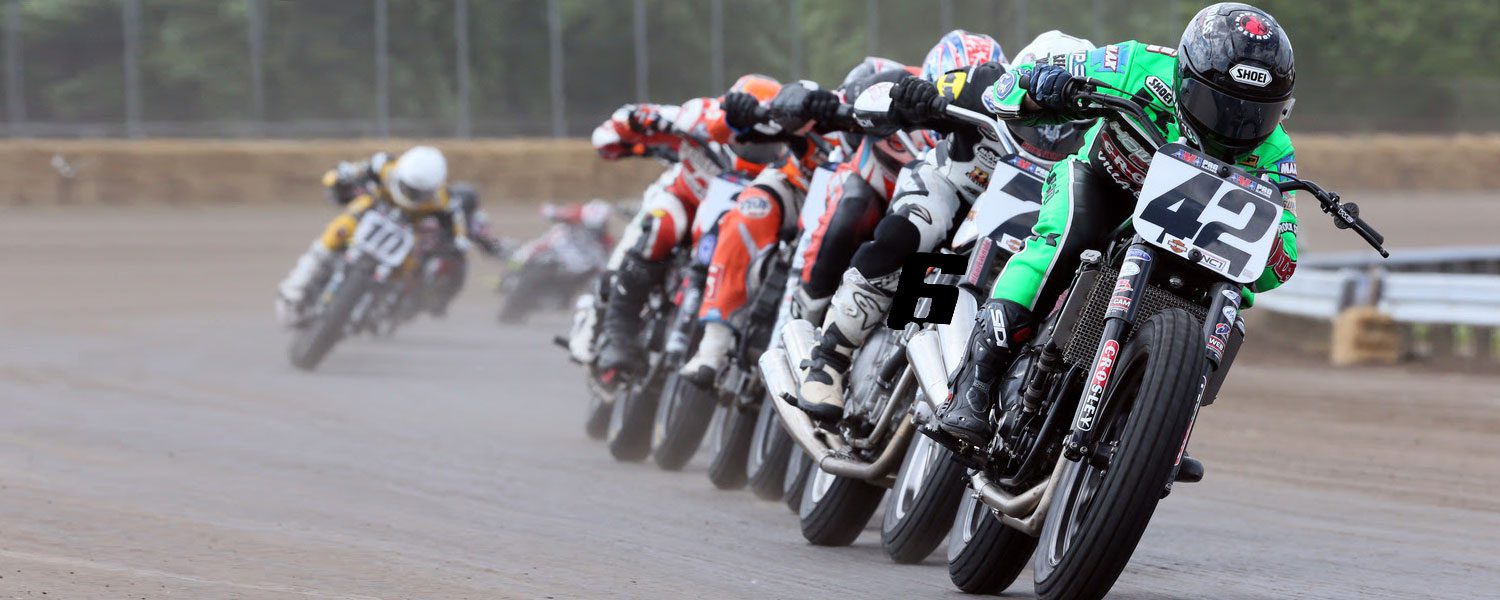 It's been nearly two decades since AMA Pro Flat Track riders suited up in their leathers to compete on Oklahoma soil. On Saturday, June 18, the stars of the Harley-Davidson GNC1 presented by Vance & Hines and GNC2 classes will return to the Sooner State and face off at Remington Park for a pivotal Round 7 showdown at the Oklahoma City Mile.
The mid-season affair will be broadcast live on FansChoice.tv and is scheduled to kick off with Opening Ceremonies at 6:30 p.m. local time, followed by qualifying Heat races set for 7:00 p.m. The green flag is scheduled to fly at 9:10 p.m. for the GNC2 main event, and the night will be capped off with the highly-anticipated Harley-Davidson GNC1 presented by Vance & Hines main event at 9:40 p.m.
The fourth Mile event of 2016 comes on the heels of X Games Austin, which took place on June 2 and featured AMA Pro Flat Track's biggest stars racing against each other on the world stage.
Jared Mees claimed redemption with a Gold Medal in Austin, and the defending GNC1 champion will look to stay hot in Oklahoma aboard the No. 1 Las Vegas Harley-Davidson XR750 on Saturday.
Mees enters Round 7 sitting third in the point standings and appears poised to contend for his fourth title run in five years. The Clio, Mich. native has finished second or better three times already in 2016, and he'll look to top "Mile Specialist" Bryan Smith at Remington Park this Saturday.
Entering the weekend sitting atop the GNC1 point standings is Smith. The No. 42 Crosley/Howerton Kawasaki Ninja 650 pilot has ripped off three consecutive AMA Pro Flat Track victories, all coming on Mile tracks, and he'll look to do it again in Oklahoma. Smith's ability to outrun the competition on long tracks is the reason why he finds himself leading the GNC1 pack, and if he's able to make it four straight wins this Saturday, his quest for his first championship may well be within his reach.
Sammy Halbert has been consistent as usual in 2016, as he's finished inside the top 10 in all six races so far. The No. 69 BriggsAuto.com Harley-Davidson XR750 rider sits second in the points and he'll look to chase Smith down on the dirt and in the GNC1 standings on Saturday.
Two-time GNC1 champion Jake Johnson continues to impress so far in 2016. The No. 5 Zanotti Racing Harley-Davidson XR750 pilot will enter the weekend sitting fourth in the point standings despite finishing 11th in Springfield a couple weeks ago. The Pennsylvanian is always one of the fastest riders on the dirt anytime he takes to the track and he could be a potential dark horse to give Smith a run for his money on Saturday.
Brandon Robinson recorded his second-best performance of the season last round at Springfield, where he finished fourth, and he'll enter this weekend sitting fifth in the point standings. The No. 44 Kennedy Racing Harley-Davidson XR750 rider is adjusting nicely to his new motorcycle, as this is his first season competing on a Harley-Davidson rather than the Triumph he has ridden in years past.
No. 6 Brad Baker and No. 67 Davis Fisher will enter this weekend sitting 6th and 14th in the GNC1 point standings, respectively. Fisher is riding high on his top 10 finish aboard Harley-Davidson's next generation XG750R machine, while Baker aims to continue the legendary streak of the XR750. Regardless of the equipment they pilot, both Factory Harley-Davidson riders will be looking to make strong debut performances in Oklahoma on Saturday.
Learn more AMA PRO FLAT TRACK RETURNS TO ACTION THIS WEEKEND WITH THE OKLAHOMA CITY MILE on VANCE & HINES NEWS