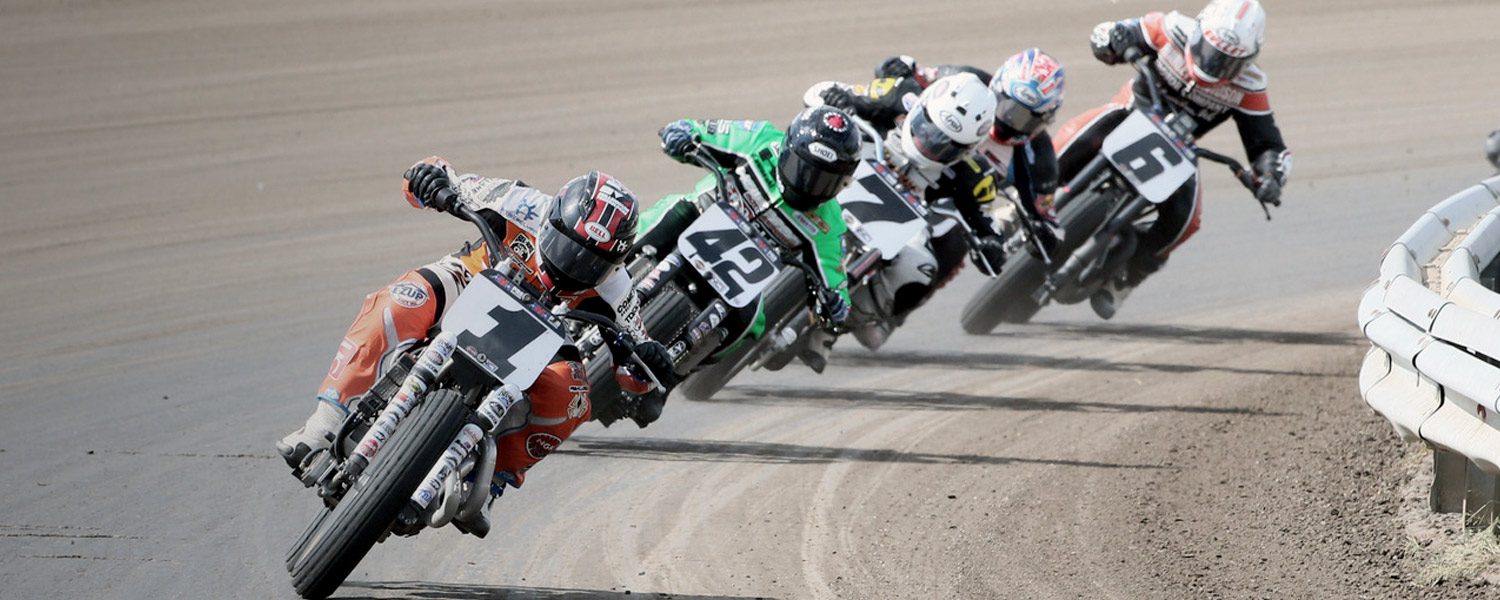 The roots of AMA Pro Flat Track are deeply entrenched in many places throughout the country, from areas legendary riders call home, to the sites of current and former events. Du Quoin, Ill., is one of those places where the flat track history books go back far, all the way to 1955.
On Saturday, July 4, the best flat track motorcycle racers in the world will once again come to race the Magic Mile, marking the end of a nine-year hiatus.
Fans can watch all the action from the Du Quoin State Fairgrounds live online, in high definition and free of charge at www.FansChoice.tv. On-track sessions begin with practice and qualifying at 2:30 p.m. CT (3:30 p.m. ET, 12:30 p.m. PT). Heat races begin at 7 p.m. CT (8 p.m. ET, 5 p.m. PT) and the main events are slated for 9 p.m. CT (10 p.m. ET, 7 p.m. PT).
Chris Carr, now the color commentator for AMA Pro Flat Track's broadcasts on FansChoice.tv, won the last Du Quoin Mile in 2005. Many other icons of flat track, Scott Parker, Bubba Shobert, Ricky Graham and Jay Springsteen, have also claimed victories in Du Quoin. Everett Brashear won the first ever Du Quoin Mile in 1955.
This time around, the winner will be from a new group of riders who are all hoping to add their names to the ledger of dirt track greats.
Jared Mees will pilot the No. 1 Las Vegas Harley-Davidson machine at Du Quoin. He enters the race, Round 6 of the AMA Pro Flat Track season, with the lead in the Harley-Davidson GNC1 presented by Vance & Hines standings. Mees leads by three points over Sammy Halbert (No. 7 Briggs Auto Kawasaki), 77-74, with Kenny Coolbeth Jr. (No. 2 Zanotti Racing Harley-Davidson) in third with 69 points.
Brad Baker was simply untouchable in Round 5, the Lima Half-Mile on June 28. The Washington native dusted the field on his No. 6 Factory Harley-Davidson and moved into fourth in the standings, a single point behind Coolbeth. The 2013 Grand National Champion will look to carry his momentum into Illinois, as he has finished no worse than fourth in the last three AMA Pro Flat Track events and was third in Harley-Davidson Flat Track Racing at the X Games on June 4.
Brandon Robinson, riding the No. 44 Latus Motorsports Triumph, sits fifth in the standings entering Du Quoin, just two points behind Baker.
When it comes to Miles though, the No. 42 Crosley Radio Kawasaki of Bryan Smith comes to mind first. Smith has won both Miles already contested in 2015 – Springfield and Sacramento. The Michigan native was eighth at Lima and sits sixth in the points with 63, still well within striking distance of the championship leaders.
Smith won gold at the X Games, and with Halbert (silver) and Baker (bronze) also in the field, all three X Games medalists will be racing at Du Quoin. In all, around 20 X Games athletes are scheduled to race at the Magic Mile Saturday.
No current rider has an AMA Pro Flat Track win to their credit at the Du Quoin Mile, and Shobert's victory in 1988 on a Honda was the last time any manufacturer besides Harley-Davidson emerged victorious at the Magic Mile.
The up-and-comers in the GNC2 class will arrive in Du Quoin with a new points leader. Last year's championship runner-up, Davis Fisher, is atop the standings on his No. 67M Parkinson Brothers Racing Honda.
This will be the first ever race for the GNC2 class at the Du Quoin Mile, and riders will be on twin-cylinder machines for the second time in 2015. At the Springfield Mile, the first GNC2 twins race this year, Fisher took the checkered flag with Jamison Minor and Nick Armstrong rounding out the podium.
Fisher leads Brandon Wilhelm (No. 24J Mike Butler Racing Honda) by seven points in the championship hunt, 71-64, after five rounds. Minor sits third in the GNC2 point standings on his No. 27U Roy Built Honda and Armstrong has slid back to fourth after failing to reach the main event at the Lima Half-Mile on his No. 44E Southland Racing Honda. Armstrong will look to bounce back at Du Quoin and has reason to be optimistic, as he was third and first in the previous two Miles this season.
At Lima, Fisher finished second to J.R. Addison, who claimed his first victory of the 2015 season aboard his No. 24F Parkinson Brothers Racing Honda.
Andrew Luker, the Round 1 winner from the season-opening DAYTONA Flat Track doubleheader, sits fifth in the points on his No. 11Z machine. The Californian has reached all five mains in 2015 and he'll be going for his third top five at Du Quoin.
For tickets and more information regarding the event, please visithttps://www.showclix.com/event/DuQuoinMileAMA.
Learn more AMA PRO FLAT TRACK RIDERS MAKE THEIR RETURN TO THE HISTORIC DU QUOIN MILE ON JULY 4 on VANCE & HINES NEWS