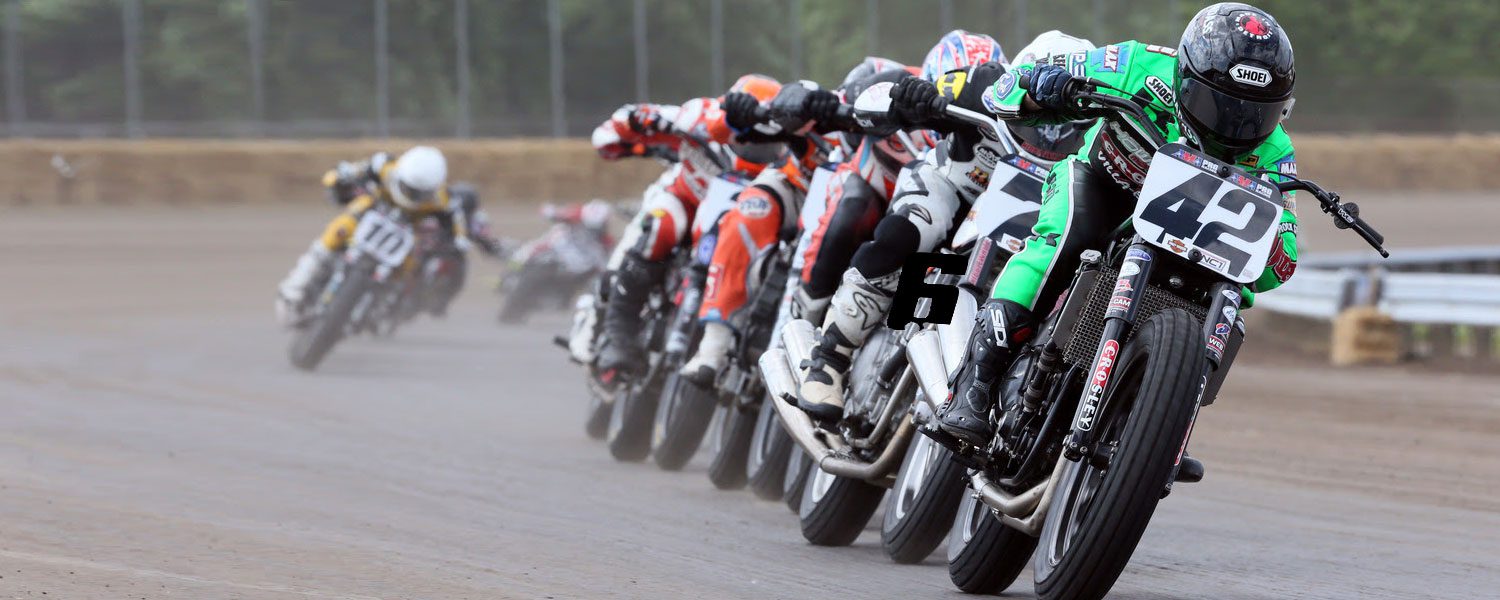 Courtesy of AMA Pro Racing
DAYTONA BEACH, Fla. (June 23, 2015) – The Allen County Fairgrounds is held in special regard among flat track motorcycle racing fans for its cushion pea-gravel, Half-Mile circuit, and on June 27, riders will return to Lima, Ohio, for an event that's unique compared to most of the other tracks on the AMA Pro Flat Track schedule.
The Lima Half-Mile's wide, sweeping corners and softer track surface make for a variety of racing lines and fans are treated to huge rooster tails of dirt being slung behind the bikes as they speed around the track.
Last season, Jared Mees earned the 2014 Lima Half-Mile victory and went on to claim the coveted Grand National Championship. Mees will be gunning for his fourth career Lima Half-Mile victory on Saturday aboard his super-fast No. 1 Las Vegas Harley-Davidson machine. Mees sits second in the Harley-Davidson GNC1 presented by Vance & Hines points, five behind Kenny Coolbeth Jr.
At the moment, Bryan Smith is the hottest rider on the AMA Pro Flat Track circuit. Smith has won the previous two Harley-Davidson GNC1 presented by Vance & Hines main events and a gold medal in Harley-Davidson Flat Track Racing at the X Games in Austin, Texas, earlier this month. Look for Smith, aboard the No. 42 Crosley Radio Kawasaki to maintain his momentum at Lima and look to improve on his fifth place position in the points.
Brandon Robinson, riding the No. 44 Latus Motorsports Triumph, has looked stellar so far in 2015 and he'll look to put together another strong performance this weekend to improve his third place position in the point standings.
Coolbeth, a three-time Grand National Champion, is leading the chase so far in 2015. The No. 2 Zanotti Racing pilot sits in front of Mees thanks to one victory and two other top-five finishes. Coolbeth is yet to finish worse than seventh, and he'll look to build on his championship lead this weekend. Surprisingly enough, Lima is one of the few tracks on the AMA Pro Flat Track schedule where Coolbeth has failed to record a victory, and fans can bet that the Morris, Conn., native will be looking to change that come Saturday.
Brad Baker, rider of the No. 6 Factory Harley-Davidson, will come to Lima following a pair of top-five finishes in AMA Pro Flat Track competition. He also won a bronze medal in Harley-Davidson Flat Track Racing at the X Games. With Smith (gold), Sammy Halbert (silver) and Baker all racing in Lima, fans will have a chance to see all three X Games medalists.
Mees will be joined on-track at Lima by wife, Nichole Mees, who made history with Jared as the first husband and wife to compete against each other in the X Games. Nichole made the main event at both Springfield and Sacramento.
Sammy Halbert was leading and in full command of the Lima Half-Mile in 2014 before a costly motorcycle malfunction forced him out of the race on lap 12 of the 25-lap GNC1 main event. Halbert currently sits fourth in the Harley-Davidson GNC1 presented by Vance & Hines point standings.
GNC1 rookie Jarod Vanderkooi will be representing Ohio. Hailing from Mt. Gilead, Ohio, Vanderkooi is tied with Kyle Johnson in the Saddlemen Rookie of the Year chase. Both Vanderkooi and Johnson were alternates for the X Games but made the field and raced live on ESPN in the extreme sports showcase when other competitors had to withdraw with mechanical issues.
In GNC2 competition, Nick Armstrong's impressive Sacramento Mile victory catapulted him into first place in the point standings. Armstrong's lead isn't by much, however, as four riders are within 10 points of him heading into Lima. Brandon Wilhelm remains in second, just a single point behind Armstrong, and Davis Fisher is in third, only four points back of the leader.
Fisher was second last year behind Johnson, who has since moved up to the elite GNC1 class. Wilhelm took fourth at Lima in 2014
Jamison Minor and Andrew Luker sit in fourth and fifth, respectively, in the points with Round 2 from DAYTONA Flat Track winner Justin Jones keeping pace in sixth, 15 points off the lead.
The tight points battles in both the Harley-Davidson GNC1 presented by Vance & Hines and GNC2 classes will only add to the excitement fans can expect Saturday, June 27 at the Allen County Fairgrounds in Lima, Ohio.
The full slate of action will be broadcast live on www.FansChoice.tv and will begin with practice and qualifying at 3:30 p.m. ET (12:30 p.m. PT) with opening ceremonies set to begin at 7 p.m. ET (4 p.m. PT). The GNC2 main event is scheduled to go off at 9:30 p.m. ET (6:30 p.m. PT) and the Harley-Davidson GNC1 presented by Vance & Hines main event is set for 10 p.m. ET (7 p.m. PT).
For tickets and more information regarding the Lima Half-Mile, fans are encouraged to visitwww.ohionationalchampionship.net.
Fans can watch every round of the AMA Pro Flat Track season live online, in high definition and free of charge at www.FansChoice.tv.
Learn more AMA PRO FLAT TRACK RIDERS READY TO THROW AROUND THE PEA-GRAVEL AND TRY TO WIN THE LIMA HALF-MILE SCHEDULED FOR JUNE 27 on VANCE & HINES NEWS