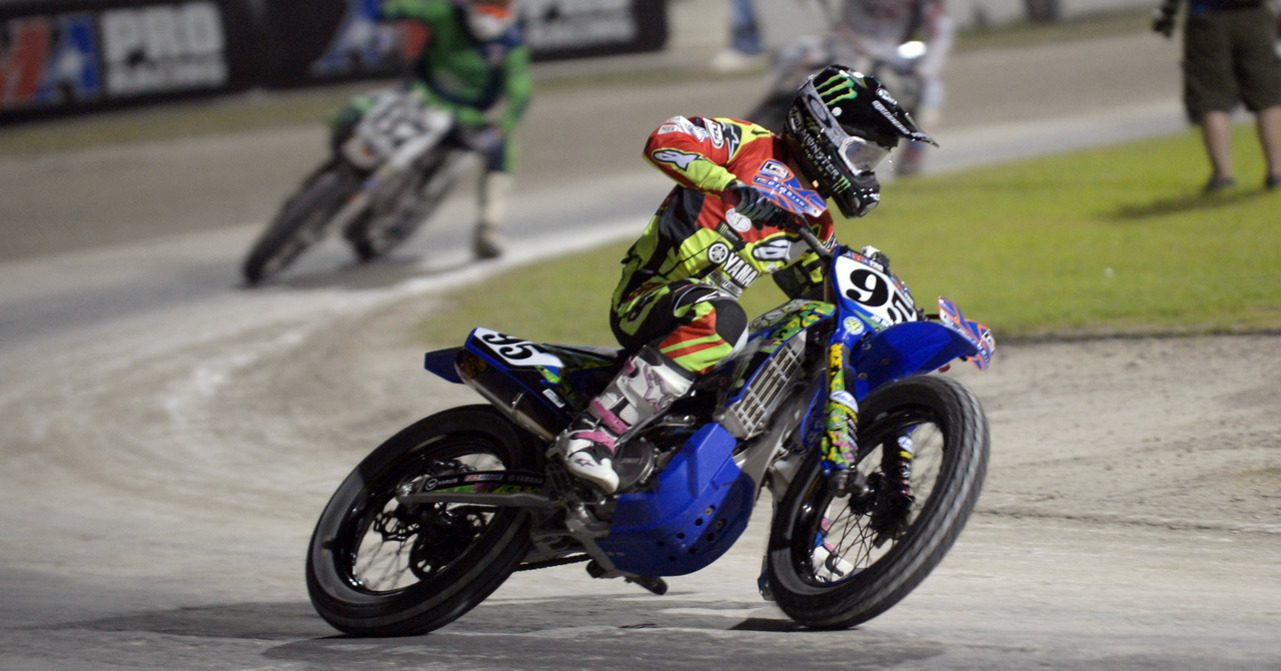 Courtesy of AMA Pro Racing
DAYTONA BEACH, Fla. (March 19, 2015) – AMA Pro Flat Track riders on Yamaha equipment will benefit from a dramatically increased contingency program by the manufacturer in 2015.
Yamaha has expanded its program to both the premier Harley-Davidson GNC1 class presented by Vance & Hines, and the GNC2 class, offering up to $1,500 for individual riders per race in the top class and $500 in GNC2. A total of $106,400 is up for grabs between both classes for eligible "bLU cRU" riders over the course of the season.
"We can't thank Yamaha enough for increasing their commitment to flat track racing," said Michael Gentry, Chief Operating Officer of AMA Pro Racing. "Strong involvement from the manufacturers is key to keeping our sport among the most competitive in the world. It will help drive future growth, and we are confident any relationship with manufacturers, such as Yamaha, truly is mutually beneficial."
The increased commitment coincides with the recent debut of Yamaha's FZ-07 motorcycle. A number of FZ-07 engines were made available for flat track teams and an FZ-07-powered machine could make its AMA Pro Flat Track debut May 24 at the historic Springfield Mile in Springfield, Ill.
"I think AMA Pro is making a big effort to improve flat track racing, get it out there and get public awareness," said Keith McCarty, Racing Division Manager for Yamaha. "Now we have an FZ-07 engine that's going to be able to do well and compete in the twins class. We legitimately have a chance to win a twins championship now, which we really didn't have in the past. At Yamaha, racing is in our DNA, all forms of racing, and certainly dirt track is tied in. We want to be a part of it and show competitors we want to be a part of it by offering increased contingency."
For more information on Yamaha's contingency program, please visit: https://www.yamahamotorsports.com/sport/pages/2015-yamaha-off-road-racing-contingency-program
Every round of the 2015 AMA Pro Flat Track season will be available live, in high definition and free ofcharge for fans to watch online at www.FansChoice.tv.
AMA Pro Racing is the premier professional motorcycle racing organization in North America, operating a full schedule of events and championships for a variety of motorcycle disciplines.  Learn more about AMA Pro Racing at www.amaproracing.com.
Learn more AMA PRO FLAT TRACK RIDERS RECEIVE INCREASED CONTINGENCY COMMITMENT FROM YAMAHA on VANCE & HINES NEWS