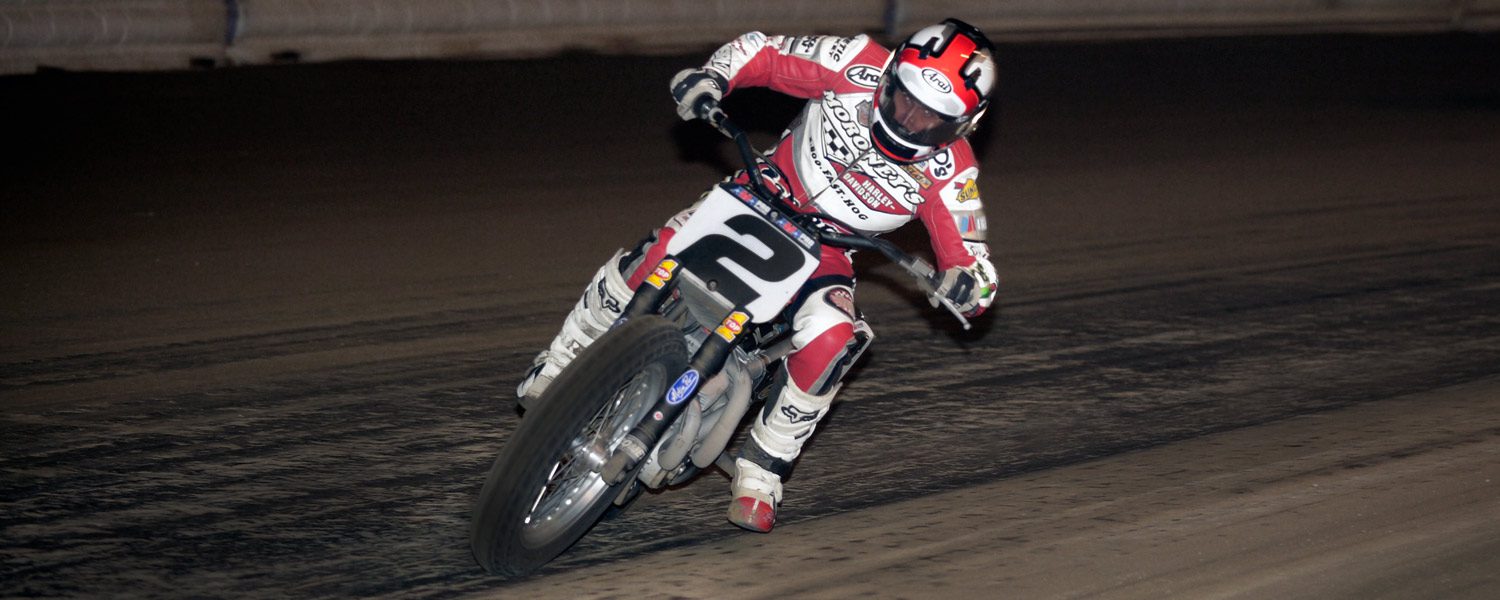 Indianapolis is a city synonymous with speed and rich in racing tradition. The stars of AMA Pro Flat Track will look to add to that history when they run the Indy Mile at the Indiana State Fairgrounds on Saturday, July 11.
On-track action is scheduled to begin with practice and qualifying at 2:30 p.m. ET (11:30 a.m. PT). Opening ceremonies are set for 6:30 p.m. ET (3:30 p.m. PT) with heat races to begin at 7 p.m. ET (4 p.m. PT). The main events are slated for 9 p.m. ET (6 p.m. PT). Fans can watch every moment of the action live online in high definition, free of charge at www.FansChoice.tv.
The Indy Mile has long been a place where great names in the sport added to their legend. Scott Parker won four straight in Indianapolis from 1988 to 1991, but no other rider has won more than two in a row at the famed facility.
Perhaps the most memorable Indy Mile was in 1975, when Kenny Roberts piloted the infamous Yamaha TZ750 to a thrilling victory. Roberts crossing the line on his black and yellow machine has become a "where-were-you-when" moment for flat track fans.
Descending on the Indy Mile Saturday is a fresh crop of riders who are looking to create reputations as great as that of Parker and Roberts. Many of the athletes in the field competed in the debut of Harley-Davidson Flat Track Racing at the X Games in Austin, Texas, on June 4, further elevating their statuses as the best dirt track riders in the world right now.
Since 2009, three different riders have won the Indy Mile in the premier Harley-Davidson GNC1 presented by Vance & Hines division. With two wins to their credit, Kenny Coolbeth Jr. (2014, 2009) and Bryan Smith (2013, 2010) are easy favorites for this year's content, but former winner Sammy Halbert (2012) is an equal threat and has enjoyed a strong start to his season. Harley-Davidson and Kawasaki have exchanged wins since 2009 as well. Throughout the entire history of the event, which dates back to 1954, six different manufacturers (Harley-Davidson, Kawasaki, Honda, Yamaha, BSA and Triumph) have taken the checkered flag at the Indy Mile.
Last year, Coolbeth, on the No. 2 Zanotti Racing machine, showed the strength of his Harley-Davidson on the Mile course, taking the victory by 2.470 seconds over Smith. Smith and his No. 42 Crosley Radio Kawasaki have won all three Miles so far in 2015, including last weekend's Du Quoin Mile.
But in Du Quoin, Smith won by the slimmest of margins in a photo finish with Jared Mees and his No. 1 Las Vegas Harley-Davidson. Amazingly, just .013 of a second separated the top three riders at Du Quoin, with Coolbeth taking third.
As a result, Mees leads the Harley-Davidson GNC1 presented by Vance & Hines point standings coming to Indiana. He sits eight points in front of Halbert (No. 7 Briggs Auto Kawasaki), 96-88. Smith sits third, 10 points behind Mees with 86, the same total as Coolbeth. Brad Baker, with 76 points, rounds out the top five in the standings on the No. 6 Factory Harley-Davidson.
Smith, Halbert and Baker won gold, silver and bronze, respectively, in Harley-Davidson Flat Track Racing at the X Games, meaning all three medalists will be in action at the Indiana State Fairgrounds this weekend.
Brandon Robinson, pilot of the No. 44 Latus Motorsports Triumph, comes to the Indy Mile sixth in the standings with 69 points. He's one of just five Harley-Davidson GNC1 presented by Vance & Hines riders who have scored points in every main event this year.
Briar Bauman has earned top-10 finishes in each of the last two rounds, and the rider of the No. 14 USC/Hart Racing Kawasaki currently sites seventh in the point standings with 59.
Just five points behind Bauman in the championship hunt is Jeffrey Carver Jr., who has brought home his No. 23 Don's Kawasaki machine no worse than sixth in each of the last three AMA Pro Flat Track races.
Henry Wiles, riding a string of five straight main event appearances, is ninth in the points (47) on his No. 17 Zanotti Racing Harley-Davidson, and Robert Pearson (No. 27 KTM) sits in 10th (42) after six rounds.
Learn more AMA PRO FLAT TRACK RIDERS RETURN TO THE INDY MILE READY TO CARRY ON THE TRACK'S LONG TRADITION OF GREAT COMPETITION on VANCE & HINES NEWS