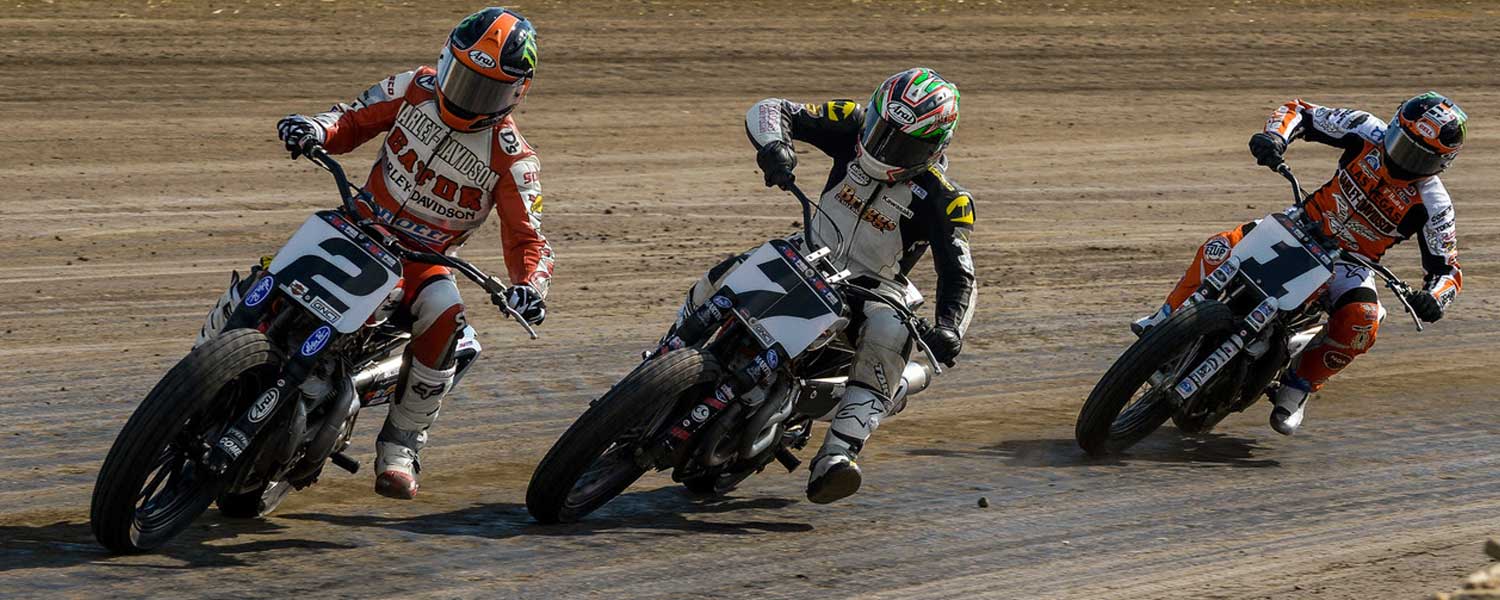 The world-class Dirt Track at Charlotte Motor Speedway will play host to the best dirt track racers in the world this Saturday, Aug. 29 in an AMA Pro Flat Track event known as the Don Tilley Memorial Charlotte Half-Mile to honor the Harley-Davidson icon, Don Tilley.
Three of the leading riders who raced for Tilley will be in attendance at the event, including Jay Springsteen, Gene Church and Tripp Nobles. The three will be special guests of honor at the event and will be on hand to sign autographs, and will also take a memorial lap with Tilley's daughter.
AMA Pro Flat Track last raced in Charlotte in 2002 in a Half-Mile race won by Kevin Varnes. The two other AMA Pro Flat Track races held in Charlotte were won by Will Davis in 2001 and Mike Hacker in 2000. This Saturday, both the Harley-Davidson GNC1 presented by Vance & Hines class and the GNC2 class will be featured at Charlotte, and both classes will run twin-cylinder motorcycles.
Only four active AMA Pro Flat Track riders have raced professionally on the Dirt at Charlotte: Jared Mees, Bryan Smith, Kenny Coolbeth and Jake Johnson.
All eyes will be on the defending champion and current GNC1 points leader Mees as he tries to extend his lead in the standings by putting together a strong performance on the half-mile clay surface at Charlotte. Mees will pilot the No. 1 Las Vegas Harley-Davidson machine and will look to earn his fifth straight podium.
Chasing Mees in the point standings is Smith; however, the No. 42 Crosley Radio Kawasaki rider has been on a skid lately, as he's finished outside the top five in his last two GNC1 main events. Smith sits second in the GNC1 standings with 127 points to Mees' 156.
Sitting third and only three points behind Smith in the GNC1 standings is Sammy Halbert. The Graham, Wash., product will ride the No. 69 Briggs Auto Harley-Davidson at Charlotte on Saturday, and will be sporting the No. 69 for the remainder of 2015 in honor of his late brother, Jethro Halbert.
Kenny Coolbeth will be hungry for success this Saturday, as he failed to qualify for the main event last round at the Peoria TT. Fortunately for him, the Morris, Conn. native almost always follows up a less-than-ideal performance with a stellar one. The three-time Grand National Champion will pilot the No. 2 Zanotti Racing Harley-Davidson at Charlotte and will look to improve on his fourth-place position in the GNC1 point standings.
Jake Johnson will pilot the No. 5 Factory Harley-Davidson machine during Saturday's Don Tilley Memorial Charlotte Half-Mile, filling in for the injured Brad Baker. Johnson, a two-time Grand National Champion, finished third in his only race at Charlotte in 2002 and he'll look to have similar success this weekend.
Current Saddlemen Rookie of the Year Award leader Jarod Vanderkooi is putting together an impressive first season competing in the premier Harley-Davidson GNC1 presented by Vance & Hines class. He sits 14th in the GNC1 point standings and has made seven main events this year. Vanderkooi will ride the No. 17F Don's Kawasaki machine at Charlotte.
Shayna Texter will make her second start with her new team aboard the No. 52 RMR Kawasaki on Saturday.
The 25-lap Harley-Davidson GNC1 presented by Vance & Hines Main Event is slated for a 9:20 p.m. start time on Saturday night.
Learn more AMA PRO FLAT TRACK RIDERS SET TO COMPETE IN HIGHLY ANTICIPATED DON TILLEY MEMORIAL CHARLOTTE HALF-MILE ON AUG. 29 on VANCE & HINES NEWS