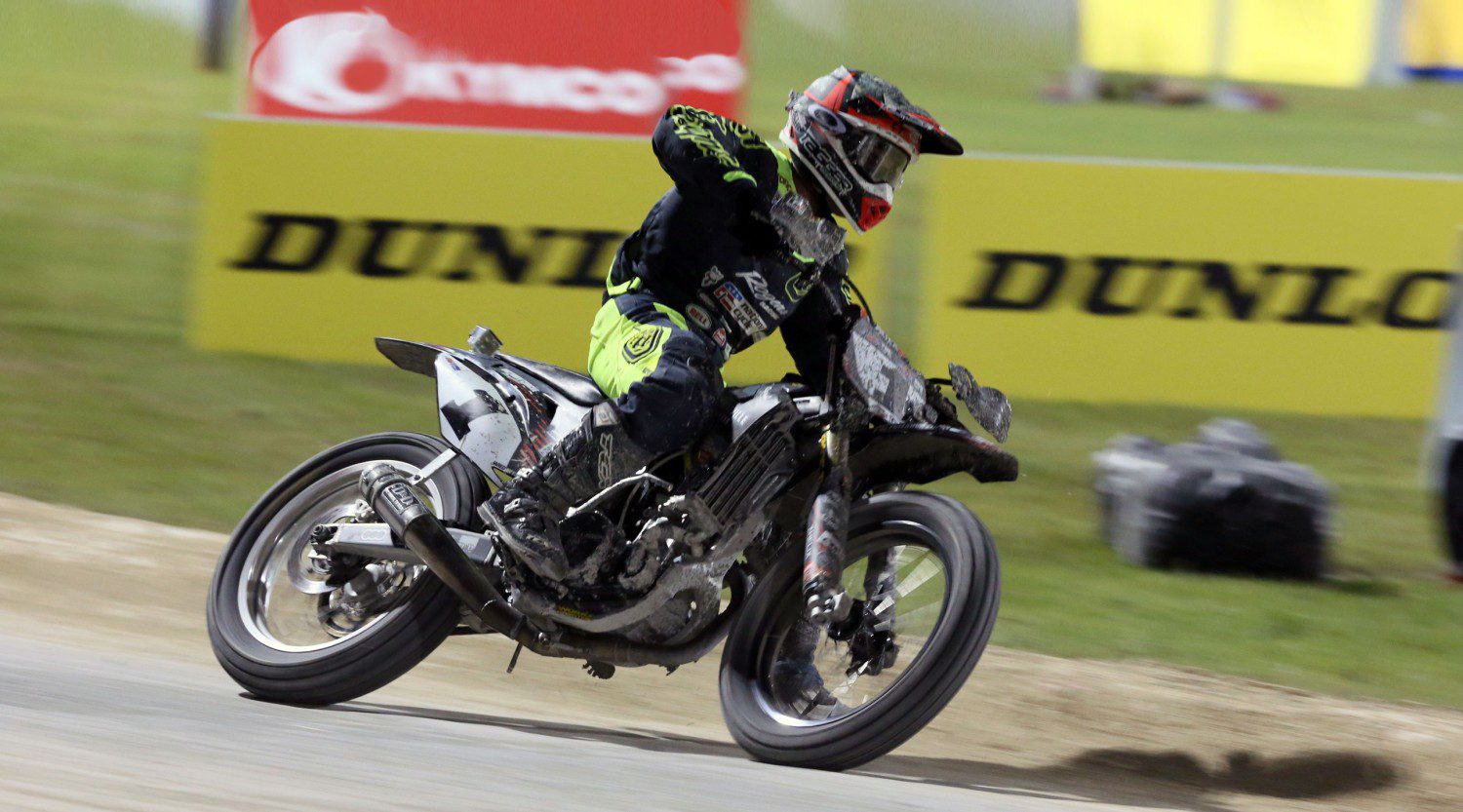 The battle for the 2015 AMA Pro Flat Track Harley-Davidson GNC1 presented by Vance & Hines championship will end in Las Vegas this Friday night, Nov. 20, on a purpose-built short track inside the dome of the Orleans Arena.
Defending champion Jared Mees has put together another monster year and he'll enter the season's final round with a seven point advantage over Bryan Smith and a 20 point edge over Kenny Coolbeth Jr. in the standings.
The rivalry between Mees and Smith this season has been nothing short of fascinating, and the two will duke it out one final time on a track that neither have competed on before. The event format has been specifically tuned to provide a full night of compelling racing on the purpose-built short track, including six GNC1 heat races and a B Main prior to the night's 25-lap main event.
Mees will ride the No. 1 Montgomeryville Cycle Center Honda CRF450R in Las Vegas and Smith will pilot the No. 42 Crosley Radio Kawasaki KX450F. Smith, a Mile specialist, will be giving it all he's got in a attempt to claim his first-career Harley-Davidson GNC1 presented by Vance & Hines championship. If Mees is able to hold off Smith and win the championship, it will be his third title in the premier class in the last four years.
Coolbeth is the only other rider besides Mees and Smith in the Harley-Davidson GNC1 presented by Vance & Hines field who has a chance at winning the 2015 championship. Despite being 20 points behind down, he will have an outside chance to win it all on Friday aboard the No. 2 Zanotti Racing Honda CRF450R if the night doesn't play out in favor of Mees or Smith.
Aside from the championship fight between the trio of contenders, one of the most intriguing storylines entering the weekend is the return of Brad Baker. Baker was injured during the Black Hills Half-Mile in August and the 2012 GNC1 champion hasn't raced in AMA Pro Flat Track competition in over three months. Baker will ride the No. 6 Brothers Powersports Honda CRF450R on Friday night and again on Saturday during the Superprestigio of the Americas presented by Yamaha.
Filling in for Baker during the last four rounds has been Jake Johnson, and the two-time champion has performed very well. Johnson has recorded back-to-back third-place finishes and he'll look to roll some of his momentum into this weekend when he takes to the track aboard the No. 5 Honda CRF450R in Vegas.
Sammy Halbert has put together another strong season and he'll enter Vegas sitting fourth in the GNC1 point standings. Prior to last round at Delaware, the Graham, Wash., native hadn't finished outside the top ten in any main event so far this season. Look for the No. 69 Fredericktown Yamaha YZ 450F pilot to maintain consistency in the final races of the season.
Opening ceremonies for Friday's night's AMA Pro Flat Track Season Finale will take place at 7:30 p.m. PT (10:30 p.m. ET), followed by a full slate of races leading up to the Harley-Davidson GNC1 presented by Vance & Hines championship-deciding 25-lap Main Event at 10:00 p.m. PT (1:00 a.m. ET). All of the action will be live streamed free of charge and in high definition on FansChoice.tv at https://www.fanschoice.tv/watch-live/ama/flat-track.
Learn more AMA PRO FLAT TRACK VISITS LAS VEGAS FOR THE FLAT TRACK SEASON FINALE ON FRIDAY NIGHT, NOV. 20 on VANCE & HINES NEWS