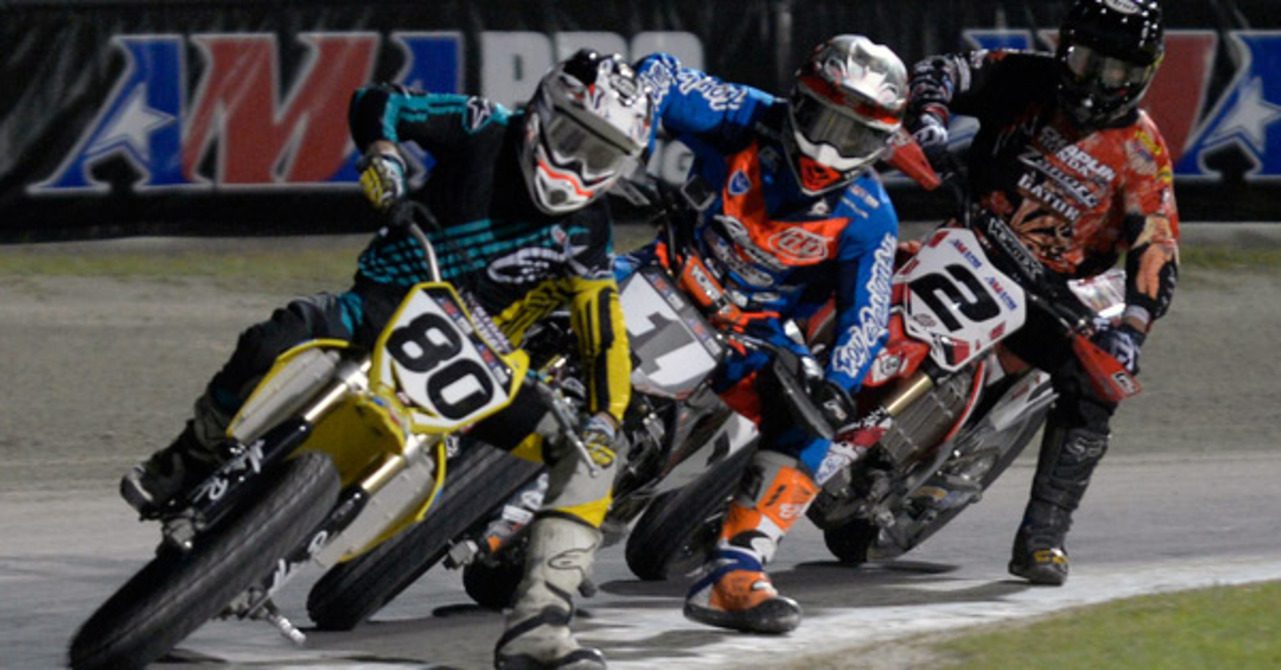 Courtesy of AMA Pro Racing
DAYTONA BEACH, Fla. (March 25, 2015) – AMA Pro Racing and City National Bank are pleased to announce the "Long Haul Award," which will pay $80,000 directly to AMA Pro Flat Track riders over the course of the 2015 season.
The award is part of an initiative to reduce and offset costs for riders and teams, and will pay $500 each to the 10 riders who traveled the greatest distance to each AMA Pro Flat Track event. Riders must qualify for the Harley-Davidson GNC1 presented by Vance & Hines Main Event from the Heats or Semis to be eligible for the award.
"We're thankful to City National Bank for stepping up and helping us support the athletes that put on such a great show for the fans week in and week out," said Michael Gentry, Chief Operating Officer of AMA Pro Racing. "We understand the dedication and financial commitment it takes to travel to all the venues on our schedule, so being able to put money back in the pockets of our riders is very fulfilling. Giving back to the paddock is a major focus for us, and the City National Bank Long Haul Award is a perfect example of how we are doing that."
City National Bank has a history dating back to 1954 and is headquartered in Los Angeles, Calif.
"It's a great program that gives back to the team members," said David Pijot, Senior Vice President of City National Bank. "We have a very large entertainment division that includes offices in New York City, Nashville, Atlanta and now, Daytona Beach, with an emphasis on motorsports. We wanted to be involved in a way that gives back to the participants. We're happy to have this association with a new series like this."
Next up, AMA Pro Flat Track heads to the legendary Springfield Mile May 24 for Round 3 of the 2015 season. For more information, please visit: https://www.illinoismda.com/.
Every round of the 2015 AMA Pro Flat Track season will be available live, in high definition and free of charge for fans to watch online at www.FansChoice.tv.
About City National
City National Corporation (NYSE: CYN) has $32.6 billion in assets. The company's wholly owned subsidiary, City National Bank, provides banking, investment and trust services through 75 offices, including 16 full-service regional centers, in Southern California, the San Francisco Bay Area, Nevada, New York City, Nashville and Atlanta.  City National and its investment affiliates manage or administer $60.8 billion in client investment assets, including $48.1 billion under direct management.
For more information about City National, please visit: www.cnb.com.
AMA Pro Racing is the premier professional motorcycle racing organization in North America, operating a full schedule of events and championships for a variety of motorcycle disciplines.  Learn more about AMA Pro Racing at www.amaproracing.com.  
Learn more AMA PRO RACING AND CITY NATIONAL BANK TEAM UP TO CREATE THE "LONG HAUL AWARD" FOR AMA PRO FLAT TRACK RIDERS on VANCE & HINES NEWS