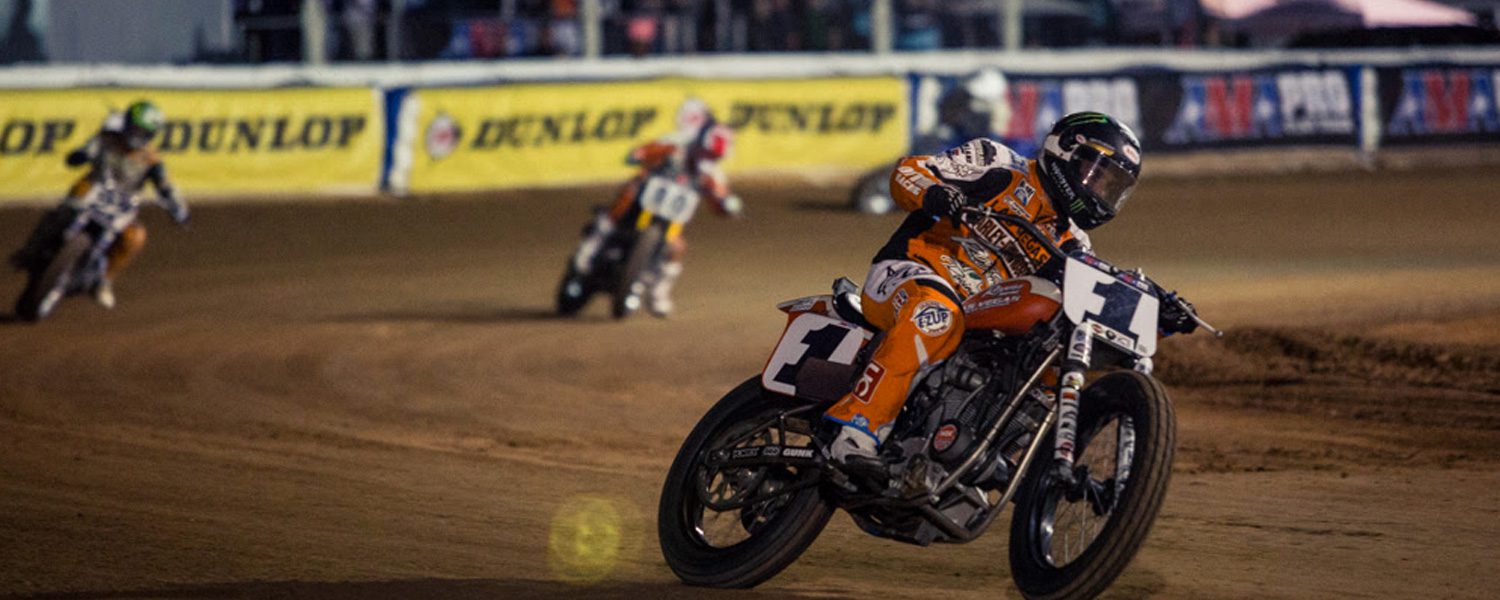 AMA Pro Racing (AMAP) is proud to announce the formation of a subsidiary event promotion company, AFT Events. With a core focus of promoting AMA Pro Flat Track, AFT Events will bring a new level of entertainment and excitement to the sport, ushering in a bright new era for the legendary American sport. The Charlotte Half-Mile, scheduled for Saturday, July 30 at The Dirt Track at Charlotte Motor Speedway, will serve as the company's debut event.
"We are very excited to launch this new venture," said Michael Lock, CEO of AMAP and AFT Events. "By bringing a new level of investment to Pro Flat Track and by working with our existing group of independent promoters to create series-wide innovations, Pro Flat Track will deliver fans across the country the experience they crave."
The sport of Pro Flat Track is at the dawn of a global golden era. Interest from motorcycle manufacturers from North America, Europe and Asia continues to rise, a Spanish National Flat Track Championship has been formed, and the attention garnered by the athletes participating in the X Games will attract new, young fans once again this year. Riding the wave of international momentum, AFT Events will bring a fresh perspective to AMA Pro Flat Track's event experience to capture the attention of a new generation of fans for flat track racing.
This year's Charlotte Half-Mile will be the first opportunity to experience AFT's fast-paced and family-friendly event format, aimed at energizing the crowd. The company's opening act will be the only round promoted by AFT Events this season, but it's just the beginning. In 2017, the company will bring Pro Flat Track to new USA cities that are hungry for the sport.
Cameron Gray has been named COO of AFT Events, bringing an extensive history in the motorcycle industry, race event promotion and an incredible level of enthusiasm to the table. With a true passion for the sport, Gray will bring a new level of excitement to each of the company's events.
"AMA Pro Flat Track is America's original extreme sport and I plan to bring extreme entertainment to the events," said Cameron Gray, COO of AFT Events and Director of Sales and Partnerships for AMA Pro Racing. "We'll have something for everyone in the family, like large vendor areas, motorcycle stunt shows, live music, interactive displays and kid's activities to name just a few. My motto has always been 'Come for the party, stay for the race' and that's exactly what I plan to establish at AFT Events."
There is only one chance in 2016 to check out the future of Pro Flat Track racing. Tickets for the Charlotte Half-Mile, scheduled for July 30 at The Dirt Track at Charlotte Motor Speedway, start at just $29 for adults and kids 13 and under get in free! Get yours now by heading over to https://www.charlottemotorspeedway.com.
Learn more AMA PRO RACING ANNOUNCES FORMATION OF SUBSIDIARY EVENT PROMOTIONS COMPANY AFT EVENTS on VANCE & HINES NEWS