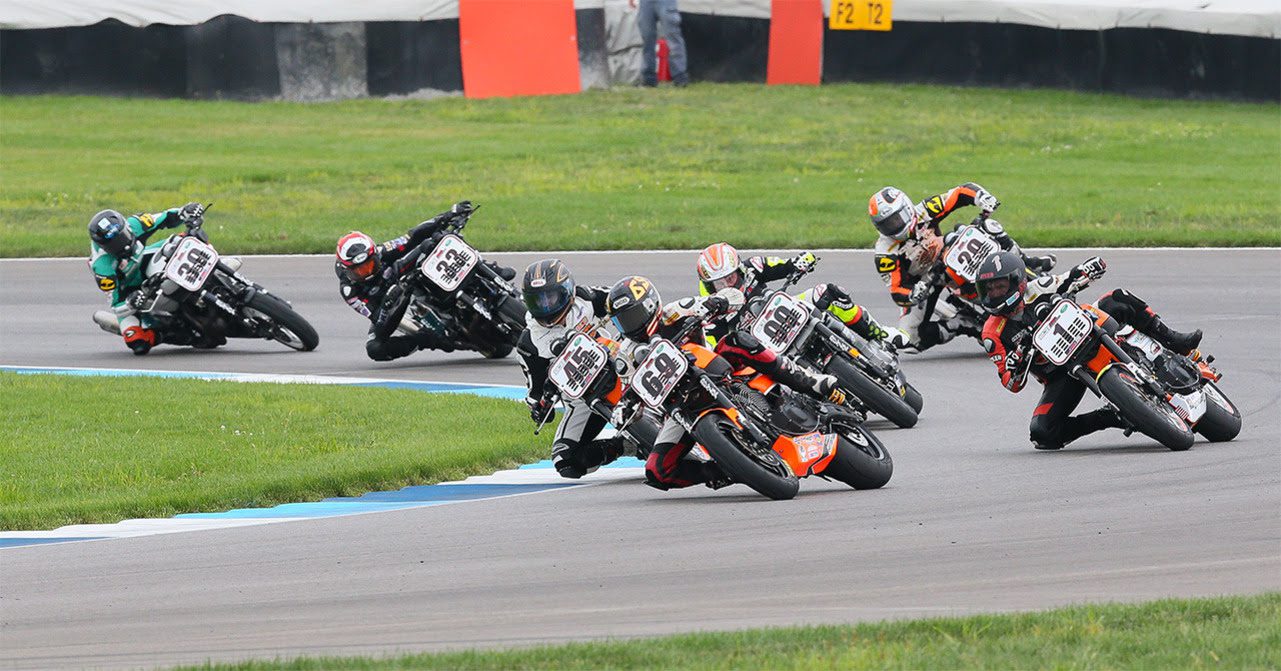 Courtesy of AMA Pro Racing
DAYTONA BEACH, Fla. (August 7, 2014) – The AMA Pro Vance & Hines Harley-Davidson Series will share the spotlight with the world's elite this weekend in Indianapolis at the highly anticipated Red Bull Indianapolis GP.
The Harleys have quickly become part of the tradition of the Brickyard's two-wheeled weekend and can be counted on to deliver a tremendous show to delight the fans when the MotoGP heroes aren't on the fabled circuit. Draft-fests and multiple riders vying for the win are hallmarks of the AMA Pro Vance & Hines Harley-Davidson Series in Indiana and there's no reason to think this year's doubleheader will be any different.
This weekend is also pivotal for the developing 2014 title fight, representing two of the season's final three races.
Championship leader Danny Eslick on the No. 69 Ruthless Racing Harley-Davidson XR1200 would like nothing better than to add an Indy win or two to his resume. Having taken the DAYTONA 200 earlier this year, the Oklahoman would find himself in rarified air if he were to be victorious at America's two most prestigious tracks in the same season.
2014 marks Eslick's full-time return to the class after claiming the series' inaugural title in 2010. Already one of the more decorated AMA Pro racers with a pair of AMA Pro GoPro Daytona SportBike championships to his name, he's seeking to become the AMA Pro Vance & Hines Harley-Davidson Series' first two-time king. Eslick currently boasts a tight six-point advantage in the standings, built upon three second place finishes and a win at Mazda Raceway Laguna Seca.
While Eslick has enjoyed considerable success on middleweight machinery as well as in the premier AMA Pro SuperBike class, his flamboyant style might actually be at its most spectacular when expressed aboard a Harley-Davidson XR1200. "Slick" is always in the mix and a most enthusiastic dogfighter. He may seem like he's just having fun, but underneath the surface he is a fiery competitor who is motivated to excel.
Eslick's closest title rival is Tyler O'Hara, pilot of the No. 29 Josh Chisum Racing/Bartels Harley-Davidson XR1200. The Californian snapped out of a midseason funk and closed in on Eslick with a thrilling win last time out at Mid-Ohio Sports Car Course.
Perennial title contender O'Hara is well positioned to strike with three races to go. Adding to his pair of 2014 wins would allow him to take a big step toward finally accomplishing his goal of earning an AMA Pro Vance & Hines Harley-Davidson Series crown.
Winning at Indianapolis is something he's done before, too. O'Hara broke through to claim his first-career AMA Pro Road Racing victory in 2011's initial Brickyard showdown, which sparked a wild celebration that will not be soon forgotten. In that one, O'Hara did 'the Superman' as he crossed the line and then smoked his rear tire doing burnouts for the fans in a most memorable celebration.
Since that maiden victory, he's racked up seven more wins and finished in the championship top three in three consecutive campaigns. Now all that is left for the 27-year-old to do is take the title. Racing with a small team against a rare talent like Eslick, O'Hara may seem like an underdog. But if he is, he's an underdog with plenty of bite.
Fellow Supermoto ace Ben Carlson aboard the No. 45 Suburban Motors Harley-Davidson XR1200 has some unfinished business as well. Carlson finished second in Race 1 at Indy in 2012.
Carlson is no stranger to the podium but he's yet to take an AMA Pro Vance & Hines Harley-Davidson Series race victory. He nearly had that win in his grasp at Mid-Ohio, but the two-time AMA Supermoto Unlimited champion lost the lead on the final lap, with O'Hara coming out on top following yet another unpredictable showdown.
Carlson may still be waiting on that first win, but his results have been top-shelf. The Wisconsin native has bagged a top five in each race this season and sits third in the points. Carlson needs to close a 23-point gap, but he's still alive. In a wild class like the AMA Pro Vance & Hines Harley-Davidson Series, there is no telling what can happen.
For an analytical rider like Carlson, the drafting battles at Indy should be a good test for his racecraft, and may present him with an opportunity to make up some ground.
Fourth-ranked Gage McAllister on the No. 51 Folsom Harley-Davidson XR1200 has been consistent in 2014 despite racing some riders with much more experience. The 19-year-old Californian showed what he could do with a second in the opener at Daytona. Since then, he has been consistently inside the top ten.
McAllister actually leads reigning champ Steve Rapp and his No. 1 Suburban Motors Harley-Davidson XR1200. Rapp's year has been up and down, with two mishaps blemishing his overall points haul. But Rapp has shown that he and his team still have the ability to dominate the class. On his day, the Californian can break away from the field – something very few have ever been able to do with any regularity in the competitive one-make series.
Despite the bad luck of the season, Rapp has rallied to win and shown plenty of speed. He's also one with unfinished business at the Brickyard. The airline pilot was extremely quick last year but was repeatedly and routinely eaten up on the straights, preventing him from earning a win.
Kyle Wyman on the No. 33 KWR/Millennium Technologies Harley-Davidson XR1200 won at Indy before, and the New Yorker would no doubt like to return the victory lane this time out. Wyman won at Road America and the former dirt track ace knows he has what it takes to claim victory at Indy.
Seventh through tenth has shaped up to be a tough battle. Just ten points separate Nick Hansen aboard the No. 97 Aerostar Global Suburban Motors Harley-Davidson XR1200, Ryan Kerr riding the No. 28 Thunder Roads Magazine/Ryan Kerr Racing XR1200, Hayden Schultz on his No. 59 Chili Pepper Racing Harley-Davidson XR1200 and Josh Chisum on the No. 10 Josh Chisum Racing/Bartels Harley-Davidson XR1200.
The allure of Indy typically tempts some international talent to the AMA Pro Vance & Hines Harley-Davidson Series and this year is no exception. Last year's races were both won by international competitors – Hafizh Syahrin of Malaysia and Jeremy McWilliams (No. 99 Harley-Davidson of Bloomington, Indiana/Warr's Harley-Davidson) from Northern Ireland.
McWilliams is back for more this year and racing fans will get to see his familiar No. 99 in action once again. The ageless veteran and former Grand Prix star won the 2010 UK Harley-Davidson XR1200 Trophy and has made some spectacular AMA Pro appearances as well, including a win at Barber Motorsports Park that same season.
He'll be joined this time by Ramdan Rosli on the No.39 PETRONAS/KWR Harley-Davidson XR1200. Like 2013 winner Syahrin, Rosli is another up-and-coming Malaysian. The 18-year-old will be Kyle Wyman's teammate for the weekend and is looking to learn the Indy track for his future endeavors in a world championship.
The AMA Pro Vance & Hines Harley-Davidson Series competitors will practice and qualify on Fridayahead of the weekend's doubleheader. Saturday's ten-lapper will begin at 4:20 p.m. local time (1:20 p.m. PT) with Sunday's race on the resurfaced and slightly reconfigured 2.62-mile track scheduled for3:30 p.m. (12:30 p.m. PT).
Learn more AMA PRO VANCE & HINES HARLEY-DAVIDSON SERIES DOUBLEHEADER ROLLS INTO INDIANAPOLIS MOTOR SPEEDWAY on VANCE & HINES NEWS