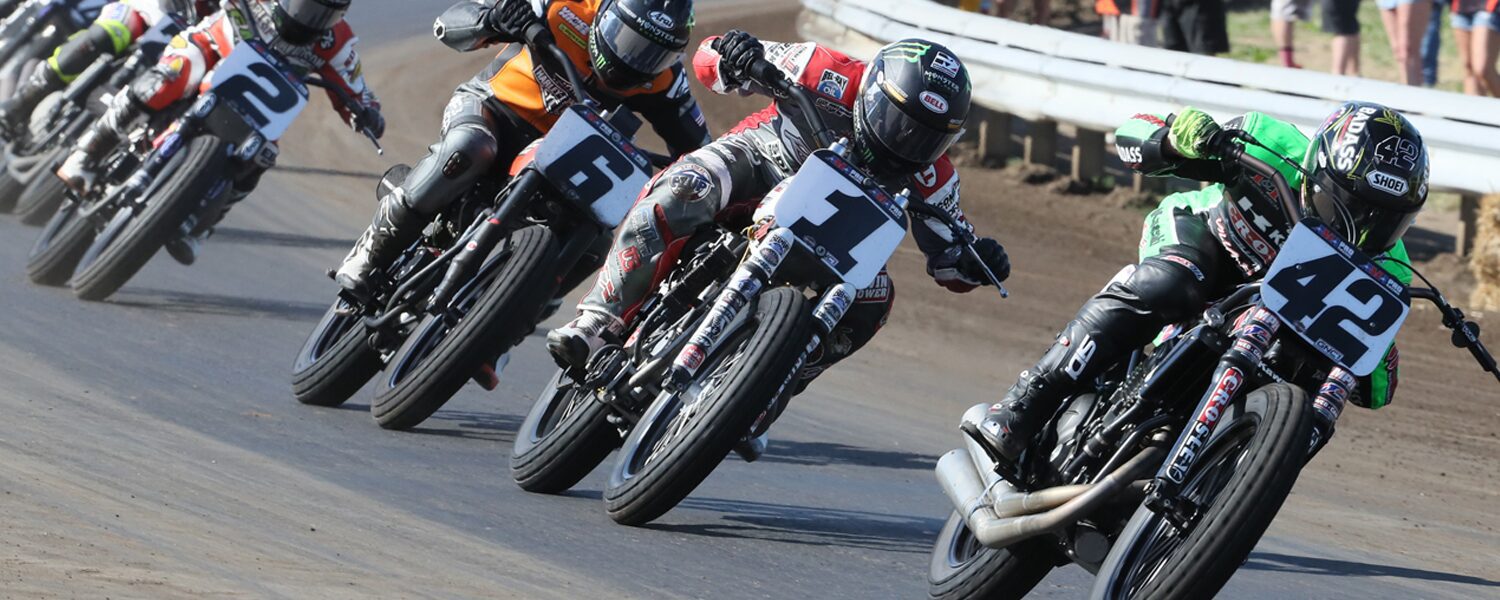 Courtesy of AMA Pro Racing
American Flat Track is pleased to announce that Harley-Davidson® Motor Company has been named the Official Motorcycle of AFT Twins as part of an expanded, multi-year partnership renewal.
American Flat Track is the most historic form of American motorcycle racing, and the iconic American motorcycle manufacturer has been synonymous with the sport since its formation in 1954. With the renewed partnership, Harley-Davidson has taken a leadership position to support the resurgence of the sport as it enters a new golden era.
"American Flat Track and Harley-Davidson share a common vision for the future of our truly American sport," said Michael Lock, CEO of American Flat Track. "2017 marks a new era, with a re-imagined class and event structure, broadcast coverage to 90 million homes through NBCSN and a renewed partnership with one of America's most iconic brands. Now is the time for a whole new generation to fall in love with this great American tradition."
AFT Twins headlines American Flat Track events, and at all 18 rounds next season the world's elite dirt track motorcycle racers will battle handlebar-to-handlebar on prototype twin-cylinder motorcycles. As American Flat Track enters its 64th consecutive year of competition, Harley-Davidson looks to build on its staggering 679 victories in the class.
Harley-Davidson has made a strategic commitment to the continued growth of all aspects of the sport. As the entitlement sponsor for eight rounds on the calendar, the Milwaukee-based manufacturer plans to activate the largest dealer network in the industry to drive consumer engagement through activation at and around American Flat Track races.
"For more than 100 years, Harley-Davidson has been racing to entertain fans, build enthusiasm for the sport of motorcycling and prove the capability of the motorcycles we sell," said Scott Beck, Harley-Davidson Director of Global Brand Marketing. "Most of that history has been built around Flat Track Racing in America – where racing is at its most accessible and exhilarating form. We are racing to inspire Harley-Davidson ownership among the next generations of young riders. It will be an amazing AFT season this year."
For the 2017 season, the Harley-Davidson® Factory Flat Track Racing Team will unleash a three-rider squad consisting of Grand National Champions Kenny Coolbeth Jr. and Jake Johnson and young flat track star Brandon Robinson. All three will race in the famous colors of the Factory Team leathers exclusively aboard Harley-Davidson® XG750R motorcycles.
Fast, liquid-cooled and with big shoes to fill, the Harley-Davidson® XG750R motorcycle officially replaces the legendary Harley-Davidson® XR750 — the most successful flat track racing motorcycle of all time — on the Factory Team after more than 40 years of flat track domination. The XG750R flat tracker is powered by a race-modified, liquid-cooled, fuel-injected 750cc Revolution X™ V-Twin engine originally engineered for the Harley-Davidson Street® 750, a motorcycle designed for maximum urban maneuverability with rebellious Dark Custom™ attitude.
"I'm excited to be one of the riders helping to push the XG750R to the front of the field," said Robinson. "I'm sure I'll be battling with Kenny and Jake to see who can make history and score the first win aboard the new bike. I've learned a lot racing against them. Now we're working together to bring home a championship for Harley-Davidson."
Harley-Davidson Event Takeovers include the season-opening DAYTONA TT (March 16), Charlotte Half-Mile (April 1), Springfield Mile I (May 28), Calistoga Half-Mile (July 29), Black Hills Half-Mile (August 8), Springfield Mile II (September 3) and Williams Grove Half-Mile (September 9). Plans for Harley-Davidson's "Ride to Races" program include dealer rides to each Harley-Davidson Event Takeover, with exclusive offers for the Harley-Davidson community including HOG-only motorcycle parking, exclusive grandstand seating in the HOG Pen and access to premium amenities.
American Flat Track and Harley-Davidson will also integrate a new racing element into the event schedule at select rounds: the Harley Hooligans. The Harley Hooligans represent a perfect marriage of flat track and grassroots racing, giving amateurs the chance of a lifetime, sharing the stage with the world's best dirt track motorcycle racers.
A cornerstone of NBCSN's broadcast coverage of American Flat Track in 2017, Harley-Davidson will be featured through editorial content showcasing the dedication of Harley-Davidson to the sport of flat track racing. Camera crews for the NBCSN shows will follow the Harley-Davidson Factory Flat Track Race team throughout the season to capture the drama on and off the race track, and fans on social media will have full access to behind-the-scenes content through Harley-Davidson's social media channels (@harleydavidson).
For more information about Harley-Davidson, please visit www.harley-davidson.com/. For additional information about American Flat Track, visit www.americanflattrack.com.
American Flat Track will kick off the 2017 season during Daytona's Bike Week festivities on Thursday, March 16 with the all-new Harley-Davidson DAYTONA TT, built inside the tri-oval at Daytona International Speedway. The Harley-Davidson DAYTONA TT will mark the dawning of a new era for America's most historic form of motorcycle racing, and the "World Center of Racing" will serve as the first battleground for the great American war between Harley-Davidson and Indian Motorcycles in 2017. Tickets are on sale now, get yours at www.americanflattrack.com.
Learn more AMERICAN FLAT TRACK NAMES HARLEY-DAVIDSON AS OFFICIAL MOTORCYCLE OF AFT TWINS IN MULTI-YEAR PARTNERSHIP EXTENSION on VANCE & HINES NEWS