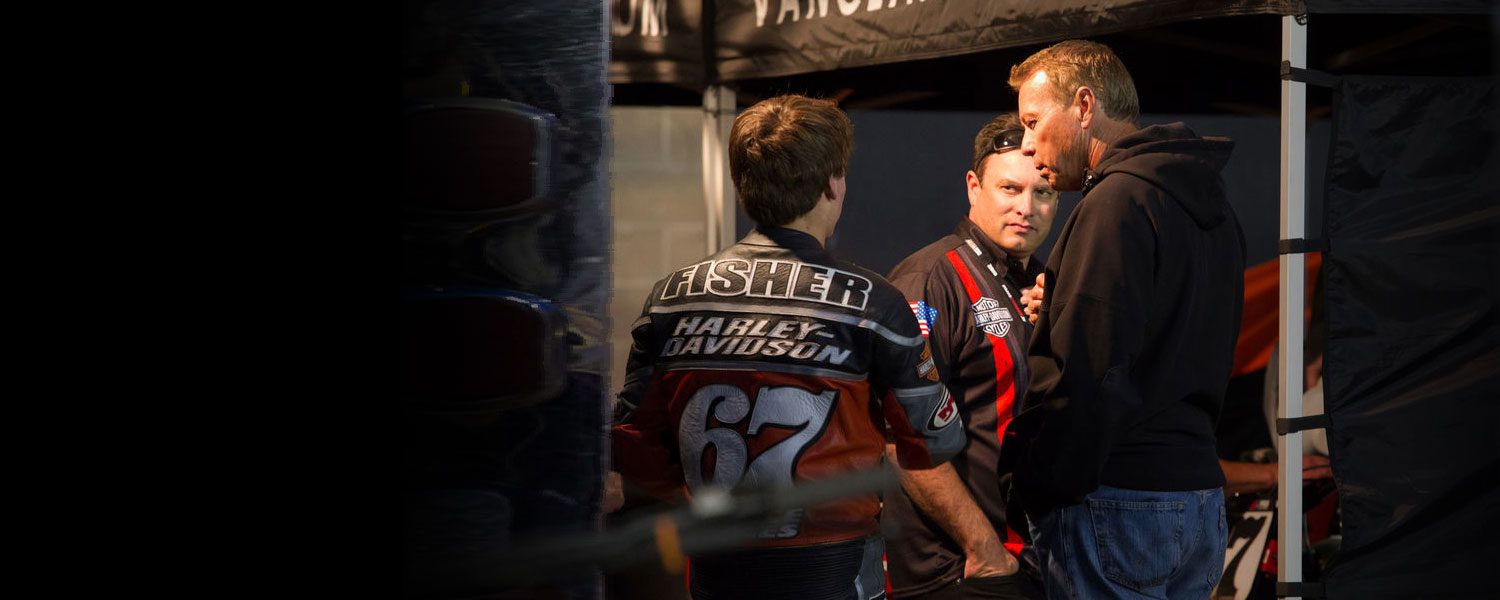 Courtesy of Motorcyclist
It's not easy to put together a powerhouse factory race team on short notice, but Terry Vance and Byron Hines – the Vance & Hines – have plenty of experience when it comes to race teams. So when the writing was on the wall that Vance & Hines was going to handle the operational duties of Harley-Davidson's Factory Flat Track effort in the American Flat Track Series, Vance rolled up his sleeves and got to work.
"Obviously, the first thing was the riders, and that's who I took care of first before I talked to anybody else because I wanted to make sure I didn't get too late to the party," Vance said. "The (Brad) Baker situation had already come and gone. There wasn't anything I could do about it. I tried to figure out the best three guys I could get. I talked to a lot of people in the industry about what they felt, because I'm pretty green at the sport. I got some really good info from a lot of people. So once that was done we started assembling and away we went."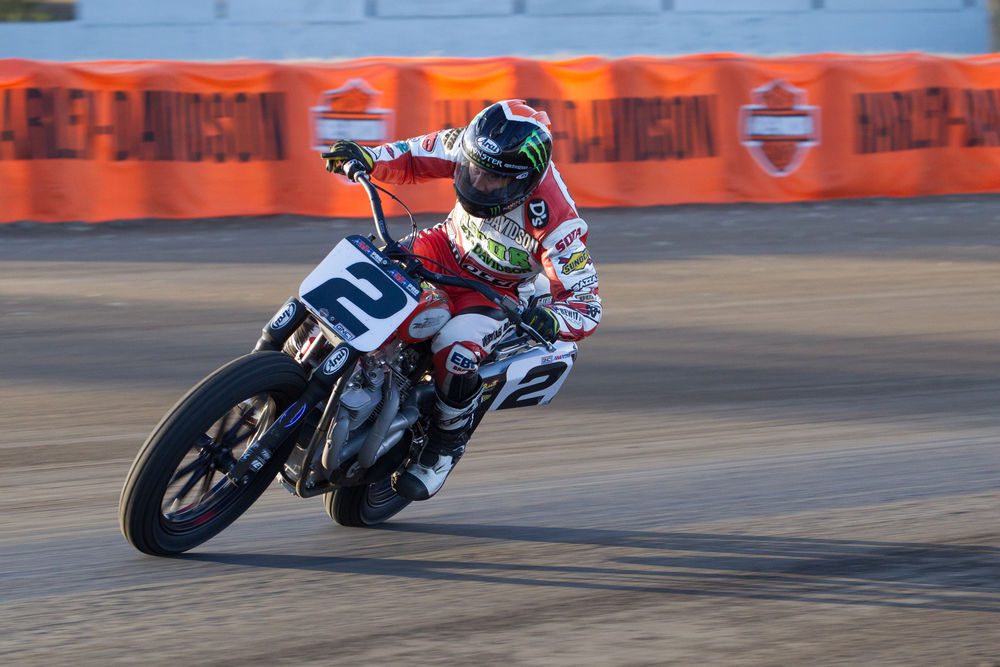 That decision was a mixture of youth and experience: three-time Grand National Champion Kenny Coolbeth, Jr., two-time Grand National Champion Jake Johnson and Brandon Robinson. The official announcement was made during the Winter X Games in January, which publicly put all the pieces to play in the newly reborn Harley-Davidson vs. Indian rivalry. Harley's three to go up against Indian Motorcycle's three: reigning Grand National Champion Bryan Smith, four-time Grand National Champion Jared Mees and 2013 Grand National Champion Brad Baker.
It was a big coup for Indian to grab three of the biggest names in the sport early, and announce it after the 2016 season finale when said three riders topped the podium at said finale at the Santa Rosa Mile. Perhaps what stung the most was losing Baker, the sport's biggest young star who Harley signed straight away after Baker won his first Grand National Championship at 20 years old. While it was disappointing for Vance, it was really just water under the bridge at this point.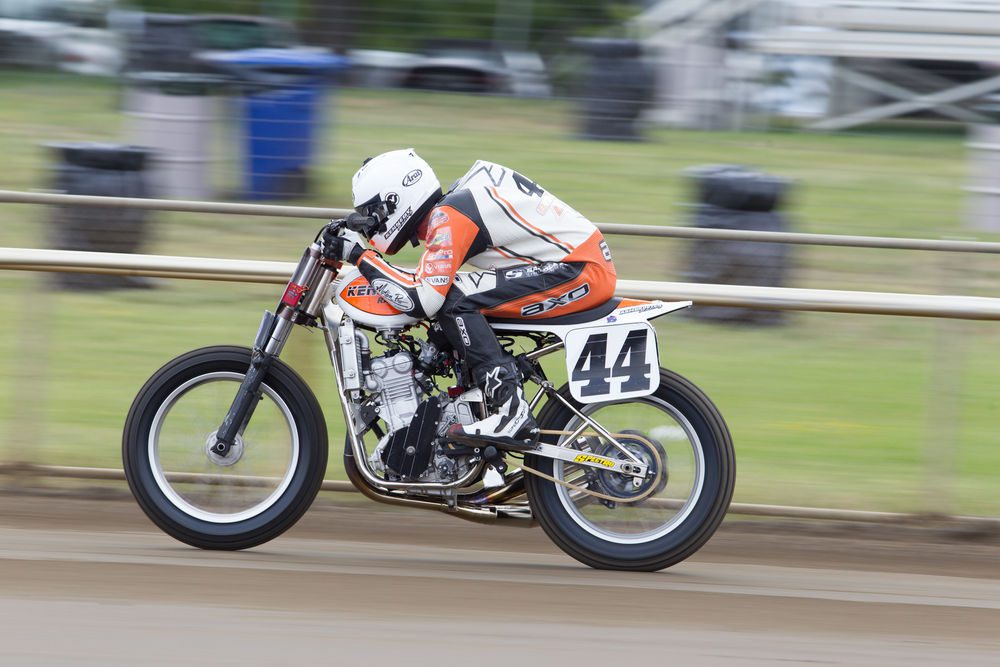 Although it will be a new team for Brandon Robinson, the up-and-coming rider keeps his tuner Brent Armbruster.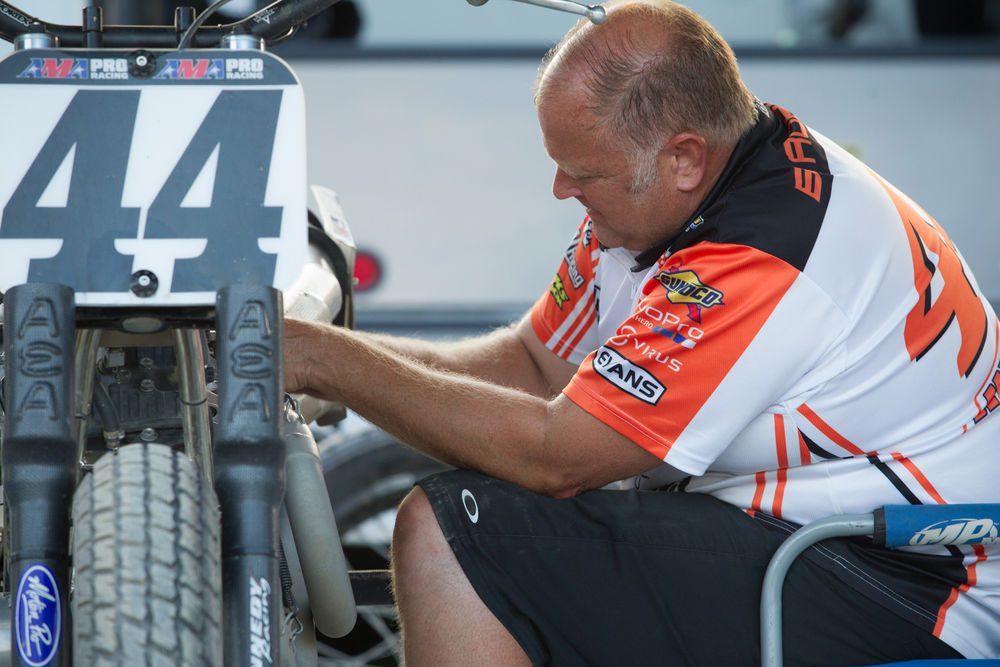 "I think Brad (Baker) is if not the best, one of the best guys out there," Vance said. "I think he's got some serious skill and some determination. I like that a lot. But I understood what Brad did. I didn't like it. I wish he hadn't done it the way he did it, but I understood why he did it. Harley-Davidson had not make the commitment for the future and he wasn't going to sit around and wait to see if that was going to happen. So he had to make a choice. I wish that he had talked to me first and we'd have been able to convince him about the future, but that's water under the bridge at this point. I'm totally thrilled with the three guys that I have. I couldn't be happier or more enthusiastic about what's coming this year in 2017."
Since Harley's announcement about their three factory riders to battle Indian's three factory riders, all the talk has been about the riders and Harley's plans for the future. But there's been little talk about the team. If you understand racing, you understand that although at first glance it appears to be an individual sport, it is very much a team sport. In the world of flat track, the tuners have an elevated status, if not equal, near to that of the riders themselves.
Indian Motorcycle had already swooped up two of the biggest names in the flat track world – Ricky Howerton and Kenny Tolbert – but that doesn't mean there was talent vacuum. Vance was able to bring in some well respected names in the flat track world, not only with experience, but experience with the riders they assembled, starting with: Former GNC rider and longtime tuner Brent Armbruster who worked with Robinson last season; Steve Polk, longtime engine builder for Zanotti racing, who also worked with Jake Johnson; and Josh Sutter, who is new to working with veteran Kenny Coolbeth, Jr., but has experience with Harley's new liquid-cooled fuel-injected flat track racer – the XG750R – working on the program last year with GNC rookie Davis Fisher. They also were able to keep Mike Hacker, also a former racer and has been a part of the Harley Factory program for a while.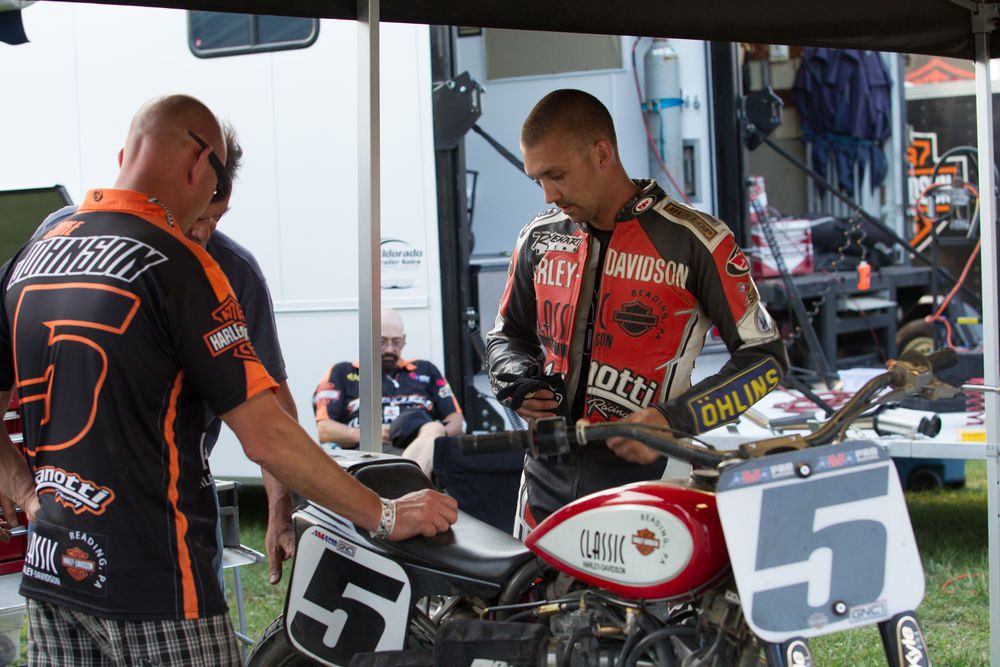 "Mike Hacker was involved with the Harley team last year as a suspension advisor, and I wanted somebody that could interact with any riders that I chose, somebody that had the right personality to do that job – to be the suspension guy and also interact with the riders," Vance said. "Brandon (Robinson) and Brent (Armbruster) worked together last year. Steve (Polk) and Jake (Johnson) worked together last year. So, it worked out perfect. This weekend I spent time with Kenny. I really like him a lot. He's a really talented guy, real smart guy. Hard worker. I'm really, really blessed to have him on this program. So, it's going to be a great match up with him and Josh. Josh is one of the hardest working guys I've ever been around. All the guys, really. They're thrashers. What they've accomplished in the last four months is astonishing to me. I'm really excited by what's coming. We just got back from our first test in Savannah, Georgia over the last three days. I'm really happy the way things are going and really happy the way the team is gelling and really hopeful for the future."
Although Vance has always been a fan of flat track and has had some involvement over the years, 2017 is his first full-time involvement in the sport running the factory team. He's not foreign to racing, though. He was a championship drag racer himself, and then later a team manager in drag racing and road racing. That racer background gives him a different perspective as a team manager.
"I think it helps me to identify the guys that kind of have the right stuff, because I've kind of been there myself and I've seen them," Vance said. "If you think about the list of guys that I've worked with –Eddie Lawson, Anthony Gobert, Troy Bayliss, Ben Bostrom, Jaime James, (Thomas) Stevens, (Dave) Sadowski… We've done a lot of great stuff. I've seen a full spectrum of riders, from guys that are very conservative to a lot of guys that are just way out there. I think that helps me to kind of gauge how a guy's going to be, but it's really hard because you don't know until the guy gets in the competition whether he's got the right stuff. That's one of the nice things about the three guys that I chose. I've seen them all under heavy pressure situations and I've seen them all come through. So that's a good test for me, a gauge for me. So that makes it a little bit easier. But yeah, I think my background in the sport, forty years of racing and being around racers and dealing with racers gives me a little bit better perspective on our guys."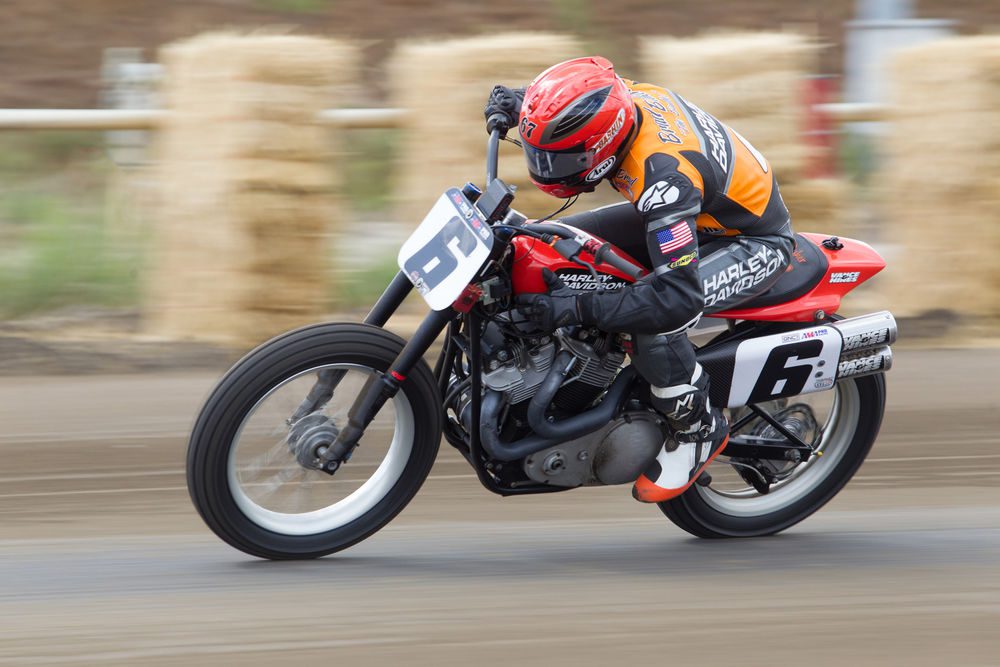 Vance is still very involved in drag racing, he also has a rich history in road racing… So why flat track racing? It's very simple in the end. Vance & Hines has a strong relationship with Harley-Davidson and there are no Harleys in the sportbike market ready to race in MotoAmerica's class structure. After MotoAmerica took over road racing and there was no place for the XR1200 series in that championship, Vance was looking at different race series and they felt that flat track was lying dormant and a good place to shift their involvement there.
"There's not any type of motorcycle racing here in the United States that's anywhere near as exciting as a (American Flat Track) mile race," Vance said. "I really enjoy it, having been a motorcycle person my whole life. When I see that kind of stuff I really get excited. So it was a nice opportunity for us to move there. The market's coming there. Then seeing Jim France start to move the pieces in the right direction with Michael Lock and start to promote the races through their own corporation, and television following. We were in the right place at the right time."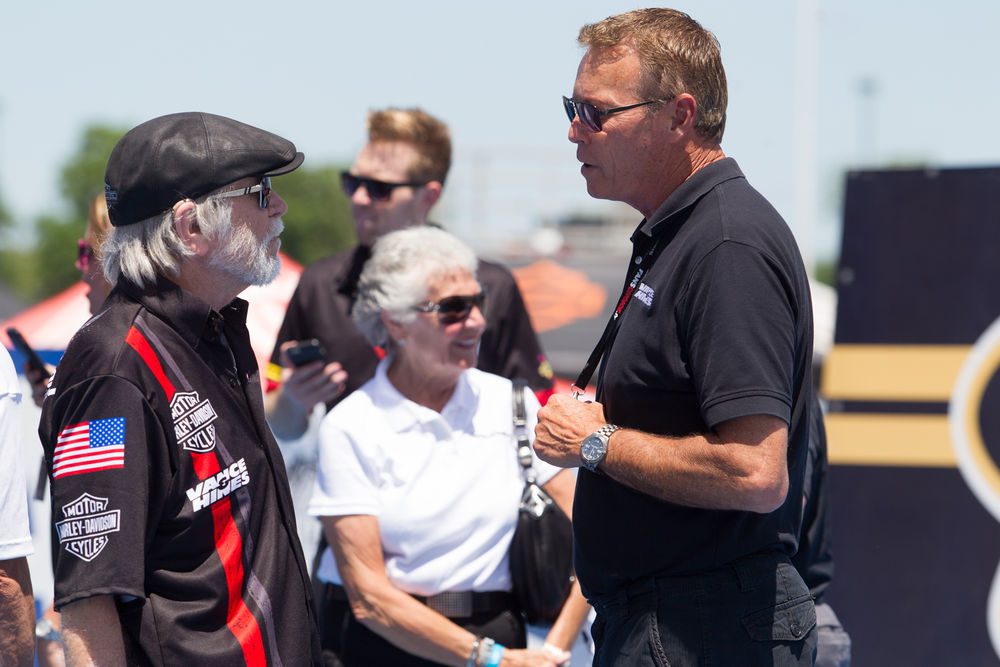 For sure there's a lot of excitement surrounding American Flat Track right now, with the revival of that Harley v. Indian rivalry, a new all-twins premier class and the addition of a TV package. The direction of flat track reminds Vance of when Supercross made its big leap.
"Flat track has a chance to be really, really special in the United States," Vance said. "It's the right motorcycles for the segment that's getting sold right now. It's the right place for manufacturers to be involved. It's a very small venue where even a mile course, you can build a mile course a lot cheaper than you can trying to do a road course at a road race or someplace like a big outdoor motocross. So they have a lot of things in in their favor, and I think that Michael's (Lock) done a masterful job of orchestrating the players to get them lined up to make this all work. So I couldn't be happier. Now with Harley involved in a bigger way and Indian coming in and the AFT (American Flat Track) guys actually getting ready to let the clutch out, I think it's really exciting."
Learn more AMERICAN FLAT TRACK: TERRY VANCE TALKS HARLEY-DAVIDSON FLAT TRACK TEAM BUILDING on VANCE & HINES NEWS