American Flat Track will at last set the field loose on the first of 2019's magnificent Miles with this weekend's Lexington Red Mile on Saturday, June 1, in Lexington, Kentucky
The spectacular Red Mile has existed primarily as a horse racing facility for its near century-and-a-half existence, but it's adapted well to the hundred-fold increase in horsepower it has been subjected to since AFT first visited in 2017.
Mees still has a long way to go to catch Bryan Smith (No. 4 Crosley Brands/Howerton Motorsports Kawasaki Ninja 650); Smith's 25 Mile victories have him tied for third all-time with the legendary Bubba Shobert. Smith sat out the So-Cal Half-Mile in order to get his bike fully dialed-in ahead of this year's Miles, and he and his crew have only had more time to prepare following the weather-related postponements of both the Sacramento Mile and Springfield Mile I.
AFT Twins title leader Briar Bauman (No. 14 Indian Motorcycle/Progressive Insurance FTR750) and the resurgent Sammy Halbert (No. 69 Harley-Davidson Factory Flat Track Team XG750R Rev X) are just two of a deep pack of potential contenders with both the pace and motivation to prevent this weekend's Main Event from becoming another in a long list of Mees-Smith Mile showdowns that have featured so prominently in American Flat Track's modern history.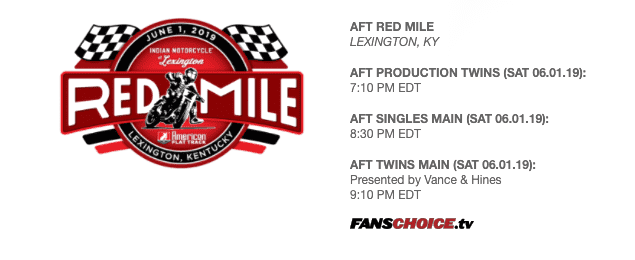 Learn more AMERICAN FLAT TRACK TO UNLEASH ITS HORSEPOWER ON THE RED MILE on VANCE & HINES NEWS