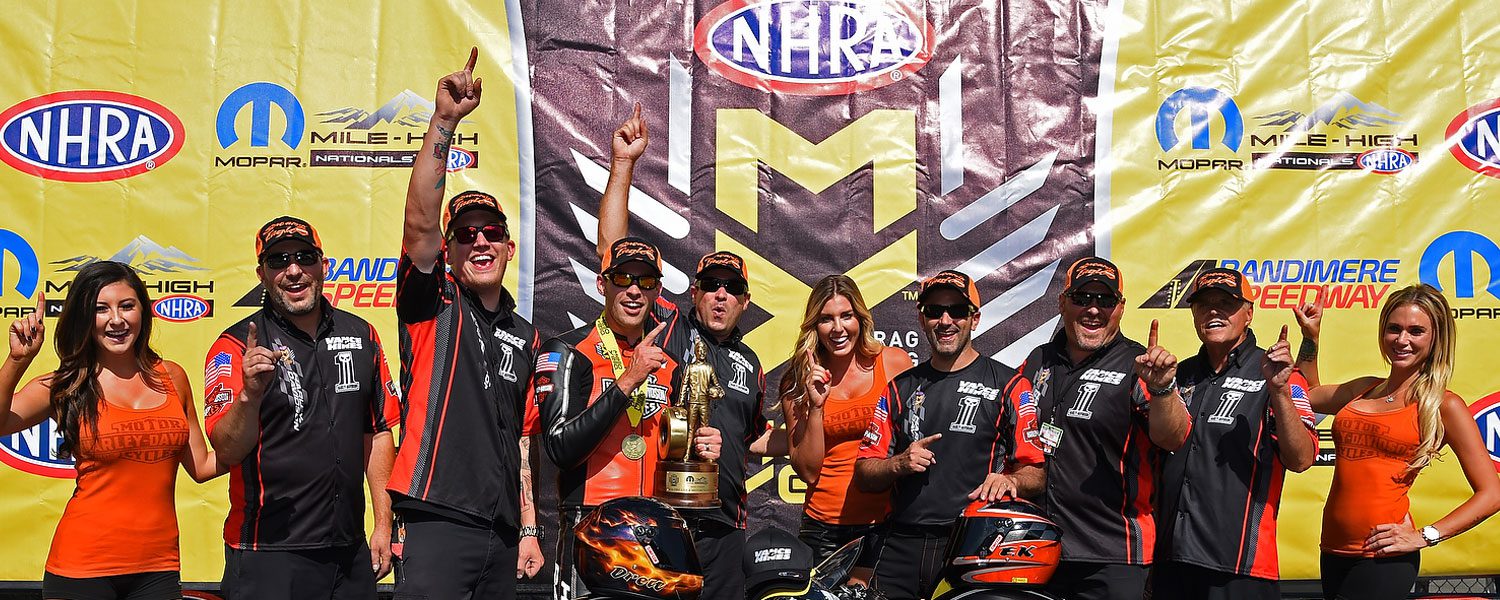 Andrew Hines became the winningest Pro Stock Motorcycle rider in history, capturing his 45th career win by outrunning teammate Eddie Krawiec in the final round at the Mopar Mile-High NHRA Nationals at Bandimere Speedway near Denver.
Hines took his third win of the season and fourth at this event by posting a track record time of 7.134 at 188.33 on his Screamin' Eagle Vance & Hines Harley-Davidson to hold off Krawiec's Screamin' Eagle Harley, which trailed with a 7.148 at 187.21.
It was the third consecutive final round appearance for five-time and defending world champ Hines, who defeated Scotty Pollacheck, Cory Reed and LE Tonglet to advance to the final.
"It doesn't get much better racing up here in the mountain with the thin air requires a different setup," said Hines, who trimmed Krawiec's points lead to 109. "Coming back to win on the mountain, it means a lot. My team has had my motorcycle really dialed in right now. It is our third final in a row and I am just riding the wave. I don't think I've ever put eight runs like that together in a weekend. The bike is such a joy to ride right now."
The NHRA Mello Yello Drag Racing Series continues with the second stop of the Western Swing, the Toyota NHRA Sonoma Nationals next weekend at Sonoma Raceway in Northern California.
ROUND ONE — Cory Reed, Buell, 7.234, 183.49 def. Shawn Gann, Buell, 7.278, 184.09; Jerry Savoie, Suzuki, 7.204, 185.89 def. Michael Ray, Buell, 7.320, 182.26; Chip Ellis, Buell, 15.210, 93.84 def. Hector Arana Jr, Buell, Foul – Red Light; Angelle Sampey, Buell, 7.204, 183.49 def. Hector Arana, Buell, Foul – Red Light; Eddie Krawiec, Harley-Davidson, 7.230, 184.09 def. Karen Stoffer, Suzuki, 7.285, 183.82; LE Tonglet, Suzuki, 7.234, 184.77 def. Tyler Fisher, Suzuki, 7.284, 182.90; Andrew Hines, Harley-Davidson, 7.213, 184.90 def. Scotty Pollacheck, Buell, 7.370, 179.85; Matt Smith, 7.251, 183.67 def. Angie Smith, 7.314, 180.00;
QUARTERFINALS — Savoie, 7.221, 184.35 def. Sampey, 7.299, 184.35; Tonglet, 7.304, 182.33 def. M.Smith, 16.874, 44.19; Krawiec, 7.245, 184.37 def. Ellis, 7.317, 183.42; Hines, 7.234, 184.77 def. Reed, 12.995, 60.23;
SEMIFINALS — Krawiec, 7.218, 186.23 def. Savoie, 7.227, 184.42; Hines, 7.151, 187.34 def. Tonglet, 7.228, 184.90;
FINAL — Hines, 7.134, 188.33 def. Krawiec, 7.148, 187.21.
Pro Stock Motorcycle Points
Eddie Krawiec, 742; 2. Andrew Hines, 633; 3. Angelle Sampey, 534; 4. Jerry Savoie, 500; 5. Chip Ellis, 386; 6. Hector Arana, 375; 7. LE Tonglet, 364; 8. Matt Smith, 290; 9. Steve Johnson, 268; 10. Michael Ray, 262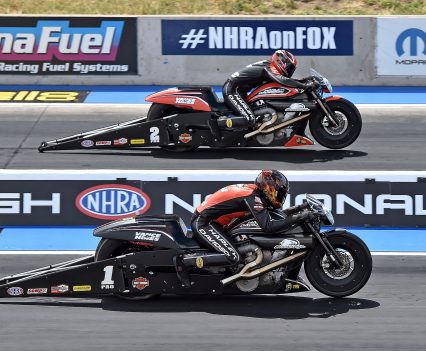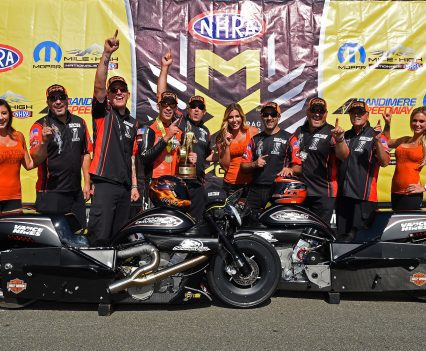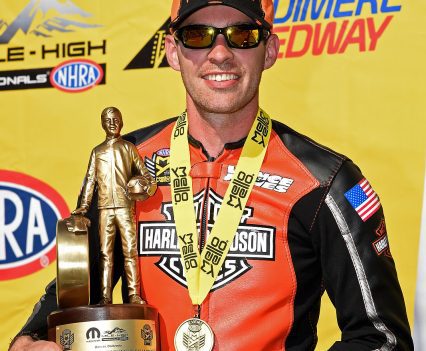 Learn more ANDREW HINES MATCHE DAVE SCHULTZ TO LEAD PRO STOCK MOTORCYCLE ALL-TIME WINS LIST on VANCE & HINES NEWS