Courtesy of ESPN
Angelle Sampey didn't set out to be a role model. But when she became a mother, the three-time NHRA Pro Stock Motorcycle champion realized she could no longer ignore the inevitable.
"I have two little girls looking up to me now, which is why the whole female role model thing has changed in my mind," Sampey said. "I never wanted that role before, but I understand how important it is now that I'm a mother of two daughters."
After becoming the winningest woman in NHRA history with 42 Pro Stock Motorcycle victories, the 48-year-old Sampey took a five-year break from competition from 2009 to 2013. The Louisiana native returned to racing in 2014. Today, she is 11 victories shy of tying all-time Pro Stock Motorcycle winner Andrew Hines.
"When I started racing, the most important thing to me was to be seen as an equal," said Sampey, who made her Pro Stock Motorcycle debut in 1996. "I never really wanted anybody to recognize me as the girl on the motorcycle. I just wanted to be the competitor that they didn't want to lose to. Unfortunately for me, they didn't want to lose to a girl. But I wanted them to respect me in a whole different way."
Hines, Sampey's team co-owner, admitted when he began racing in 2002 that he always thought, "I don't want to lose to a girl." That attitude has changed because "now there are so many women in the sport — they're just racers."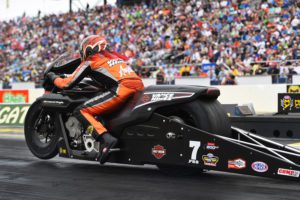 "You roll in on Sunday and you don't think you're racing a girl," said Hines, a five-time Pro Stock Motorcycle champion. "You're racing somebody that's qualified for this class, and you're going out there to beat whoever it is. They've all brought that level of respect to themselves to go out there and kick guys' butts."
Sampey said she believes the attitude has changed because the women who compete are "not just females that are trying to do something — they are actually winning."
"It's a good feeling to know I was a part of that along with Shirley Muldowney, of course her being the first, and she's still one of my heroes," Sampey said. "It just took me several years to understand that I was a role model. I didn't like it at first. I kinda felt like there was pressure on me because of it, but I'm proud of it now and I'm happy to say I've been a part of it. I'm really proud of all the girls that have come along."
Muldowney, who blazed the way for women in drag racing, was the NHRA's all-time winningest female racer with 18 victories, until Sampey broke her record in 2001. This year, Sampey is making history once again as the first woman to compete on a Harley-Davidson motorcycle. She made her debut with the Vance & Hines team in March at the Gatornationals in Gainesville, Florida.
Sampey expected the Harley-Davidson to be "totally different" from any motorcycle she had ever ridden. She wasn't wrong.
"It's the toughest that I've ever ridden and the fastest," Sampey said about the motorcycle. "After 23 years, I'm embarrassed to say that going down the racetrack on all of the other motorcycles became almost habit. You could basically do it with your eyes closed. On this Harley-Davidson Street Rod, that is definitely something you cannot do. You have to be aware of every single thing that is happening."
Sampey cited two major changes to which she had to adjust: the motorcycle's torque, since it pulled in each gear, and its fairing. The fairing is a shell placed over the frame with a primary purpose of reducing air drag. A windshield is usually integrated into the fairing's design. Sampey noted that with the Harley, there was no large fairing wrapping around the front of the motorcycle to protect her shoulders and her hands.
"We have this little-bitty windshield," she said. "That was way different than anything I had ever felt before. I didn't feel that it [wind] was pushing me off the bike, but the sensation of how fast I was going was finally there. I've had people in the past ask me what it feels like to go nearly 200 mph. When you're behind a fairing, you don't really feel the wind. Now I do. It feels like I'm going 400 mph. I had to get used to the new feeling of the wind touching me."
Hines described Sampey's initial test session on the Harley as "average."
"She definitely had some learning to do on how to ride our motorcycle versus what she had been riding," Hines said. "Every run she's gotten better, and she definitely learns very quickly on what she needs to fix."
Hines said the team, which fields motorcycles for him and four-time Pro Stock Motorcycle champion Eddie Krawiec, initially didn't plan to run three motorcycles this year. But when Sampey left Team Liberty, Hines said, "It was kind of a no-brainer" to hire her.
"Harley has been picking on us the last few years, the last decade, really, to have a female on the bike," Hines said. "She does such a good job with media and social media and racing a motorcycle that she was a great fit.
"We have our history in the past of racing each other and hating each other, things like that, but it was all racetrack related. The few times we did talk, it was always cordial, about family and things like that. She's done a great job being an ambassador for Harley-Davidson."
Sampey has advanced to the quarterfinal round in the past four NHRA events.
"She's going to knock off some round wins and break some hearts real soon," Hines said.
Deb Williams is a North Carolina-based writer and former editor. She has covered auto racing for United Press International, USA Today and The Charlotte Observer.
More from espnW.com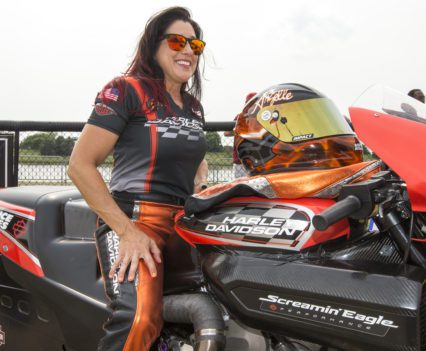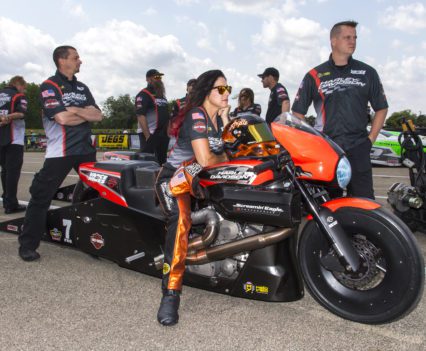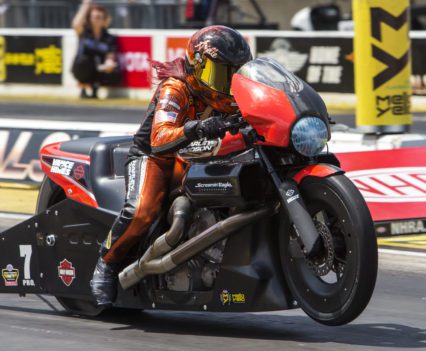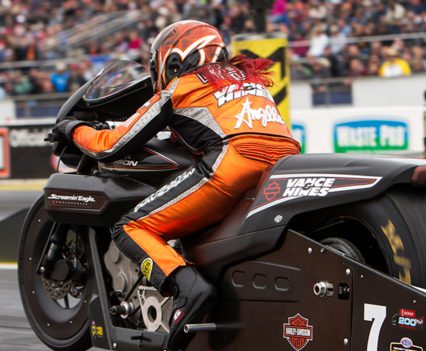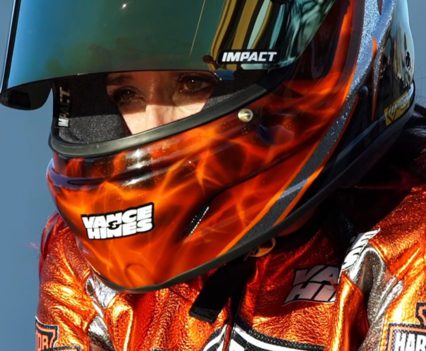 Learn more ANGELLE SAMPEY BLAZING TRAILS WITH NEW RIDE on VANCE & HINES NEWS