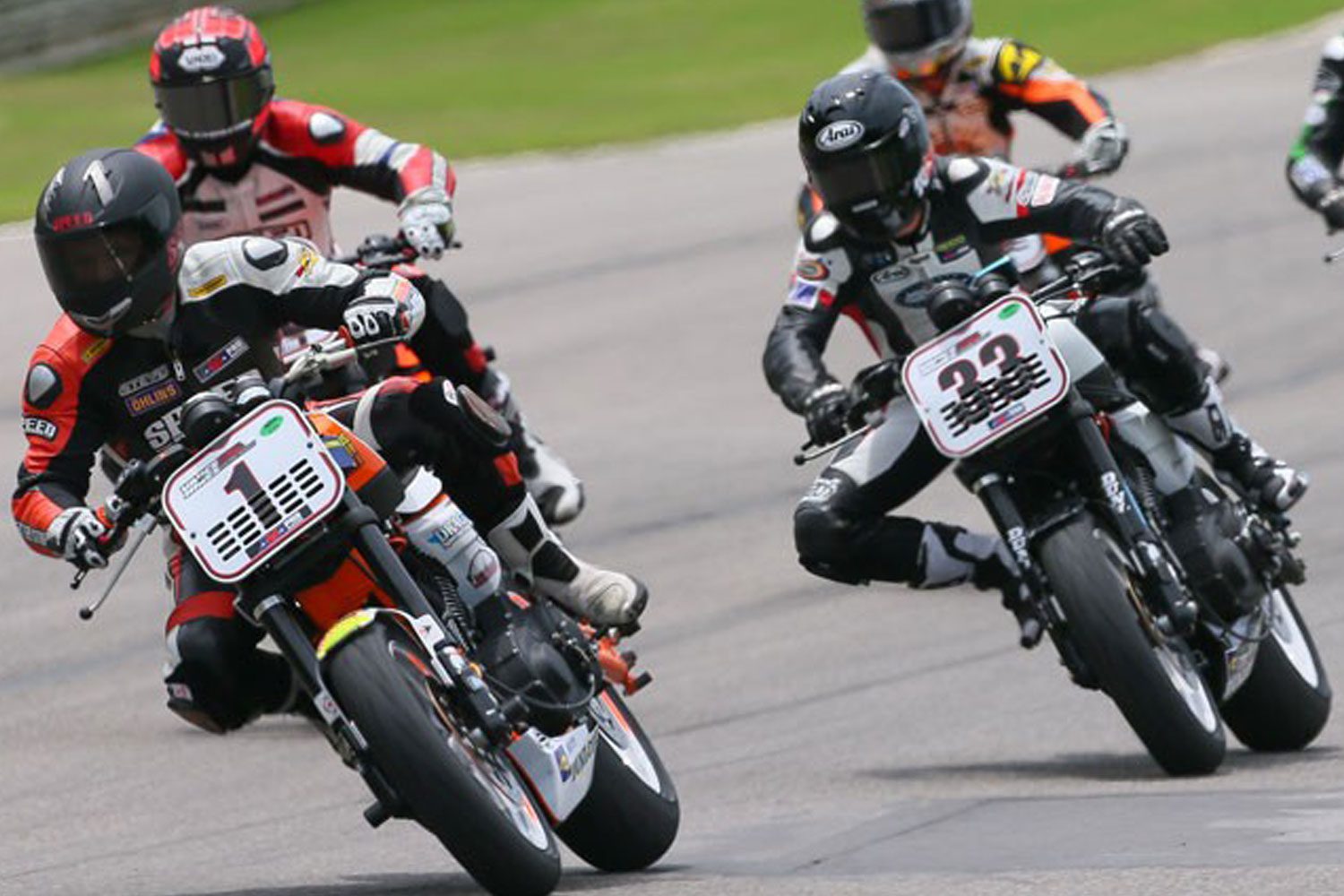 Courtesy of AMA Pro Racing
Defending AMA Pro Vance & Hines Harley-Davidson champ Steve Rapp took out his early-season frustrations on the opposition today in Alabama. The Suburban Motors Harley-Davidson star registered a dominating ride in the 11-lap Harley-Davidson final today, ripping free from the pack early and extending his advantage by more than a second per lap en route to a lopsided 11.114-second margin of victory.
"That's my favorite kind of race," the triumphant Rapp said. "I like riding by myself out front – I ride like that in practice in lot so that when it happens in a race, I'm ready for it. The bike was awesome; the guys from Suburban build the best bike out here – the best bike in America probably – and I'm happy to ride it."
While Rapp did his best to take away any suspense over the race's winner from the opening lap, there was plenty of bar-banging excitement courtesy of a frantic scrap for second. Five riders contested the position with an unwavering sense of urgency until lap six, at which point KWR/Millennium Technologies' Kyle Wyman tumbled out of third.
Wyman's exit didn't make things much easier for Ruthless Racing's Danny Eslick, who still had to deal with three hungry riders seeking the runner-up position – Josh Chisum Racing/Bartels Harley-Davidson's Tyler O'Hara, Rapp's Suburban Motors teammate, Ben Carlson, and Six-Four Motorsports' Shane Narbonne.
Eslick ultimately held strong, but for the second race in a row, title leader O'Hara was aced by Carlson on the last lap and pushed down to fourth. Narbonne took an impressive top five.
O'Hara still leads the title race but by one a single point over former class champ Eslick, 66-65.
Next Race
The stars of AMA Pro Road Racing will share the spotlight with world-class company as the GEICO Motorcycle U.S. Round of the FIM Superbike World Championship at Mazda Raceway Laguna Seca is up next. The joint AMA Pro-FIM event will take place on July 11-13 in Monterey, California.
How to Watch
FansChoice.tv is the official home for live streaming coverage of AMA Pro Road Racing and AMA Pro Flat Track events in 2014. The site also provides coverage of IMSA's development and single-make series, and NASCAR's touring and weekly series.
Learn more BARBER RECAP on VANCE & HINES NEWS