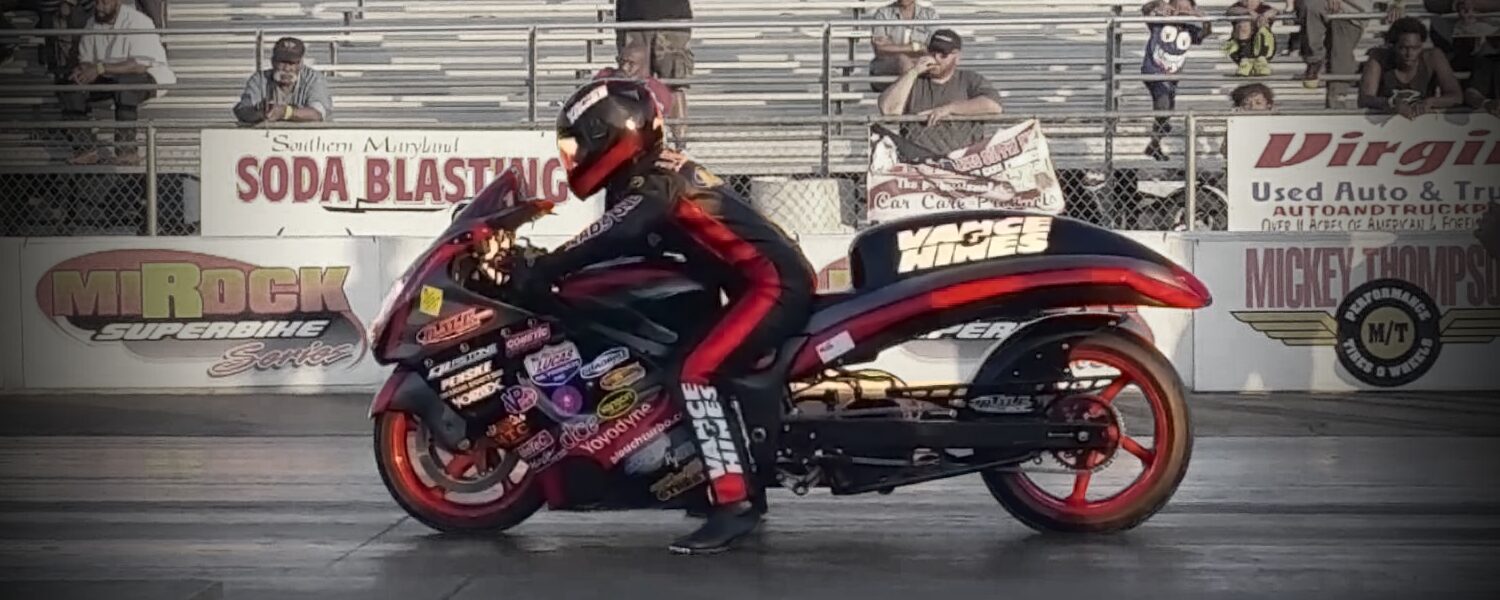 Courtesy of EatMyInk
29th annual MTC Engineering Summer Nationals
Maryland International Raceway in Budds Creek, MD, USA 
Jason Miller's Mickey Thompson International Drag Bike League— the world's largest motorcycle drag racing series—continues to grow at a phenomenal rate, with each event drawing significantly more entries than in previous years. Traditionally a smaller event on the IDBL schedule, the May 29-31 29th annual MTC Summer Nationals showed a better than 10% increase to 678 entries—all pushed smoothly down track under beautiful skies by the incredibly efficient Maryland International Raceway staff.
But big entries weren't the only super-sized sensation of the weekend. DME Racing Real Street is structured to even out the playing field between pint-sized riders like multi-time champ Jeremy Teasley and big guys like Anibal "Cannibal" Merced. He and other men of "normal" girth get a little extra wheelbase in their swingarms to launch harder and keep the front wheel planted on Budds Creek's sticky quarter mile.
This Summer Nationals would not be Teasley's best result. Qualifying only 5th, Teasley was out early, spinning and losing in round 1 to Joey Gladstone. Joey was riding class sponsor DME's brand new, all-motor Suzuki Hayabusa.
Despite an .050 advantage at the tree in round 2, Gladstone was unable to hold-off the massive nitrous charge of Roger Starrette's Kawasaki ZX14. Starrette then spun at launch and lost to former champ Johnny "Turbo" Dobrin in the semis.
On the other side of the ladder, Merced was thriving on great reaction times. Qualified 6th, Anibal rode his nitrous-huffing '14 around Tom Federici's supercharged 'Busa in a close round 1 race. Next he caught number 1 qualifier Eddie "Who" Chapman snoozing at the tree, advancing despite a huge, quarter second performance disadvantage to Chapman's turbo 'Busa.
For the final round, Meced faced another turbo 'Busa—this time Dobrin's. Merced nailed a massive starting line advantage for another holeshot and the first-ever Real Street win for the Puerto Rico native and all-around nice guy. Merced also left MDIR with the Real Street points lead.
Two-time Orient Express Pro Street champ Gladstone doesn't even need great lights to keep his record-setting, DME Racing-prepped, Vance & Hines turbo 'Busa ahead of the competition in that class. Gladstone had a huge advantage all weekend as the rest of the field struggled in the heat of the afternoon.
Number 1 qualifier Gladstone took the stripe every round with huge margins of victory over Crystal Jackson, former teammate Ehren Litten, and Mace Motorsports racer Darion "Nanu" Payne on his path to the final.
But the rest of the field featured tight, side-by-side racing. Michael Bayes was having a great weekend on his baby blue, Ronnie Mitchell Racing "Sandra Dee" turbo 'Busa out of Detroit. Bayes was clicking off personal bests after his return from a seriously dislocated shoulder suffered in a top end crash last year. Mitchell sported his biggest smile in many events as Bayes slipped past Richard Gadson on Brad Mummert's nitrous, old school, air-cooled Suzuki GS in round 1, then easily past spinning teammate Jason Angela in round 2. Semifinal opponent Doug Witt sat up on his NOS 'Busa at mid-track after the bike wouldn't shift and Bayes was on the way to his first final.
Bayes put an .039 advantage on Gladstone at the tree, but Mitchell had Sandra Dee's wick turned way up for the final. Bayes spun and wheelied while Gladstone clicked off another 6.80something for the win.
Vance & Hines 4.60 is growing at a phenomenal rate, with 30 bikes entered at the Summer Nationals—a record-breaking turnout for the IDBL's newest class. Bobby Lovingood and Steven Shriver fought their way to the final round, where Shriver broke out by .007 despite taking the tree by .008.
4.60 may soon have as many entries as Carpenter Racing Crazy 8s. Robert Parker won the 8.88 no-bar index class over Ben "Hardest Working Man in MC Drag Racing" Knight, but Knight was lucky to leave Maryland with his skin intact. He was as close to flipping his 'Busa over backwards at mid-track earlier in the day as one could be without actually flipping, then should have crashed again when the bike came back down and went into a wicked tank-slapper. An exhilarated Knight came right back around for all the other classes he was still in. Having just redlit in another class, Knight took the tree too soft against Parker in the Crazy 8s final and broke out trying to catch up. It was Parker's first win in Maryland.
Defending FBR Shop 5.60 champion Michael Ostrowski and fellow finalist Dustin Lee both ran very close to the index, but Lee left way too much at the tree and Ostrowski took the win.
Bobby Holland's .003 light was the difference in the Trac King Clutches Top Sportsman final, where he beat Kelvin Bradley. Shinko Pro ET wins went to "Fearsome" Andy Baumbach over Norman Teal—who was backed off the starting line with an oil leak—on Saturday, and Virginia's Clay Davies (with an .006 light) over Connecticut's Bob Carlson on Sunday.
Carlson won Brock's Performance Street ET over Michael "Ice Cold Killer" Herman on Saturday and Friday night's Gambler's Race over Dave Clinedinst.Sunday's Street ET win went to MDIR homeboy Shayne Proctor over "Always the Bridesmaid (not really, but just this weekend)" Lee.
Ryan Schnitz went 2 for 2 in Eastside Performance Grudge races on HTP Performance's "Cobra" over the "Purple People Eater." Darion Payne also won a big race Saturday night on "Cranky" (cloaked in gray primer) vs. the "Suge Knight" ZX14 in an all-motor, all-primered showdown.
MDIR's Miller put up a couple hundred bucks Saturday night for an impromptu Grom race. Canny racers quickly figured out the fast way for the little Hondas was on the untreated asphalt alongside the track, since the sticky race surface pulled the Groms down to a momentum-halting bog. Jordan Haase took the win on Ehren Litten's geared Grom, then fended off challenges from Jeremy Teasley and Richard Gadson
IDBL scorches MDIR again at the amazing WPGC Bike Fest on July 24-26.
Race Results: https://www.raceidbl.com/results/2015/race_2_mdir/index.htm
Find out more about the Mickey Thompson Performance Tires International Drag Bike League at https://www.RaceIDBL.com
Find out more about Maryland International Raceway at https://www.RaceMDIR.com
This report was prepared by Tim Hailey
https://www.eatmyink.com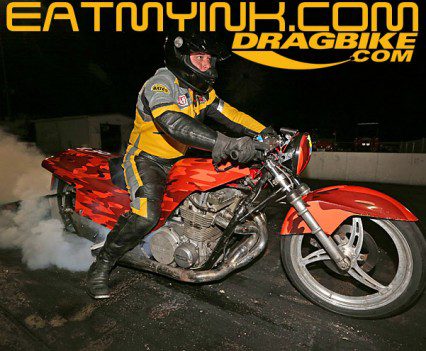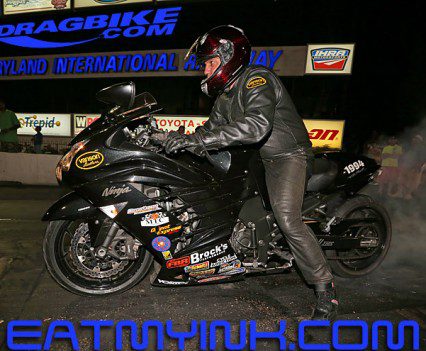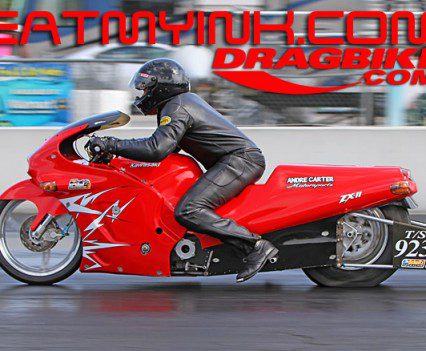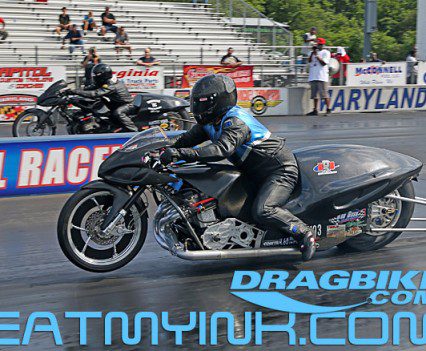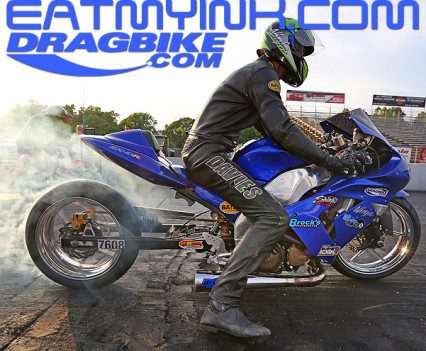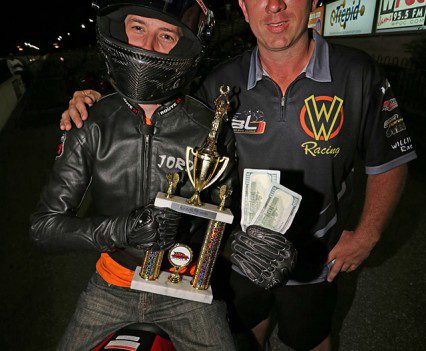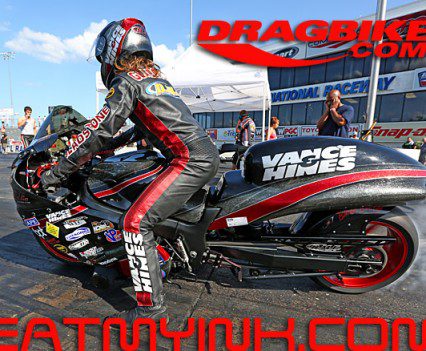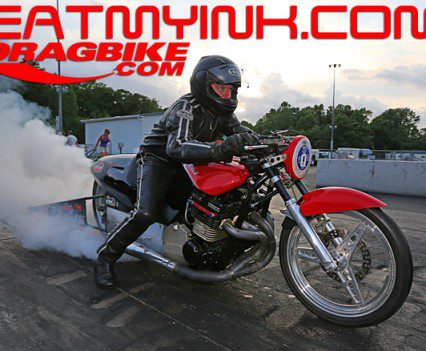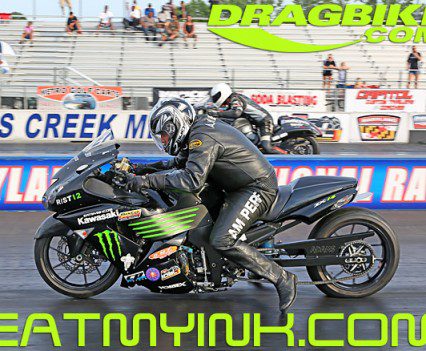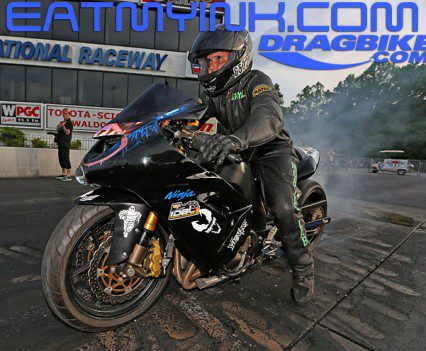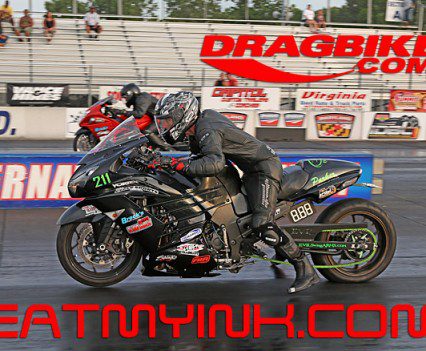 Learn more BIG ENTRIES, BIG WINS AT MDIR on VANCE & HINES NEWS