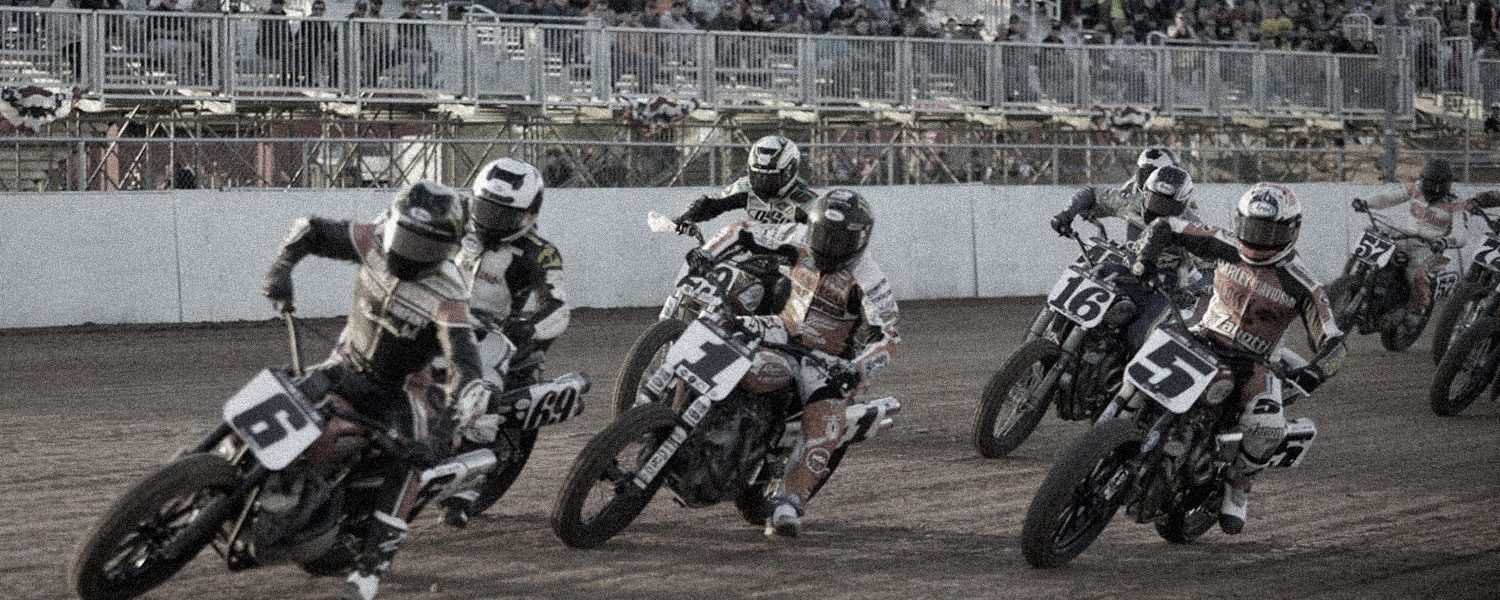 AMA Pro Racing today announced an agreement with Sinclair Television Group, Inc., a wholly-owned subsidiary of Sinclair Broadcast Group, Inc. (Nasdaq: SBGI), to offer syndicated network television coverage in select markets for eight AMA Pro Flat Track events in the summer of 2015.
Sinclair's coverage – offered through its American Sports Network (ASN) – will showcase AMA Pro Flat Track events held throughout the United States from March to August in eight consecutive weeks of tape-delayed telecasts. Coverage will begin on July 4 with the second night of the DAYTONA Flat Track doubleheader held during Daytona's Bike Week in March. The summer run of programming will culminate with the Peoria TT on Aug. 22. Initial clearance will include 14 Sinclair markets.
"We are excited to enter into this relationship with AMA Pro Racing, a premier professional motorcycle racing organization," said Doron Gorshein, Chief Operating Officer of Sinclair Networks Group. "Through our distribution of the AMA Pro Flat Track events on ASN, we hope to increase exposure and support of a sport that already has a large fan base on social media and following in the motorsport industry.  The initiative also allows us to diversify the sports content available on ASN and distribute that content to mass audiences through broadcast television."
The 30-minute shows will air on weekends in each participating market, and will also be available for streaming on AMAProRacing.com and FansChoice.tv two weeks after their initial Sinclair/ASN telecast. Live streaming coverage of all AMA Pro Flat Track events will continue to be available at FansChoice.tv.
The Sinclair coverage, hosted by longtime motorsports announcer Ralph Sheheen with analysis from seven-time AMA Pro Flat Track champion Chris Carr, will feature 25 laps of bar-to-bar racing action by the top dirt track motorcycle racing talent in the world as they battle for guts and glory in AMA Pro Flat Track's premier Harley-Davidson GNC1 presented by Vance & Hines class.
"Forming this relationship with Sinclair is all about bringing the excitement of flat track motorcycle racing to new fans," said Michael Gentry, Chief Operating Officer of AMA Pro Racing. "The increased exposure from these network television broadcasts is sure to widen our fan base and provide great value to our partners and those who support the riders and teams in our paddock."
The complete 2015 broadcast schedule on Sinclair/ASN:
July 4               DAYTONA Flat Track II
July 11              Springfield Mile I
July 18              Sacramento Mile
July 25              Lima Half-Mile
Aug. 1              Du Quoin Mile
Aug. 8              Indy Mile
Aug. 15             Black Hills Half-Mile
Aug. 22             Peoria TT
The initial clearances include Sinclair affiliates in the markets listed below. Additional markets are anticipated over the course of the relationship and will be announced as clearances are obtained.
Fresno-Visalia, Calif.
Gainesville, Fla.
Macon, Ga.
Boise, Idaho
Ottumwa, Iowa-Kirksville, Mo.
Wichita-Hutchinson, Kan.
Paducah, Ky.-Cape Girardeau, Mo.-Harrisburg, Ill.
Columbia-Jefferson City, Mo.
Las Vegas, Nev.
Reno, Nev.
Albany-Schenectady-Troy, N.Y.
Harrisburg-Lancaster-Lebanon-York, Pa.
Charleston, S.C.
Green Bay-Appleton, Wisc.
About Sinclair Broadcast Group, Inc.:
Sinclair Broadcast Group, Inc. is the largest and one of the most diversified television broadcasting companies in the country with affiliations with all the major networks. Sinclair regularly uses its website as a key source of company information which can be accessed at www.sbgi.net.
About AMA Pro Flat Track:
AMA Pro Flat Track is the world's premier dirt track motorcycle racing series and one of the longest-running championships in the history of motorsport. Sanctioned by AMA Pro Racing in Daytona Beach, Fla., the series is highly regarded as the most competitive form of dirt track motorcycle racing on the globe. For more information on AMA Pro Flat Track, please visit www.amaproracing.com/ft/.
Learn more AMA PRO RACING, SINCLAIR TEAM UP FOR AMA PRO FLAT TRACK COVERAGE on VANCE & HINES NEWS