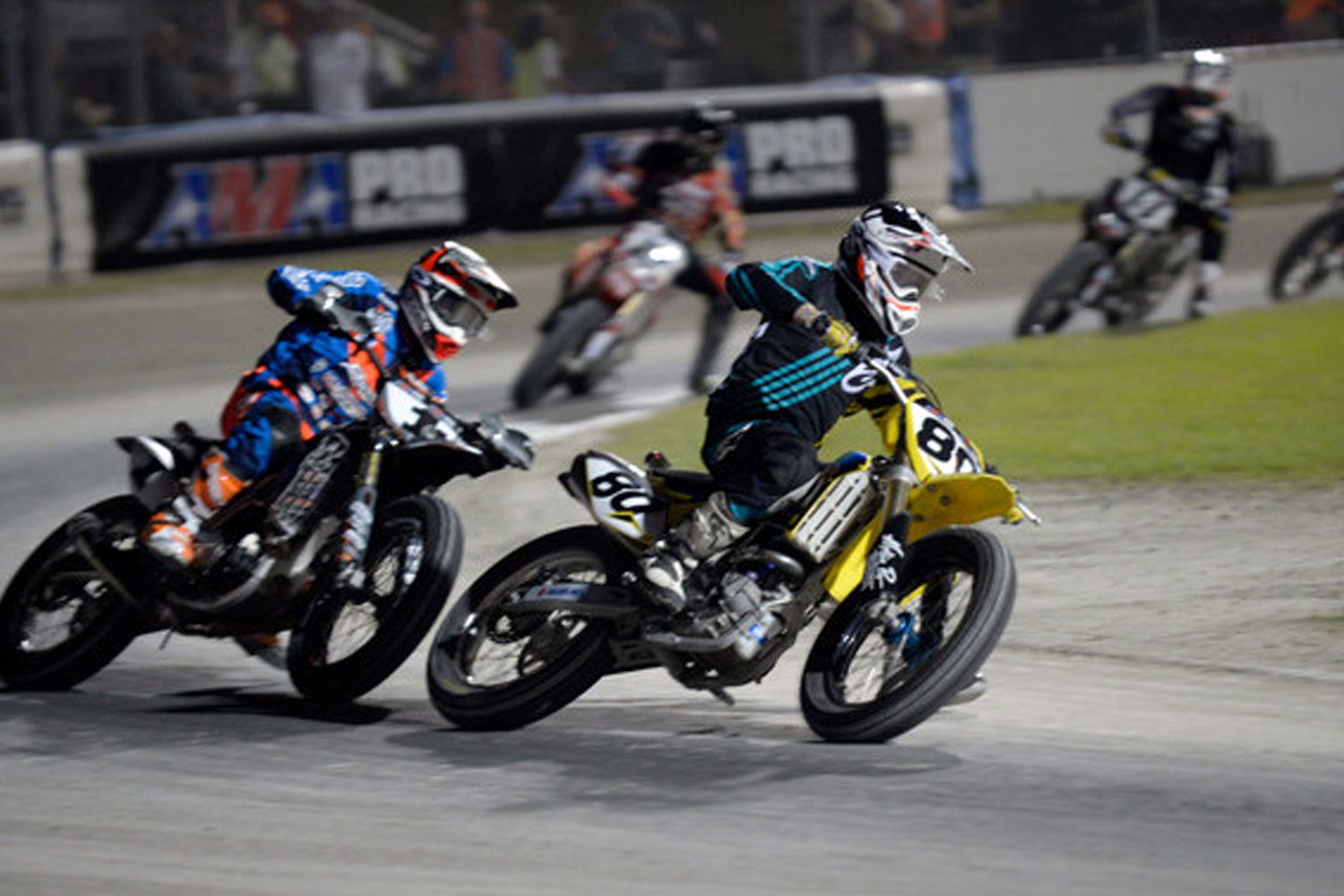 Courtesy of AMA Pro Racing
Stevie Bonsey was flawless from start to finish on Thursday night during the AMA Pro Flat Track season-opener at DAYTONA Flat Track.
Bonsey was mounted on the only Suzuki in the Honda-stacked Harley-Davidson GNC1 presented by Vance & Hines main event, which was sponsored by Bruce Rossmeyer's Daytona Harley-Davidson. He earned the coveted Round 1 victory by a mere .123 seconds on his No. 80 machine over a charging Jared Mees, who was sporting the No 1 plate for the first time this season.
The battle between Bonsey and Mees, riding a Montgomeryville Cycle Honda, was so close from start to finish, that the two touched tires on multiple occasions throughout the duration of the race. The win is Bonsey's first at DAYTONA Flat Track and his third career victory. Taking the checkered flag gives the 25-year-old Salinas, Calif., product hope for a breakout season in 2015.
"I'm on top of the world right now," said Bonsey. "It's been a real struggle to get here but the hard work has finally paid off and I couldn't be standing where I am right now without everyone that's helped me along the way. It's been a long deal to get ready for this season and it's starting to pay off. I'm hungry now and these guys are tough. They are consistent at all … tracks and that's what I'm trying to work on myself. I'm good on these short tracks but I need to work on my mile skills. Thank you to all the fans for coming out and supporting."
Kenny Coolbeth rounded out the Harley-Davidson GNC1 presented by Vance & Hines podium, taking third on his No. 2 Zanotti Racing Honda. Brandon Robinson (No. 44 T.J. Burnett Farms Honda) and Robert Pearson (No. 27 R&R Racing Yamaha) finished fourth and fifth, respectively.
Earlier in the night, Coolbeth beat out Pearson to win the Dash for Cash.
GNC2
A star was born on Thursday night in AMA Pro Flat Track's GNC2 class, as 17-year-old Andrew Luker got the holeshot on lap one of the main event and went flag-to-flag from there, earning his first GNC2 victory in just his second race ever competing in the series. 
"It feels amazing to be on top of this podium," said Luker. "I tried to get a good start from the outside and I was able to do that. I just put my head down once I got the lead and just kept charging. I have to thank my sponsors and my mom and dad, they are always working on the bikes and getting them better. I want to also say a special thanks to my great grandmother who is watching right now."
Starting in second, Luker, on his No. 11Z Clayton Williams Racing Honda, beat pole-sitter Bronson Bauman to the edge on the race's first turn. Refusing to look back and give another inch for the remainder of the race, Luker crossed the finish line first 16 laps later.
John Vanderlaan eventually worked up to second place on his No. 12Y Southland Racing Honda, and Dan Bromley rounded out the podium in third aboard his No. 54A Bromley Brothers KTM
Friday's Round 2 of the AMA Pro Flat Track season kicks off from DAYTONA Flat Track at 3:30 p.m. ET (12:30 p.m. PT). Fans can tune in and watch live at FansChoice.tv.
For tickets and more information, visit: https://www.daytonainternationalspeedway.com/Tickets-Events/Events/2015/DAYTONA-Flat-Track/DAYTONA-Flat-Track.aspx
Learn more BONSEY TAKES THURSDAY'S HARLEY-DAVIDSON GNC1 AT DAYTONA FLAT TRACK on VANCE & HINES NEWS