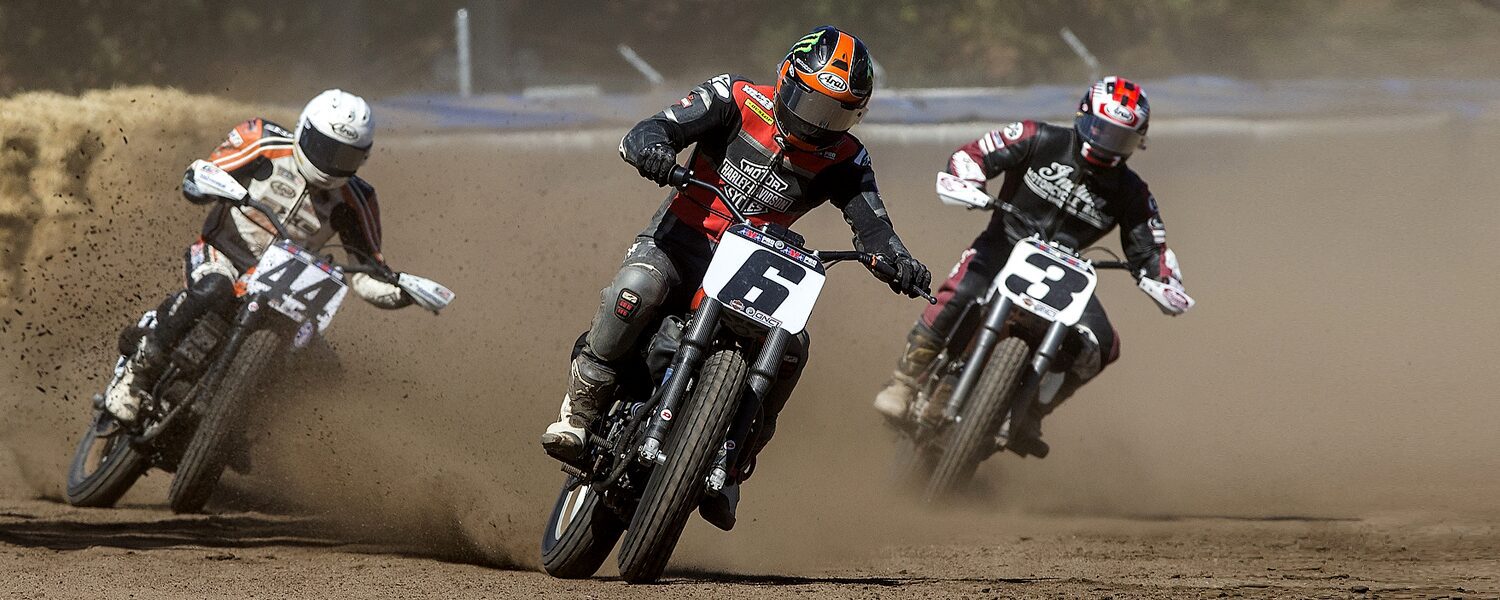 Brad Baker may have won the battle at the Ramspur Winery Santa Rosa Mile presented by Triumph, but Bryan Smith won the war. It was a dominant win for Baker, the No. 6 Factory Harley-Davidson XR750 rider crossing the finish line 10.5 seconds clear of Smith.
"I can't even describe the way it feels," Baker said. "It's been a roller coaster of a year. And it seems like every time, I'd have an eight ball. If anything that could happen badly, it did. You just got to grin hard and not let those things bother you. Same thing with the team… You just have to move forward and that's what they did. After that Semi, it did kind of come out to my advantage because I got to try out some lines on that motorcycle. Can't give a big enough thanks to my whole team."
It was the battle for second though, that had everyone captivated. A thrilling battle in the final moments which served as the climax of a season long battle for the Harley-Davidson GNC1 presented by Vance & Hines Championship between Smith on the No. 42 Crosley/Howerton Kawasaki Ninja 650 and Jared Mees on the No. 1 Rogers Racing Harley-Davidson XR750. Mees put up a great fight, but Smith was not going to let his first Grand National Championship slip out of his grasp once again.
"If a racer ever said that he's gave it everything on the last lap or last corner, I'd call him a liar because that was everything that I had inside me," Smith said. "The grips were falling out of my hands, my feet were falling off of the pegs and I could not hold on, so thank God that it worked out."
Smith finally had his fairytale ending, but describing what it felt to win his first GNC1 Championship was not easy for the Flint, Mich. rider.
"It's something you can't explain," Smith said. "To win it and come down that close, I would have liked for Jared (Mees) not to catch me. My heart rate went to about 360 that last lap. I had also all of my friends and family out here and all of my friends who are like family, including my whole team. It means so much to have them all here supporting me. Thanks to all the fans, all my friends and everybody that's been behind me since I was a seven-year-old punk in Scotty Parker's garage. Everybody back home watching, including Scotty Parker, thanks man, I love you. I wouldn't be here without you."
So Mees hands over his number one plate to rival Smith, not easy for such a fierce competitor like the three-time Grand National Champion. Mees kept Smith honest in the end, so he took comfort in that down-to-the-wire fight and gave his fellow Michigan rider props.
"I wanted to race him for it and we did," Mees said. "That's exactly what the crowd wanted to see. It came down to the last lap, last corner and I knew he was out there getting squared up, I knew he was going to make me come right on by and he did. Hats off to the whole team. They've been working extremely hard. They beat us on our weak days when we had a lot of breaks and stuff. That's what it takes. To win these things, you have to finish. They did a great job. Hats off to Bryan and the entire team. I have got to give a big shout out to my team, we worked extremely hard this year week-in and week-out."
The 2016 GNC2 Champion Ryan Wells put an exclamation point on his season. The No. 1 Parkinson Brothers Racing Kawasaki Ninja 650 rider took his fifth win of the season in dominant fashion, crossing the line with a seven second margin on the competition.
"It's just crazy to see all of the hard work pay off from this summer, from moving to Michigan and training with Bryan Smith," Wells said. "Surrounding myself with good people that want to win and we did. We did five wins this season and it's just incredible and to do it at that last round too and to finish and go into the off-season with a win, and running the number one plate. I just couldn't be happier and I can't thank everyone enough."
The battle for second was won by Kevin Stollings on the No. 99J Ben Evans Kawasaki Ninja 650, beating Dalton Gauthier on the No. 14A Ron Wood Racing BMW FS 800 by .492 of a second.
Award Updates
Harley-Davidson GNC1 presented by Vance & Hines:
Harley-Davidson Pole Award: No. 42 Bryan Smith
McElroy Packaging Lucky 13 Award Winner: No. 6 Brad Baker
MotoBatt Hard Charger Award Winner: No. 6 Brad Baker
Öhlins Fastest Lap Award Winner: No. 6 Brad Baker
Sunoco "Go The Distance" Award Winner: No. 5 Jake Johnson (452.79 miles completed)
ThreadBeast "Beast on the Track" Award: No. 65 Cory Texter
Learn more BRAD BAKER CLINCHES THE WIN AT THE RAMSPUR WINERY SANTA ROSA MILE PRESENTED BY TRIUMPH on VANCE & HINES NEWS