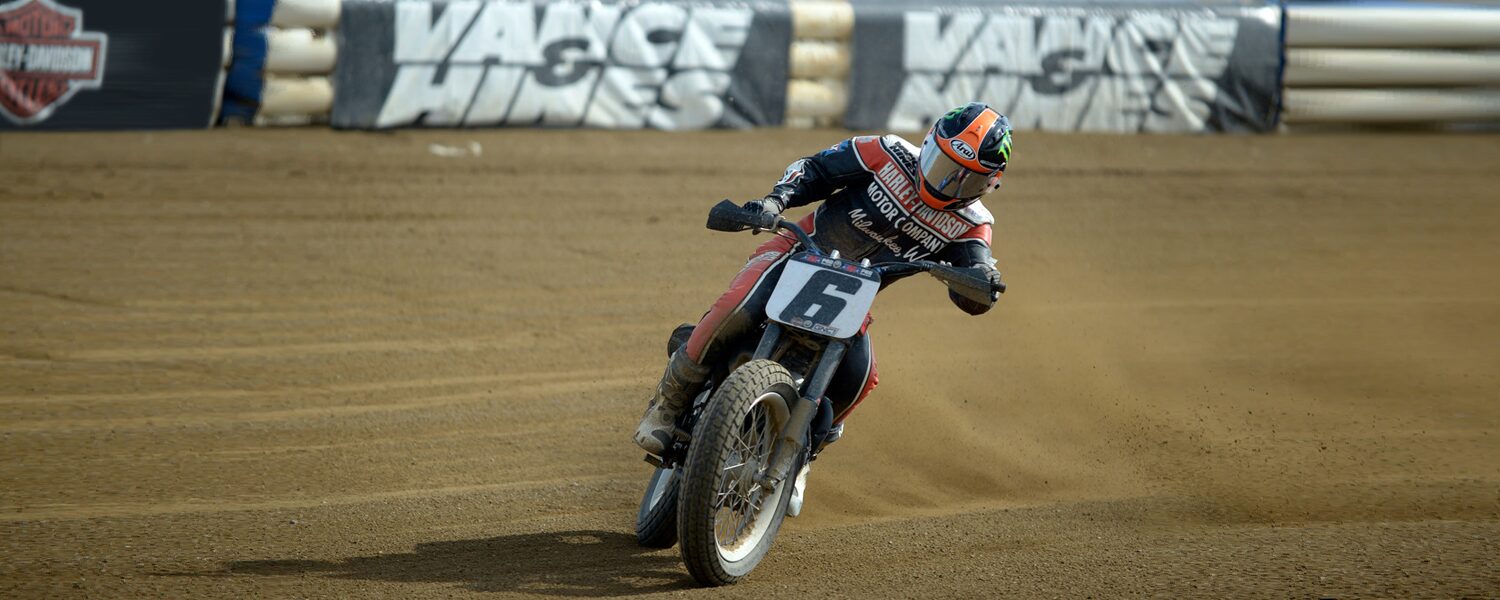 LIMA, Ohio (June 28, 2015) – Brad Baker put together his finest performance of the 2015 AMA Pro Flat Track season on Sunday when he rode his No. 6 Factory Harley-Davidson to a first place finish at the Lima Half-Mile.
Baker not only claimed his first Harley-Davidson GNC1 presented by Vance & Hines victory of 2015 and his first elite class win at Lima, but he was flawless throughout the entire day, qualifying fastest and winning his heat race and the Dash for Cash.
"It was an amazing race," said Baker. "From the get go, I put the hammer down. (No. 17 Zanotti Racing rider) Henry (Wiles) was doing really well and keeping me on my toes the entire race. I was pretty nervous at the beginning. I switched to the awesome factory suspension and since then, everything has been working really well. Big shout out to Terry Vance and Kris Schoonover, who couldn't be here because of the weather yesterday. Great job to everybody with AMA Pro Racing, Dean Gallup and the whole Lima crew. It's been an excellent time here."
The event was originally scheduled for Saturday, but inclement weather forced it to be pushed back. Sunday's weather proved ideal, especially for Baker
Wiles jumped out to an early advantage and led the first three laps of the main before Baker got in front. On a restart due to an incident involving Jake Shoemaker, Baker jumped out front and was never challenged for the remainder of the event.
Second place went to Sammy Halbert, and Briar Bauman came home in third. Jared Mees' fourth place finish was good enough to move him into the points lead, 77-74, over Halbert.
After his win, Baker now sits fourth in the Harley-Davidson GNC1 presented by Vance & Hines point standings.
Halbert, piloting the No. 7 Briggs Auto Harley-Davidson, was impressive en route to his second place finish Sunday. The Graham, Wash., product now sits second in points and owns two podium appearances in 2015.
For Bauman and his No. 14 Hart Racing Kawasaki, it was the first top-three finish of 2015. The Californian now sits seventh in the standings.
Behind Mees and his No. 1 Las Vegas Harley-Davidson machine and rounding out the top five wasJeffrey Carver Jr. on the No. 23 Don's Kawasaki entry.
Mees has now finished fifth or better in four of the five Harley-Davidson GNC1 presented by Vance & Hines main events in 2015.
Kenny Coolbeth Jr. was leading the GNC1 points standings entering Lima, but mechanical woes ended his day early in the main after using a provisional to enter it.
Learn more BRAD BAKER DOMINATES LIMA HALF-MILE FOR HIS FIRST WIN OF THE AMA PRO FLAT TRACK SEASON on VANCE & HINES NEWS