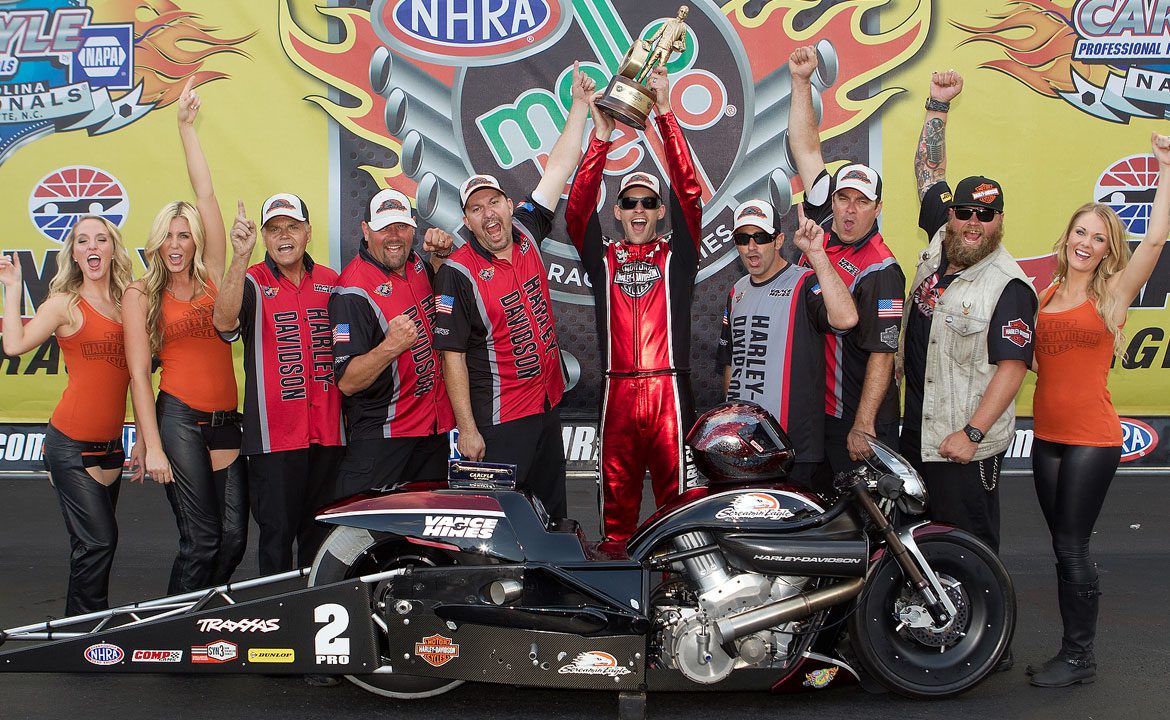 Courtesy of AMA Pro Racing
Bryan Smith surprised very few people on Sunday at the Illinois State Fairgrounds when he swiped the Springfield Mile checkered flag in the Harley-Davidson GNC1 presented by Vance & Hines main event.
Piloting his powerful No. 42 Crosley Radio Kawasaki, Smith was tested by Jared Mees on the race's final lap when the defending Grand National Champion went low in turn four and took the lead from Smith for a brief moment. However, he reclaimed the top spot on the front stretch after putting his Kawasaki in perfect position to outrun Mees' No. 1 Rogers Racing Harley-Davidson to the finish line.
"This win feels great," said Smith. "Everyone kept it clean and it was a really good race. I have to thank my team as they've been behind me from the start. I also want to thank Kawasaki for coming on board this year, that's really huge."
The win marked Smith's 18th career Harley-Davidson GNC1 presented by Vance & Hines victory and his fifth at Springfield. The Flint, Mich., native now sits seventh in the point standings and will be looking to earn another win next weekend when the series visits Sacramento, Calif., for the Sacramento Mile. It's a track where Smith has been dominant, winning his last four main events there.
Three-time World Superbike champion Troy Bayliss failed to make the main event aboard his 21I Lloyd Brothers Motorsports Ducati, however, the Aussie showed signs of improvement as the day went on, decreasing his lap times in every on-track session.
"I'm really pleased with the way things went," said Bayliss. "These guys are younger than me and they cut their teeth on this sport. They've been doing it year-in and year-out for many years and they're very good. After my first session, I was like 'Wow, this is going to be quite difficult today.' But every session I gained a second and by the end of the day I was basically one second off the fast time. I knew making the main event would be hard. It was good to race these guys. It was sweet. The bike was nice and there's a few little things we need to work on, but it's about me getting comfortable."
Mees didn't have enough to take the win from Smith at the end of the main, and he was even left with a battle for third with Brad Baker on the No. 6 Factory Harley-Davidson as the two crossed the line. Mees now sits second in points and remains arguably the most consistent rider on the circuit.
Baker was barely a wheel behind Mees, showing the 2013 Grand National Champion is fully healed from an arm injury suffered during the offseason. Baker sat behind No. 7 Briggs Auto Kawasaki rider Sammy Halbert for the majority of the main, but got by late to challenge Mees for the second spot.
Baker's third place finish improves his position in the point standings to eighth, while Halbert's fourth place effort moves him to third.
Rounding out the Springfield Mile top five in the Harley-Davidson GNC1 presented by Vance & Hines class was Willie McCoy, aboard his Harley-Davidson of Wausau XR-750.
Kenny Coolbeth maintained the points lead with a seventh place finish on his No. 2 Zanotti Racing Harley-Davidson.
Learn more BRYAN SMITH CAPS ACTION-PACKED SPRINGFIELD MILE WITH THRILLING VICTORY on VANCE & HINES NEWS