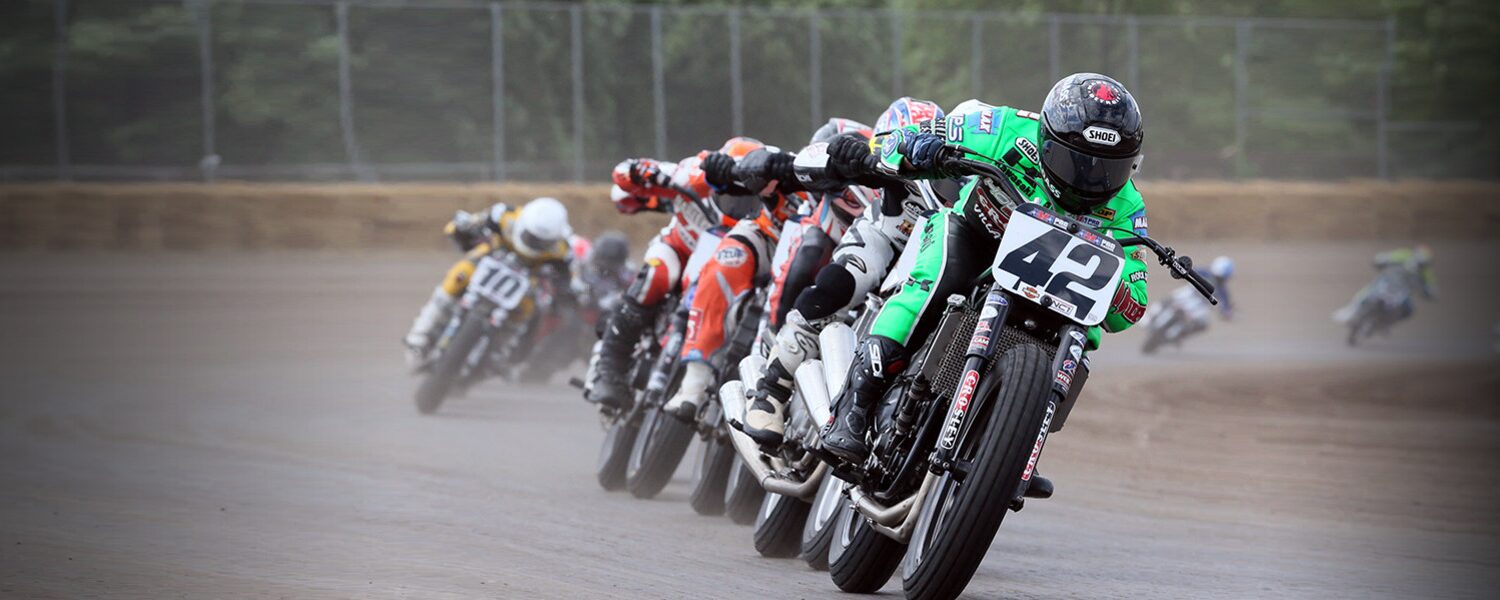 Courtesy of AMA Pro Racing
DAYTONA BEACH, Fla. (May 26, 2015) – Bryan Smith maintained his dominance on Mile courses and Kenny Coolbeth, Jr. maintained the Harley-Davidson GNC1 presented by Vance & Hines points lead following the Springfield Mile on Sunday, May 24 at the Illinois State Fairgrounds in Springfield, Ill.
Smith was brilliant every time he took to the track on Sunday, as he not only took the Harley-Davidson GNC1 presented by Vance & Hines main event victory, but he also won his heat race as well as the Dash for Cash.
"The Springfield Mile win means a lot, especially after my rough start to the season at Daytona," said Smith. "I still have a lot of work to do to get near the championship hunt, but the win was huge and definitely a step in the right direction. Springfield is one of my favorite tracks and it feels good to be going into Sacramento next round as well."
Smith's weekend was also made a little sweeter by the fact that he also benefited from Kawasaki's newly installed contingency program for 2015, collecting an additional $1,500 aboard his No. 42 Crosley Radio Kawasaki EX650.
"I can't thank Kawasaki enough for coming on board this season," said Smith. "Their involvement is massive for the sport as a whole and the Kawasaki riders who compete in it."
In total, there were five manufacturers in the main event, led by eight Kawasakis. Six Harley-Davidson riders reached the main and along with two KTM riders, two Triumph riders and one Ducati rider.
Finishing second behind Smith was No. 1 Las Vegas Harley-Davidson rider Jared Mees. The defending champion gave Smith a run for his money all day, as he not only finished runner-up to him in the main, but in the Dash for Cash as well.
"I had a long time to play out what I wanted to do with Bryan," said Mees. "Down the back straightaway, I just kept getting really good runs and I felt like I could draft him at any time and I was just not really wanting to draft by him because when he came back up he would always drag two people and I would have to work around them. My bike was awesome and my whole team was awesome. Bryan has a fast motorcycle but he's also one heck of a Miler too."
Mees' second place finish puts him second in the Harley-Davidson GNC1 presented by Vance & Hines point standings, seven back of Coolbeth.
Third place finisher Brad Baker, aboard his No. 6 Factory Harley-Davidson, just missed passing Mees at the line for second, and the Dryad, Wash., product now sits eighth in points after three rounds.
"I'm definitely really happy with it," said Baker, the 2013 Grand National Champion. "I got off to a really horrible start as I spun off the line and then got pushed wide in the first corner. I think I was back to 10th. I just worked my way up. This is a track where you don't have to start off very good, you just have to end good. Hats off to Bryan and Jared."
Fourth place finisher Sammy Halbert made his debut aboard the No. 7 Briggs Auto Kawasaki and looked impressive. He now sits third in points and has not finished worse than sixth after three rounds.
No. 59 Harley-Davidson of Wausau XR-750 rider Willie McCoy is a perennial top competitor on Mile courses, and once again, he was near the front, scoring a fifth place result.
Zanotti Racing teammates Henry Wiles and Coolbeth finished sixth and seventh, respectively. Although Coolbeth would have liked to finish higher at a track where he usually excels, he still holds the Harley-Davidson GNC1 presented by Vance & Hines points lead heading into Round 4 at Sacramento.
"We struggled all day long with our suspension," said Coolbeth. "We are actually in the process of changing a bunch of stuff out before Sacramento. That was really the main problem. It was the worst I've ever felt at Springfield. We usually shine there and it would have been nice to come away with more points but you take it and you learn from it and you go with it. On to the next race."
Wiles' sixth place showing was good enough to earn him the MotoBatt Hard Charger Award, given to the GNC1 rider who improves the most from their starting spot in the main. Wiles started 16th.
Making his AMA Pro Flat Track debut, Troy Bayliss got a taste of what it's like to compete with the best flat track riders in the world. The Aussie failed to make the main event aboard his No. 21I Lloyd Brothers Ducati, but he did improve on his lap times after each session. Look for the three-time World Superbike champion to build off his momentum going forward.
Fellow Ducati pilot, Johnny Lewis, was fast on his No. 10 Lloyd Brothers machine until a crash on the front stretch ended his day prematurely.
Cory Texter also failed to make the main event aboard the No. 65 Yamaha-Motor USA Yamaha FZ07, which was making its AMA Pro Flat Track debut.
"Springfield was a tough one," said Texter. "There just wasn't enough hours to get prepared enough for the Mile. They say Rome wasn't built in a day, although I wish it was. The bike has potential and I expect you'll see it up front soon."
Robert Pearson, rider of the No. 27 KTM, finished 15th, but heads to Sacramento tied with Baker for the lead for the GNC1 Sunoco "Go The Distance Award," recognizing the rider who completes the furthest distance on-track over the course of the season.
Kyle Johnson now leads the Saddlemen Rookie of the Year chase after a 10th place showing on his No. 77 Parkinson Brothers Racing Kawasaki.
Saturday's Sacramento Mile is the final race for the stars of AMA Pro Flat Track before 24 invited riders get to compete at X Games Harley-Davidson Flat Track at Circuit of the Americas in Austin, Texas, June 4. Fans can watch that race live on ESPN at 9:30 p.m. ET (6:30 p.m. PT).
Learn more BRYAN SMITH DAZZLES AT SPRINGFIELD, BUT KENNY COOLBETH JR. MAINTAINS POINTS LEAD on VANCE & HINES NEWS