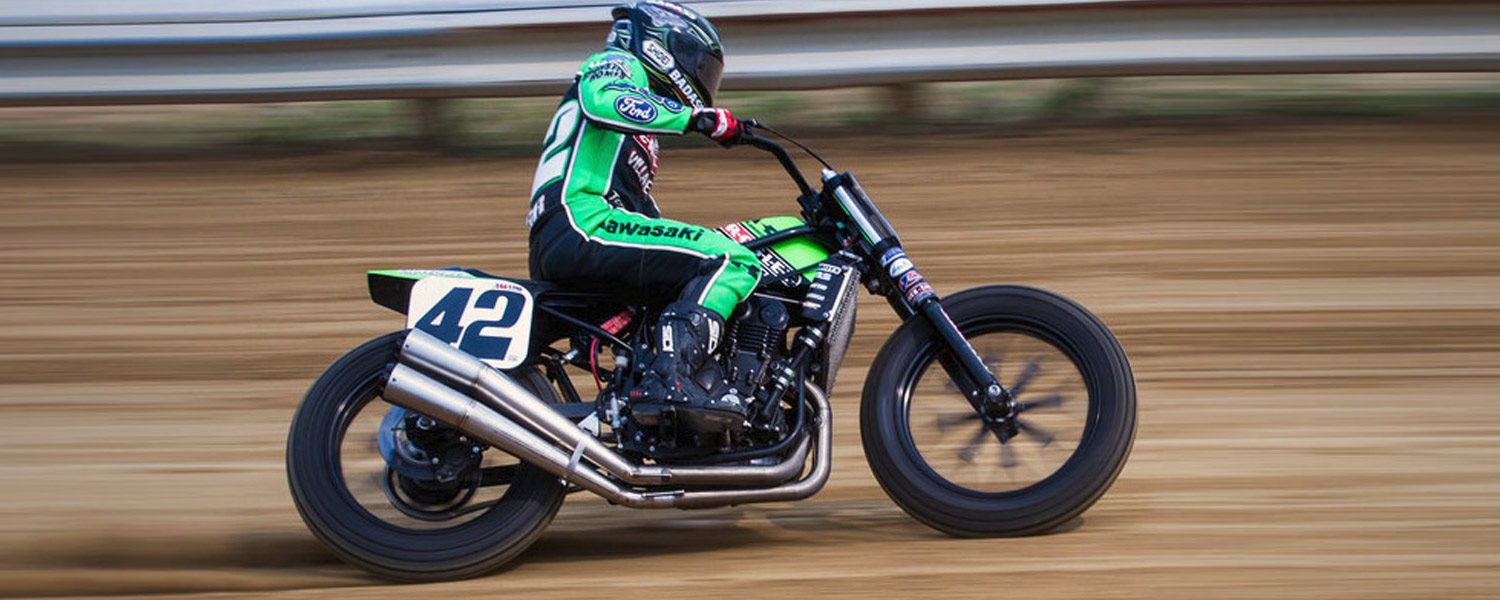 Bryan Smith notched his third Harley-Davidson GNC1 presented by Vance & Hines victory of the 2015 AMA Pro Flat Track season Saturday, July 4 at the Du Quoin State Fairgrounds, and he did so in remarkable fashion when he passed Jared Mees and Kenny Coolbeth Jr. on the main event's final lap as the three raced down the front stretch.
Starting second on the Du Quoin Mile main event grid, the No. 42 Crosley Radio Kawasaki pilot had to work harder than ever to come away with his third-consecutive win on a Mile track, as rivals Coolbeth and Mees were in excellent position to put their Harley-Davidsons on top of the box at the race's conclusion.
"I just led the last quarter inch, I think that's all that mattered," said Smith. "It's not very often you can ride these big 750s flat out, wide open. … It was fun, but it was nerve-wracking at the same time."
Mees, who held the lead heading into the front stretch for the final time, took second place aboard the No. 1 Las Vegas Harley-Davidson machine. It was a finish made all the more impressive considering he fell all the way back to last place following a staggered restart at the race's midway point.
"I lacked a quarter inch," said Mees. "Off the restart there, I missed a shift real bad but I finally got it going and we were last. Man, I just put on a heck of a charge and went by Bryan (Smith), got by Brad (Baker). I reeled in Kenny (Coolbeth) kind of slow and once I got to him I'm like, 'Man, I can't follow him anymore, I got to go.' I led the last three or four laps then I thought to myself, 'This is mine.' I came down the front straightaway and went to the inside a little bit and Bryan just got me at the line. Hat's off to my whole team, we came up just a little short tonight but that was the most fun I've ever had on a Mile track."
Coolbeth, riding the No. 2 Zanotti Racing Harley-Davidson, got out to an early lead after starting in first on the staggered restart. In total, the three-time champion led 15 laps during the main event, and, like Mees, was just inches behind Smith when the trio crossed the finish line.
"Dave Atherton had my bike running awesome and we just came up a little short," said Coolbeth. "But it's way better than last weekend and we're making strides forward. I'm happy about where we're going and I'm happy with my team, Zanotti Racing."
Competing aboard the No. 10 Lloyd Brothers Motorsports Ducati and starting from 14th on the grid, Johnny Lewis finished fourth on Saturday night. His performance not only earned him his first top-five finish of 2015, but also the coveted MotoBatt "Hard Charger Award" which is given to the rider who advances the most from their starting position.
"The restart helped a good amount to get me up there, it was a good finish, I'm happy with a top five," Lewis said.
Lewis was also the recipient of a set of Dunlop tires as his name was selected from those who posted social media content about their tires with the hashtag #DunlopRacing and tagged both @RideDunlop and @AMAProFlatTrack.
Sammy Halbert rode the No. 7 Briggs Auto Kawasaki to a fifth place finish, and after six rounds of AMA Pro Flat Track action, he is leading the chase for the Sunoco "Go the Distance Award." The award goes to the rider that completes the furthest distance on the track over the course of the season.
"I wouldn't say I'm happy with a top five but it's all right, I'm not crying about it," said Halbert. "It was a little bit of a trying day after breaking a bike in the heat race and having to qualify for the main event through a semi, but with that restart we looked like we were in position to fight for a podium. I even got up into third in the beginning, but kind of lost my rhythm after that. I'm still learning how to ride a Kawasaki. I'm so used to the Harley and it kind of showed during that main event. I dropped back to eighth and kind of got it figured out and made my way back up to fifth, so it was a solid run."
Alton, Ill., native, Jeffrey Carver, rode the No. 23 Don's Kawasaki entry to his third sixth place finish of 2015 in front of his hometown crowd on Saturday.
First-year Harley-Davidson GNC1 presented by Vance & Hines competitor Jarod Vanderkooi made major strides at Du Quoin. The pilot of the No. 17F Don's Kawasaki machine notched his first top 10 of 2015 with a seventh place finish on Saturday. The Mt. Gilead, Ohio, product now has a significant lead in the chase for the Saddlemen Rookie of the Year award, which is given to the eligible rider who earns the most points over the course of the season in the Harley-Davidson GNC1 presented by Vance & Hines class. Vanderkooi leads the next closest rookie, Kyle Johnson (No. 77 Parkinson Brothers Racing Kawasaki), by 11 points, 24-13.
Before the season, Nichole Mees announced 2015 would be her last season, yet her eighth place Du Quoin Mile finish aboard the No. 15 Black Hills Harley-Davidson entry indicates she's still got a lot left in the tank. The wife of the defending champion, Jared Mees, now sits 16th in the standings after recording her second top-10 finish of the season.
Briar Bauman (No. 14 USC/Hart Racing Kawasaki) and Doug Lawrence (No. 73 Glidden Racing Kawasaki) rounded out the top 10 in Du Quoin, finishing ninth and 10th, respectively.
Henry Wiles' crash exiting turn 2 at the race's midway point was the reason for the pivotal staggered restart. Wiles, riding the No. 17 Zanotti Racing Harley-Davidson, got the holeshot and was looking fast all day up until his mishap, which caused him to finish 14th. Wiles dropped back to ninth in the point standings.
Learn more BRYAN SMITH EARNS DU QUOIN MILE WIN IN CLOSEST AMA PRO FLAT TRACK FINISH OF 2015; JARED MEES LEAVES ILLINOIS WITH GNC1 POINTS LEAD on VANCE & HINES NEWS