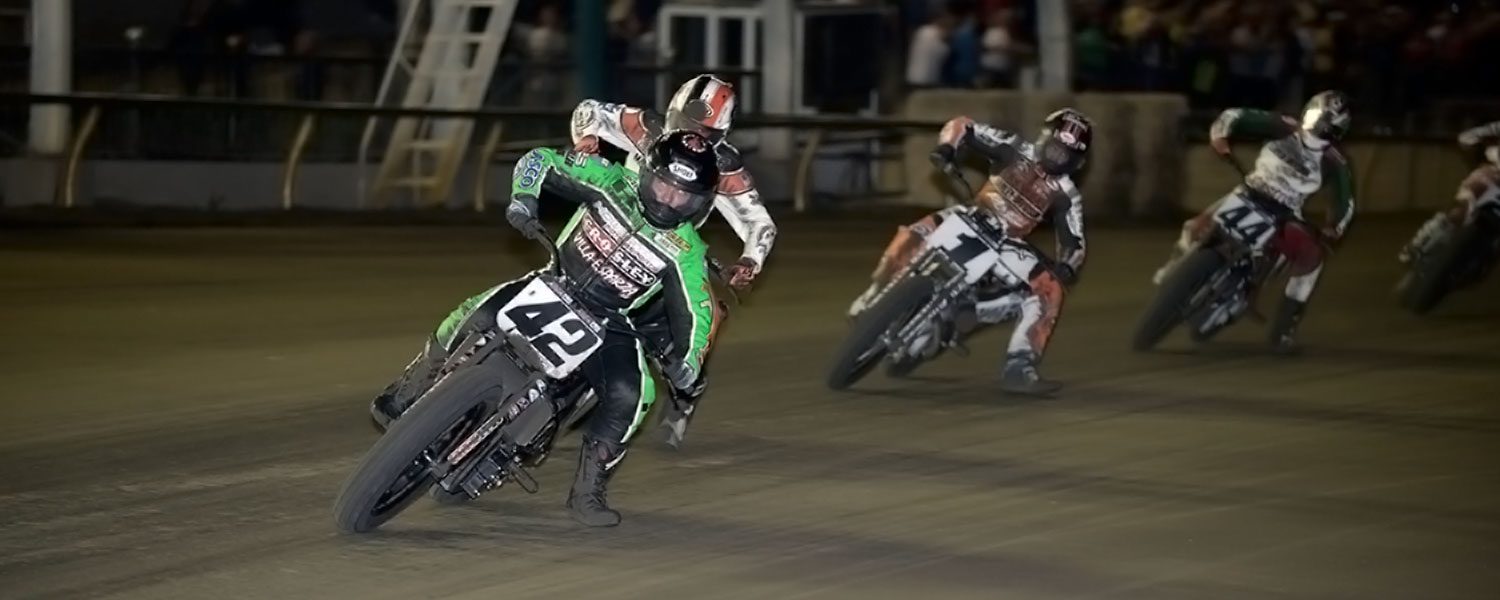 Courtesy of AMA Pro Racing
SACRAMENTO, Calif. (May 30, 2015) – A handful of super-fast challengers and a second-row start would prove to be no problem for Bryan Smith in Saturday night's Harley-Davidson GNC1 presented by Vance & Hines main event. The rider of the No. 42 Crosley Radio Kawasaki made a last-moment draft pass to win his fifth-consecutive Sacramento Mile in show-stopping fashion in the 50th running of the iconic race.
Smith's .02-second win is easily one of the most dramatic victories of his career, as it took until the final few feet on the race's 25th and final lap to overtake Brandon Robinson.
"It was a scrap," said Smith speaking about the final five laps of the race. "I wanted it to be just a one-on-one race with Jared (Mees) and I, but there were two other guys that wanted to race with us too, in Brad (Baker) and the No. 44 Brandon (Robinson). The guys made me work for it. I didn't know coming to the checkered flag if I could get Brandon or not. His bike was really strong, but luckily I just squeaked by at the end."
Smith has two wins in his last two races, both coming on Mile tracks, and now sits fifth in the point standings. Each of Smith's five straight Sacramento Mile wins have been by less than a tenth of a second.
"They've all been hard in their own way," said Smith. "Last year, I had to work for it and this year it was even a tougher scrap. It makes it worth it more, I guess. I have to say, with five laps to go, I didn't know if I was going to be able to pull it off. I just dug down and thought to myself how everyone was watching so I guess I'd better go for it."
Robinson, riding the No. 44 Latus Motors Triumph, was spectacular on Saturday, and even though he wasn't able to survive Smith's last-second charge, he was pleased with a second place finish one week after finishing 17th at Springfield. Midway through the main, Robinson was among the riders trading the lead before running high in one corner and being shifted back in the field. He fought his way back to the front and even fended off a pass attempt from Smith entering turn three on the final lap, but he just couldn't keep a wheel in front at the line.
Robinson now sits third in the point standings after four rounds.
Piloting the No. 1 Las Vegas Harley-Davidson machine, Mees finished third and closed out the podium. Mees was in the mix all night and even held the lead for several laps.
The defending champion continues to show the consistency that led to his title in 2014 and now sits second in points. Mees has earned three podium appearances in the first four races of the year and looks poised for another championship run.
Baker, aboard the No. 6 Factory Harley-Davidson, and Kenny Coolbeth Jr., riding the No. 2 Zanotti Racing Harley-Davidson, finished fourth and fifth, respectively.
Mikey Martin, riding the No. 91 Weirbach Racing Kawasaki was the early hero on Saturday night, as he won his heat, earned the Dash for Cash victory and sat on the pole for the main event. In the main however, he led the first lap but wasn't able to hold his stride and settled for 10th.
Australian road racing star Troy Bayliss was running his second of five scheduled AMA Pro Flat Track events and showed improvement throughout the day. However, in his semifinal, he was involved in an on-track incident and was transported to a local hospital for further evaluation.
The Sacramento Mile was the final AMA Pro Flat Track event prior to motorcycle dirt track racing's debut in the X Games. The Harley-Davidson Flat-Track will kick off the action sports showcase at Circuit of the Americas in Austin, Texas on Thursday, June 4 and fans around the world can watch the action live on ESPN at 8:30 p.m. ET (5:30 p.m. PT).
Harley-Davidson GNC1 presented by Vance & Hines Top 5 finishers
1. Bryan Smith, Kawasaki
2. Brandon Robinson, Triumph
3. Jared Mees, Harley-Davidson
4. Brad Baker, Harley-Davidson
5. Kenny Coolbeth Jr., Harley-Davidson
Harley-Davidson GNC1 presented by Vance & Hines Point Standings (After Round 4)
1. Kenny Coolbeth Jr., 67
2. Jared Mees, 62
3. Brandon Robinson, 56
4. Sammy Halbert, 55
5. Bryan Smith, 52
Learn more BRYAN SMITH REMAINS KING IN CALIFORNIA, EARNS FIFTH-STRAIGHT SACRAMENTO MILE VICTORY on VANCE & HINES NEWS