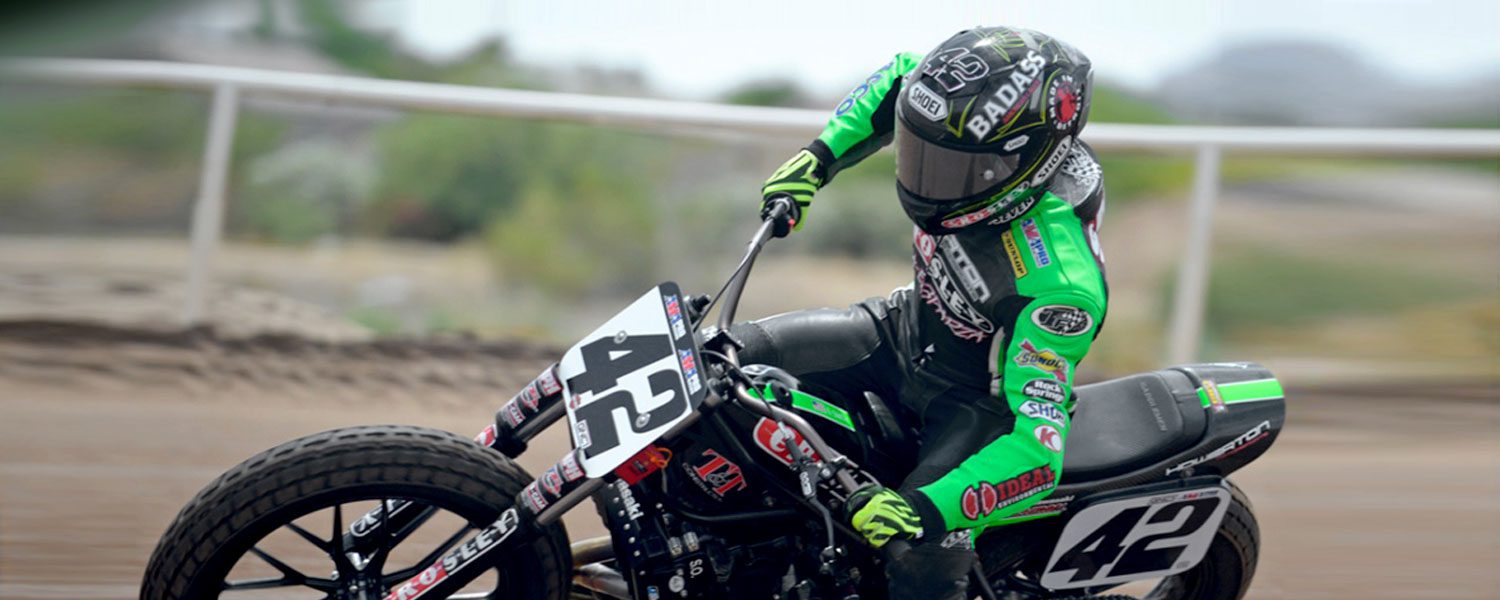 Bryan Smith turned up the heat in the Valley of the Sun on Saturday by winning AMA Pro Flat Track's inaugural Law Tigers Arizona Mile in stunning fashion. The "Mile Specialist" lived up to his nickname, topping defending Harley-Davidson GNC1 presented by Vance & Hines champion No. 1 Jared Mees by 12.646 seconds in front of a standing room only crowd at Turf Paradise.
With temperatures soaring above 100 degrees, Smith, mounted on his No. 42 Crosley/Howerton Motorsports Kawasaki Ninja 650, showed that heat wasn't a factor for him. The Michigan native set a blistering pace all day, winning his heat race by a remarkable 10.942 seconds to start from pole position in the main, and then leading every lap of the main in flawless succession.
"It was pretty interesting, it might've looked easy but it was an absolute handful out there," Smith said. "As soon as you thought you had everything together you'd catch a rut, your front-end would tuck and you'd about crash. No matter how easy it looked it was work every lap. My hat's off to the entire team. This is the best bike I've ever had and we stepped our game up this year in every department."
Like Smith, defending series champ Mees showed speed early to take the win in his heat race by 7.457 seconds. However, the Harley-Davidson-mounted rider was unable to keep Smith's pace in the night's main event.
"The biggest thing was that I was charging so hard so early in the beginning to get to him, that I was missing lines and missing my points," said Mees. "Finally it was just like I needed to settle in and maintain where I was and bring home second. We have Sacramento and Springfield coming up and I feel pretty confident that we will be able to give him a run."
After bolting to the front at the start of the race, No. 65 Cory Texter settled into a rhythm behind Smith and Mees to earn the first GNC1 podium finish of his career.
"I had no clue," said Texter. "I was just rolling around and picking off guys. I thought I got fourth or fifth so I was pretty excited when I came around and they were pointing at me; I had to look behind and make sure they were pointing at me. To say it is a dream come true is an understatement."
No. 17 Henry Wiles finished fourth after a long battle with series points leader No. 69 Sammy Halbert, who finished an eventual fifth. Halbert heads to next weekend's Sacramento Mile with 73 points, followed by Mees with 68 points and third-place No. 5 Jake Johnson with 63 points.
Learn more BRYAN SMITH TURNS UP THE HEAT AT THE LAW TIGERS ARIZONA MILE on VANCE & HINES NEWS