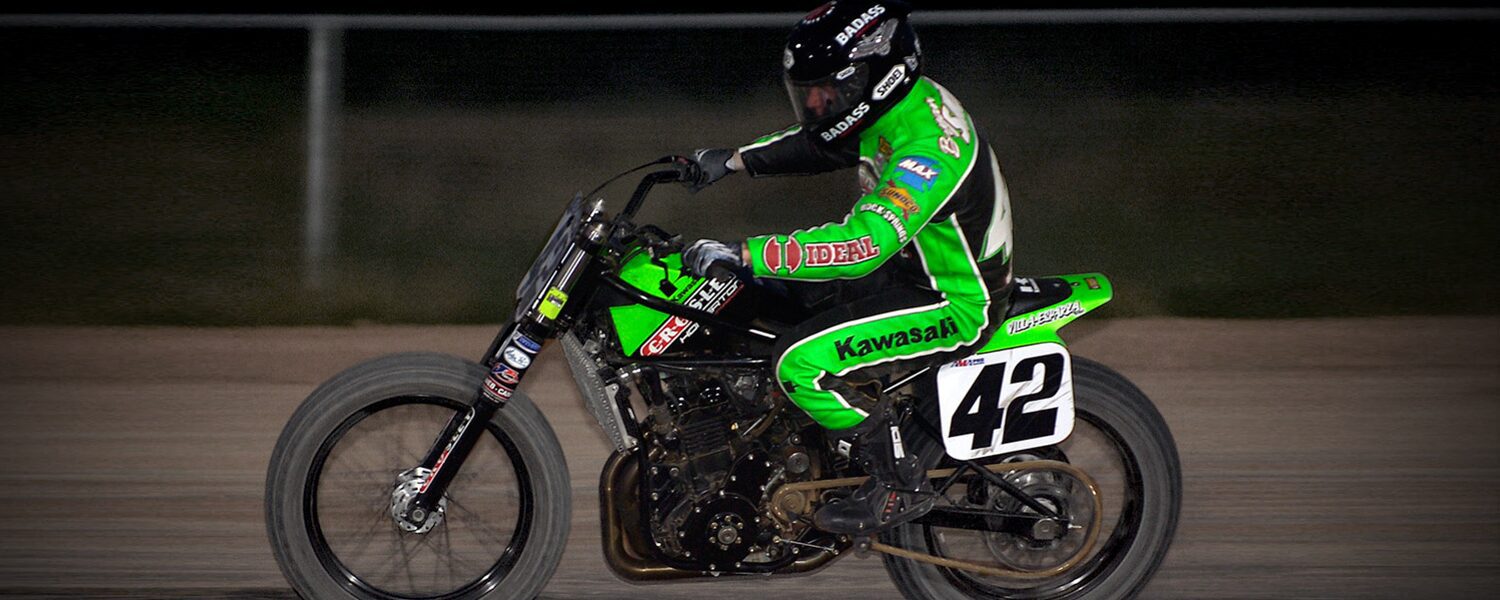 Courtesy of AMA Pro Racing
AUSTIN, Texas (June 4, 2015) – Fans all over the world were treated to a night of tantalizing action and classic dirt track battles as the sport of flat track motorcycle racing and its stars made their debut in the X Games on Thursday. Following some last-lap drama, Bryan Smith took the inaugural Harley-Davidson Flat Track Racing at X Games gold medal. Sammy Halbert took silver and Brad Baker rounded out the podium with a bronze. The event's heat races, last chance qualifier and 20-lap main event were all broadcast live to an international audience on ESPN.
"To come away with the win, the gold medal, I'm stoked," said Smith. "It's great for the whole sport. I've been watching the X Games since I was 10 years old, 12 year old, and I'm finally here.
"There were some twisted events there at the end and there were a few passes at the beginning. I'm sure it was a good show, and I'm sure it could be even better next time."
Smith looked sharp all night aboard the No. 42 Crosley Radio machine, but he was the beneficiary of some luck, good for him but bad for AMA Pro Flat Track No. 1 plate holder, Jared Mees. Mees was in control for most of the contest before his No. 1 Las Vegas Harley-Davidson machine suffered a mechanical failure exiting turn two on the race's final lap. The defending Harley-Davidson GNC1 presented by Vance & Hines champion was scored in 11th place at the end of the race.
"Jared slowed, there were sparks coming off his bike, and it was like a mirage," said Smith.
Second place finisher and pilot of the No. 7 Briggs Auto machine, Halbert, was neck-and-neck with Smith all night, and the Graham, Wash., native was thrilled to come away with a silver medal in his first X Games.
"I'm stoked," said Halbert. "The goal was to come here and at least get a medal and it feels great to do it. I obviously wanted the gold but I'm really happy to get up here and on the box and medal."
Piloting the No. 6 Factory Harley-Davidson, Baker rode with fury all night and claimed the bronze medal in his X Games debut.
"I'm really happy to bring home a bronze medal," said Baker. "I had a good feeling before the main event that I was going to be able to run for the win. The track slowed down a lot and my motorcycle wasn't able to pull the gear off the corner. It's really cool and I think this (medal) will hang from the mirror of my pickup for a little while. It's a big deal to have a medal here at the X Games and we'll be back next year trying to go for gold, hopefully. I think the fans were impressed with what happened and I'm definitively happy with the result, even though I wish it was better."
Johnny Lewis, riding the No. 10 Lloyd Brothers Motorsports entry, and Briar Bauman, mounted aboard the No. 14 Hart Racing machine rounded out the top five, respectively.
In total, 12 riders made the main event on Thursday night at the 3/8-mile dirt oval at Circuit of the Americas in Austin, Texas.
Harley-Davidson Flat Track at X Games complete results
1. Bryan Smith
2. Sammy Halbert
3. Brad Baker
4. Johnny Lewis
5. Jake Johnson
6. Briar Bauman
7. Doug Lawrence
8. Mikey Martin
9. Kenny Coolbeth, Jr.
10. Michael Kirkness
11. Jared Mees
12. Brandon Robinson
Learn more BRYAN SMITH WINS HARLEY-DAVIDSON FLAT TRACK RACING AT X GAMES GOLD AS FLAT TRACK SHINES ON WORLD STAGE on VANCE & HINES NEWS