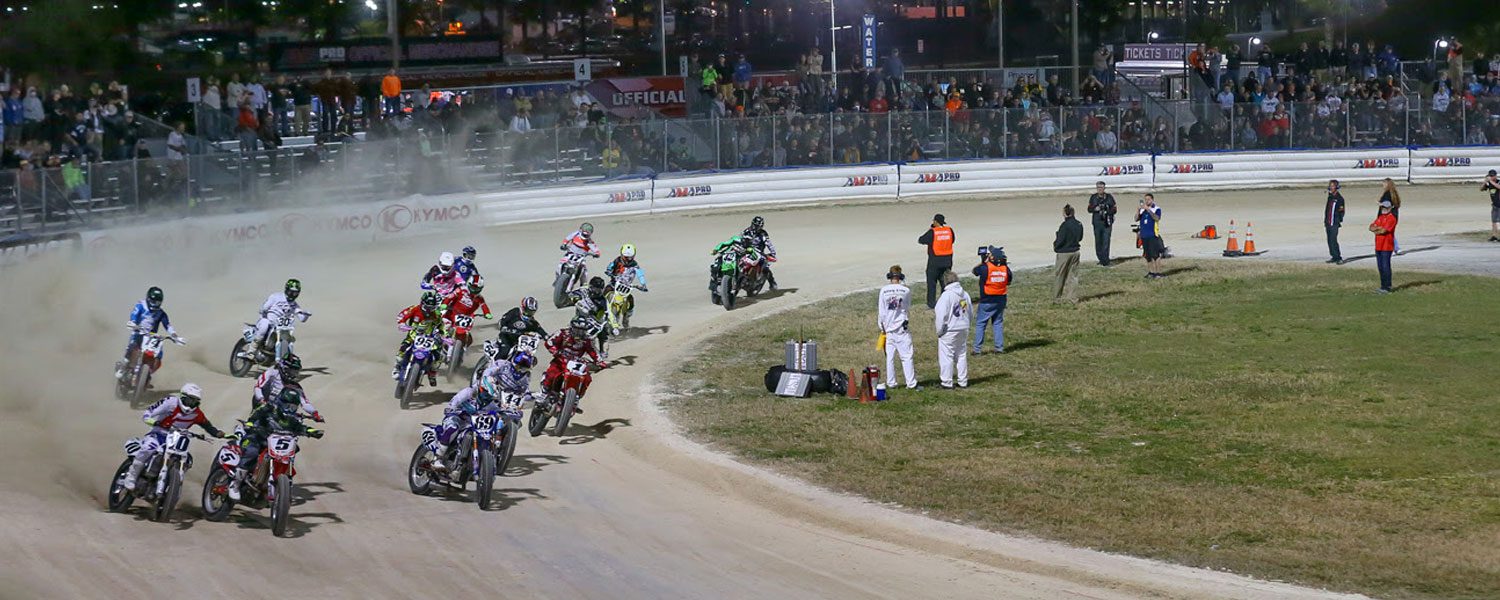 Bryan Smith powered into victory on Tuesday, August 9 at the Black Hills Half-Mile, held in conjunction with the 76th running of the Sturgis Rally. Jared Mees raged a hard-fought battle for second on his No. 1 Harley-Davidson XR750 and Kenny Coolbeth, Jr. followed close behind to secure a third place finish aboard his No. 2 Harley-Davidson XR750.
Smith and Mees did not disappoint the crowd, with several dozen lead changes over the race's 25 laps. At the end, Smith earned his first Half-Mile circuit win of the 2016 season with a 0.207 second margin of victory over Mees.
"It feels great," Smith said. "It's crazy when you think about it that I just stepped off of the podium. Last year, Jared won here and had bad luck at Charlotte, and this year I had bad luck at Charlotte and won here, so it's kind of like roles reversed. Hopefully the roles will continue to be reversed and I'll be the number one guy at the end of this year.
"I'm pumped to finally run with these Harleys on the Half-Miles," Smith continued. "We had a little bit of success before but we felt like the Kawasaki was the bike to have today. My team just did their homework in the last week and got me a bike that was completely dialed and the best bike out there. I'm just pumped to let Jared know that we're there to win this Championship."
Las Vegas Harley-Davidson rider, Mees, faced a disappointment in Rapid City after coming off of the Half-Mile win in Charlotte just over a week ago. Out of the 25-lap Main Event, Mees led the pack of Harley-Davidson GNC1 presented by Vance & Hines riders for eight circuits while duking it out with Smith.
"That was a hell of a battle," Mees said. "I know that's what everyone wanted to see: the two points guys going at it like that but, you know, he just had a little bit more on me coming off of turn four and we switched the bike around quite a bit for the Main. The mechanics did a heck of a job. We flipped that bike upside down because in the Heat race we obviously had nothing for him, but what a sick track to race on and do battle like that with and we rode the heck out of it and Bryan too. I think he had a little bit of an upper hand on me but we didn't feel as good as we did last weekend and we still ended up second, so it was a good day."
The veteran of the pack, Coolbeth, Jr., didn't make it easy for Smith and Mees to take the first and second place positions, as he was just 0.300 seconds behind on his Harley-Davidson XR750.
"It was good," Coolbeth, Jr. said. "With Sammy [Halbert] ahead before that restart, he was blowing some serious oil. It sucks for him but it really sucks for us behind him. These guys took it to the next level. They were battling back-and-forth and I think I was paying more attention to what they were doing than just concentrating on my race. We had some problems earlier today and we overcame them and I'm happy."
Award Updates
Harley-Davidson GNC1 presented by Vance & Hines:
Harley-Davidson Pole Award: No. 42 Bryan Smith
McElroy Packaging Lucky 13 Award Winner: No. 42 Bryan Smith
MotoBatt Hard Charger Award Winner: No. 5 Jake Johnson
Öhlins Fastest Lap Award Winner: No. 6 Brad Baker
Sunoco "Go The Distance" Award Leader: No. 42 Bryan Smith (297.75 miles completed)
Learn more BRYAN SMITH WINS THE BLACK HILLS HALF-MILE DURING THE 76TH STURGIS RALLY on VANCE & HINES NEWS