The D.M.E. Racing team spent every second of the off season thrashing to get five bikes ready for the 2015 season.  Team Owner Dimey Eddinger along with Crew Chief/Head Tuner Andy Sawyer and Chief Engine Builder Skip Gladstone showed up to Valdosta ready to get to work. Despite the Man Cup season opener resulting in a rain out with only two rounds of qualifying in the books, the team made great strides with their season opener tune ups.
"We knew it would be a bit of a challenge going into the fist event.  Terence Angela and Jason Dunigan had completely rebuilt bikes that hadn't been tested." said Dimey  " Plus we knew the weather forecast wouldn't give us ideal conditions and would limit the amount of passes down the track. But we always come prepared to deal with any conditions presented to us."
"Joey Gladstone's bike, now named the 'Black Betty',  was basically the same set up as last year with some smaller modifications. Since the bike ran so well last year I didn't feel there was a need for radical changes." said Andy.  " We are however fine tuning and trying out new technology as we go. We feel we have the bike tuned to lay down big numbers this year, but we are going to take our time and progress at a consistent pace."
Joey's second pass of the weekend he ran a 6.843 at 214.42 giving him the #1 qualifying position for the event. " The air was terrible, probably the worst of the weekend, but we knew that this wouldn't be Joey's fastest pass of the weekend." stated Skip. " Unfortunately the rain wouldn't let up and we weren't able to make another pass. So now we are just looking toward the IDBL event to fine-tune our championship Pro Street bike.
Jason Dunigan's bike received a full make over to take advantage of the 2015 rules changes. His bike is now longer with a new subframe and tail. And his bike has been upgraded to a new DCE wiring harness and a show stopping paint scheme. Unfortunately Jason's bike experienced the most problems this past weekend with a problem in the charging system.  Luckily the problem was found and fixed after two rounds of qualifying; unfortunately rain did not allow us to get a third round in for Jason to redeem himself. We are expecting his bike to catch up next week at the IDBL season opener.
Terence Angela also has had a complete makeover running a virtually identical set-up to Gladstone's bike. Last year Angela's bike, now named the 'Mamoondanga', was heavy and longer then this years version. With just passes in for qualifying, Terence was able to qualify with a 7.06 at 213.13. The team is looking to get all three bikes to run competitively close numbers this year, and with this being the third year for these riders together, there should be no problem getting the D.M.E. machines on point.
The team couldn't have made the strides over the winter without the help from their sponsors. APE Race Parts, Vance & Hines and Blouch Turbo have all stepped up support in 2015 with their high quality performance products.  Cometic, VP Fuels, Lucas Oil  and CP/Carillo have been an integral part of getting the team ready between races. After each event all the motors are pulled from the bikes and prepped so that each bike has a FRESH motor for the next event.  DCE has stepped up in a big way and all new wiring harness have been installed on all the bikes for the latest in technology for electric power distribution.  Robinson Industries has increased their support as well and all motors now have a Robinson transmission. We would also like to thank Vanson Leathers, Webcam and Penske shocks for their continued support.  The entire team is in Vanson this year, their customer support and commitment to quality is second to none. Webcam is the ideal match with our Vance & Hines heads and we appreciate their continued support. Penske shocks are the best in business as there are constantly under R&D to continually improve their products and Cole Seitzinger has become an integral part of our race weekends.
"We were disappointed that our all motor Real Street bike wasn't ready for this race." said Gladstone "We aren't bringing any of the bikes out of the stable until they are 100% ready. We are excited to have Orient Express and Dymag involved with the Real Street bike this year. It is so important to be lightweight and precise in Real Street, and the Dymag carbon fiber wheel will give us the edge we need. Once the bike makes it's debut we will be working harder than ever to show the fans how fast you can go on an all motor bike.
While the team is disappointed that the Man Cup race ended in a Rain out, but our sights are now set on the IDBL Season Opener and heading back to Maryland International raceway where the track prep is second to none!
Help us name Jason Dunigan's bike. If you have an idea for name, submit it to media@dmeracing.com. If we pick your idea, you will win a free T-shirt! Currently Joey's bike is named the 'Black Betty' and Terence's bike is named 'Mamoondanga'.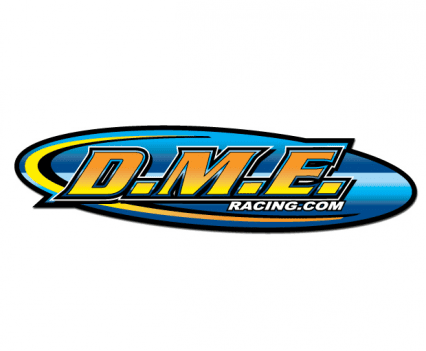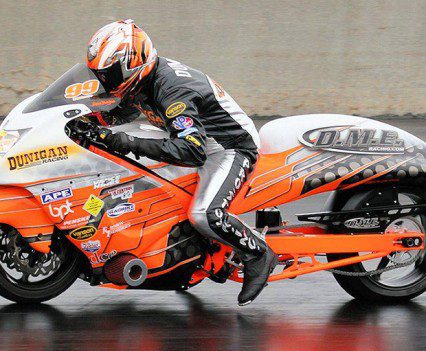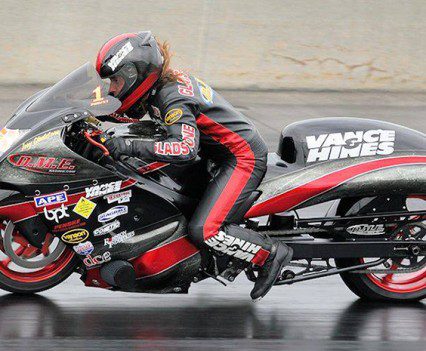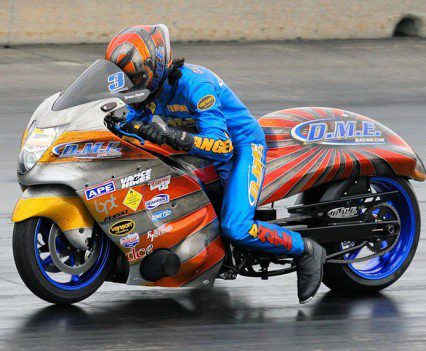 Learn more D.M.E. RACING READY TO TAKE ON THE 2015 SEASON on VANCE & HINES NEWS