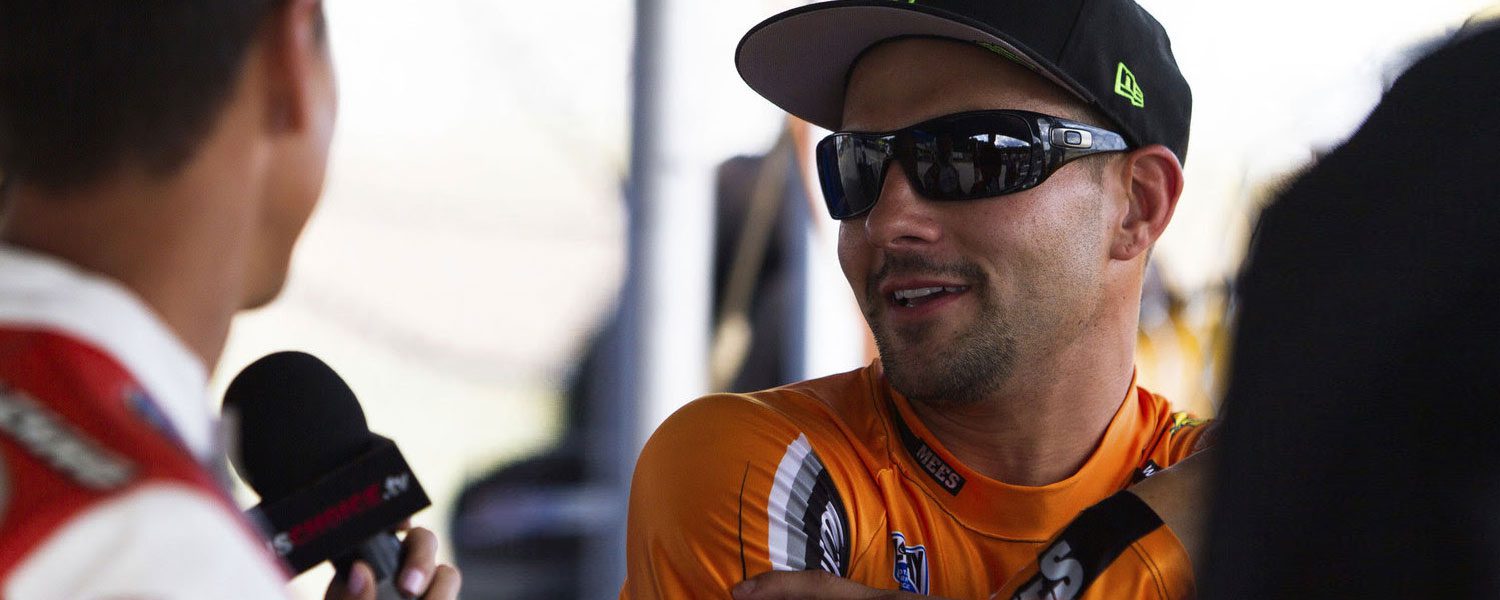 The 2015 AMA Pro Flat Track Harley-Davidson GNC1 presented by Vance & Hines championship will be decided in Las Vegas, on a purpose-built short track inside the dome of the Orleans Arena on Friday night, Nov. 20.
Defending champion Jared Mees has put together another monster year and he'll enter the season's final round with a seven point advantage over Bryan Smith and a 20 point edge over Kenny Coolbeth Jr. in the standings.
The rivalry between Mees and Smith this season has been nothing short of fascinating, and the two will duke it out one final time on a track that neither have competed on before, and under a modified format specifically tuned for the purpose-built short track, which measures in at just under a tenth of a mile.
Mees will ride the No. 1 Montgomeryville Cycle Center Honda CRF450R in Las Vegas and Smith will pilot the No. 42 Crosley Radio Honda CRF450R in a last-ditch attempt to steal his first-career Harley-Davidson GNC1 presented by Vance & Hines championship with one round to go.
Mees and Smith's rivalry is evidenced by the fact that both have finished within one position of each other four times this season, including three occasions where they finished one-two at both Springfield Miles and the Du Quoin Mile, with Smith winning all three races over Mees.
Though Smith has recorded five wins to Mees' one this season, Mees is the one who will be licking his chops come Nov. 20, as he has proven to be far more superior in Short Track races than Smith throughout the course of their prolific careers.
Mees finished second and 11th to begin the 2015 AMA Pro Flat Track season on Daytona's Short Track, while Smith finished 16th and failed to make the second main event of the doubleheader that weekend.
In the only other non-traditional Half-Mile or Mile event this season, Mees came up short in an attempt to break Henry Wiles' streak of 10 consecutive Peoria TT victories and had to settle with second. As for Smith, much like at Daytona, he was never able to gain any kind of momentum on his Honda and as a result, finished 11th at Peoria.
There is little doubt that on paper, Mees appears to be the clear-cut favorite to claim his third Harley-Davidson GNC1 presented by Vance & Hines championship in four years. He's in his prime and racing for everything on a short track with a seven-point lead against a competitor (Smith) whose Achilles heel has been these types of races.
Not so fast.
Though he hasn't had the same kind of success that Mees has had on short tracks, Smith is still a GNC1 racer and a very skilled one at that, and seven points is not insurmountable by any means.
This will be the first time that anyone in the field has competed at the Orleans Arena, and with the newly-implemented event format specifically tuned for the evening, anything can happen.
The magic number for Smith is eight, as he will need to earn eight or more points than Mees in Las Vegas in order to earn the championship.
There have been two instances this season where Smith has gained eight or more points than Mees in a single race. The most recent occurrence happened at the Charlotte Half-Mile on Aug. 29, when Smith earned the victory, Dash for Cash win, and Lap Leader and was awarded 25 points while Mees suffered a mechanical and finished 17th, earning just two points.
If anything close to what occurred in Charlotte were to transpire in Las Vegas on Nov. 20, then Smith would be crowned champion.
There are multiple scenarios that could determine the fate of the two championship hopefuls at the season finale. If Smith wins at Las Vegas, and Mees finishes third or worse, then Smith would earn the championship over Mees, assuming neither competitor receives a Dash for Cash point or Lap Leader point.
Furthermore, if Smith finishes second at Las Vegas, he would need Mees to finish seventh or worse, an unlikely scenario, in order to claim the No. 1 plate. If Mees finishes second or better, he will claim the championship regardless of Smith's finishing position. If both Mees and Smith were to end the season with the same amount of points, then Smith would earn the tiebreaker, which is based off of wins recorded in 2015, and win the championship.
The bottom line is that it's likely a 'win or bust' situation for Smith in Las Vegas, and considering the fact that he's won more races than any other rider on the circuit this season, he's probably up to the challenge.
Regardless of the outcome next round, Smith and Mees, along with the rest of the AMA Pro Flat Track competitors, have put on a remarkable show all season long, and the highly-anticipated Season Finale in Las Vegas will culminate the 2015 season perfectly.
For tickets and information on the AMA Pro Flat Track Season Finale, please visit https://www.orleansarena.com/event-calendar/ama-pro-flat-track. The AMA Pro Flat Track Season Finale is part of a big doubleheader weekend, which will also feature the inaugural Superprestigio of the Americas on Saturday night Nov. 21, an event bringing together the leading AMA Pro Flat Track racers to compete against top domestic and international riders from other disciplines of motorcycle racing. For additional event details visit https://www.superprestigio.com/.
Learn more DEFENDING CHAMPION JARED MEES WILL ENTER AMA PRO FLAT TRACK SEASON FINALE IN LAS VEGAS WITH SEVEN POINT LEAD OVER BRYAN SMITH IN PREMIER HARLEY-DAVIDSON GNC1 PRESENTED BY VANCE & HINES CLASS on VANCE & HINES NEWS