It's PRI time, which also means it's "Drag Illustrated" magazine's "30 under 30" announcement time also. And chassis fabricator and no-bar Suzuki Hayabusa sportsman drag racer Mike Mullaney is on that list.
Mullaney took a fairly dramatic leap into the NHRA drag racing consciousness this past season when Pro Stock Motorcycle champion Andrew Hines started touting his skills. At a winning weekend in Atlanta last May, Hines talked profusely about his new motorcycle, whose fabrication was done mostly by Mullaney at Vance & Hines.
"My motorcycle has been phenomenal all year," Hines said at the time. "It's been quite a joy to ride compared to the motorcycle that I've been riding the last few years, which unbeknownst to me at the time was apparently not that good. It was throwing away hundredths here and there down the racetrack, but we got it all back with this new chassis."
Remarkably, Mullaney had no such skills when he started working at Vance & Hines in 2014. Mike was friends with Eddie Krawiec's brother Jay—a good racer in his own right. Mike and Jay raced together in Top Streetbike at Englishtown, and now they both live in the Brownsburg/Avon area, working at V&H and racing their bikes at Lucas Oil Raceway and in the NHDRO series whenever they aren't on the road with the NHRA.
"He got to our shop and didn't know how to weld," said Hines, who got excited talking about the arc of Mullaney's career so far. "He didn't know much fabrication, but he had the desire to want to go learn. He'd come to the shop and anything we asked him to do, if he needed to, he'd watch YouTube videos. He took a welding class. He got hooked up with Tom Patsis at Cold Hard Art, who taught him how to lay welding beads."
"I didn't know how to run a lathe, or milling machine, or CAD programming," remembered Mullaney. "Matt Hines kinda introduced it to me with Andrew's 2014 chassis. But I didn't really get into it until '16, I think, when we started building the first new Street Rods."
"He's come a phenomenal distance in the five years he's worked for us," noted Andrew. "I call him spoiled because he's been in the winners circle so many times. He's had it good, but he's earned it. He's done a great job."
Including a great job building the bike that carried Hines to the 2019 NHRA Pro Stock Motorcycle championship. "We went testing, and the bike's never been down the track yet," remembered Hines. "So I'm gonna go half track and shut it off. He's watching his Apple watch and his heart rate's bouncing 65, 70, 80. At the end of the day he looked at it, and right at 12:30 when I went down the track for the first time, his heart rate was 175. So his heart rate was way higher than mine was, and I was riding the bike!
"Mike's really proud that he welded that, jigged it all up and came out here and it performed flawlessly. Mike has every right to be proud (of this bike). He did a lot of work on these things"
Mullaney isn't just counting on his job at V&H, he's also burning the midnight oil at his own Mullaney Cycle Works. "I'm designing a small tire, 'Busa-powered chassis," Mike said back in May. "I'm gonna start building them here soon. Jeremy England is getting the first one."
Add to it all that he's a new father, and it's been quite a year for Mullaney that is nicely topped off with the "30 under 30" award.
"Getting into the '30 under 30′ is an awesome deal," said Mike. "I've never really been recognized for anything, really. It means a lot. It tells me that what I'm doing in life, I'm heading in the correct direction."
"It's cool to see the path that Mike Mullaney has come," finished Andrew.
Story: Tim Hailey Photos: Matt Polito/Drag Illustrated Magazine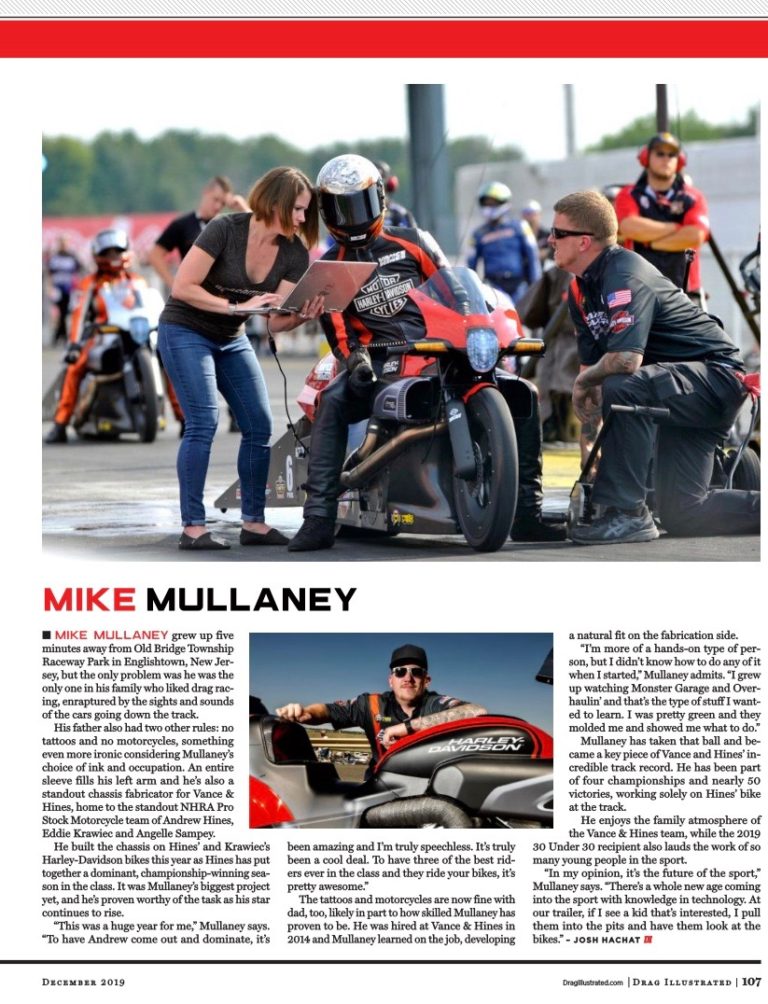 Learn more DRAG ILLUSTRATED "30 UNDER 30" NOMINEE: MIKE MULLANEY on VANCE & HINES NEWS