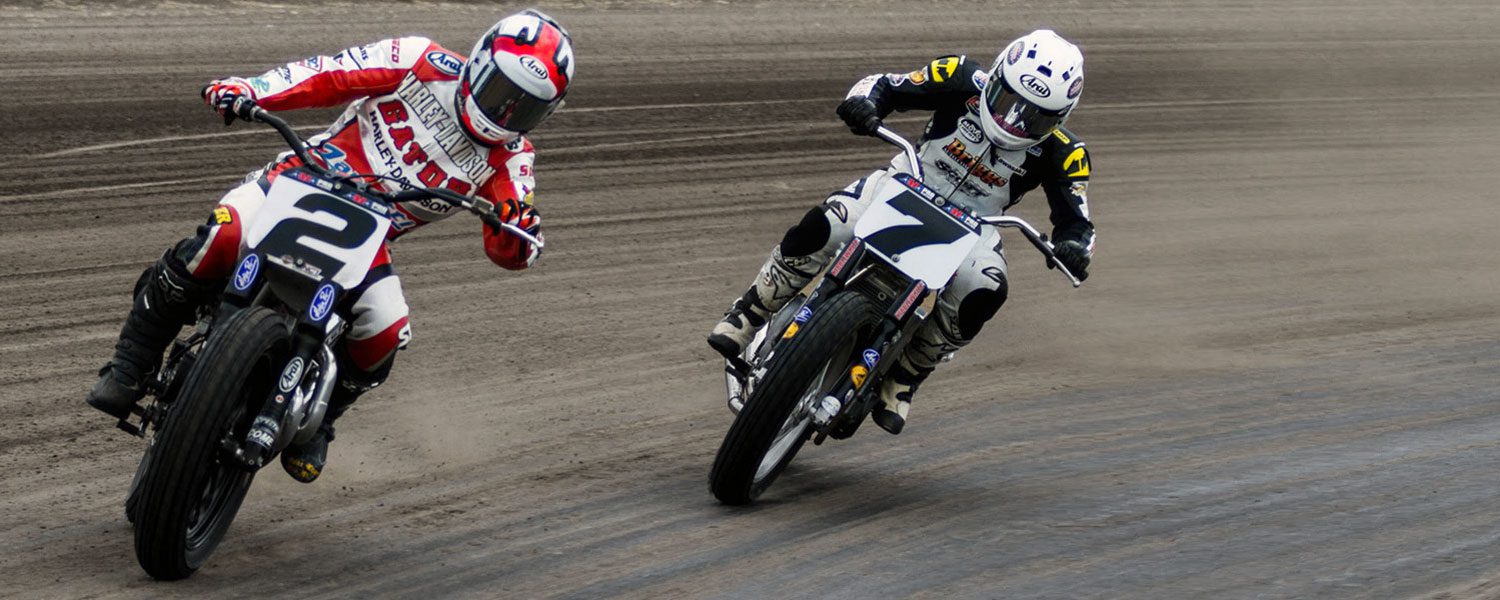 Courtesy of AMA Pro Racing
DAYTONA BEACH, Fla. (June 16, 2015) – AMA Pro Flat Track's star-studded lineup of athletes will take to the track in Hagerstown, Md., for the historic Hagerstown Half-Mile on Saturday, June 20. The banked clay circuit known as Hagerstown Speedway will play host to the first of six scheduled Half-Mile races in 2015.
Fans can watch every moment live online, in high definition and free of charge at www.FansChoice.tv. Practice and qualifying are scheduled for 4:30 p.m. ET (1:30 p.m. PT). Heats begin at 8:30 p.m. ET (5:30 p.m. PT) and the mains are slated for 10:30 p.m. ET (7:30 p.m. PT).
Last year, thousands of fans in attendance and countless watching on www.FansChoice.tv witnessed history when Bryan Smith gave Kawasaki its first ever Half-Mile victory in the 91-year history of the sport.
Now, in 2015, Smith will be looking to do it again.
Mounted on the No. 42 Crosley Radio Kawasaki, Smith has been on an absolute tear recently, earning the last two Harley-Davidson GNC1 presented by Vance & Hines main event checkered flags, and also winning gold in Austin, Texas, in Harley-Davidson Flat Track Racing at X Games on June 4.
Smith will look to continue his winning ways and improve his fifth place position in the Harley-Davidson GNC1 presented by Vance & Hines point standings on Saturday, but to do so, he'll have to fend off the toughest flat track racing competition in the world.
Smith's arch rival, and good friend off the track, Jared Mees, enters Hagerstown second in the points and has three podium appearances to his credit so far in 2015. Piloting the No. 1 Las Vegas Harley-Davidson machine, Mees will look for his first win of the season and second ever in Hagerstown. The defending Grand National Champion typically excels on Half-Mile circuits, and his last victory at Hagerstown came in 2012.
Mees will also be looking to shake of his disappointment from the X Games. He had a commanding lead on the final lap when he slowed with a mechanical issue and retired with half a lap remaining.
Current GNC1 points leader and No. 2 Zanotti Racing Harley-Davidson rider Kenny Coolbeth Jr. had a stronghold on the points lead earlier in the year. But after failing to make the podium in the last two races, his lead has dwindled, and he now sits only five points ahead of Mees in the standings.
Coolbeth was leading the Hagerstown Half-Mile main event last year, but a bike malfunction on the eighth lap caused him to finish last in the race. Although his misfortunes last season cost him mightily at the time, the Hagerstown Half-Mile typically proves to be kind to Coolbeth, as the Morris, Conn., native has recorded three wins at the iconic track throughout the course his career.
Brandon Robinson finished fourth at Hagerstown in 2014, and he's coming off a second place finish at Sacramento in Round 4. The No. 44 Latus Motorsports Triumph rider looks to be on the cusp of a stellar campaign in 2015, and he currently sits third in the points.
Ever since making the switch to a new team and manufacturer during the offseason, Sammy Halbert has fared well. The No. 7 Briggs Auto Kawasaki competitor sits fourth in the points and hasn't finished outside the top 10 all season. At the X Games, Halbert put himself in second to earn a silver medal.
No. 6 Factory Harley-Davidson competitor Brad Baker got off to a relatively slow start to the 2015 season at DAYTONA Flat Track, finishing 12th and 14th, and was hampered by an arm injury suffered at the Superprestigio in Barcelona, Spain, in December. But the 2013 Grand National Champion has picked the pace up tremendously since then, finishing third and fourth at Springfield and Sacramento, respectively, before earning bronze in the X Games. Look for Baker to put together a strong performance aboard his factory ride this weekend.
Fresh off making history as the first brother and sister to compete against each other at the X Games, Cory and Shayna Texter will make the short trip from their home in Willow Street, Pa., to race at Hagerstown.
Learn more EAST COAST SHOWDOWN: AMA PRO FLAT TRACK RIDERS GEARING UP FOR HAGERSTOWN HALF-MILE on VANCE & HINES NEWS