Courtesy of NHRA
Vance & Hines and Harley-Davidson have announced that veteran Pro Stock Motorcycle rider Chip Ellis will compete aboard a third Harley Street Rod during next weekend's Automobile Club of Southern California NHRA Finals in Pomona. Ellis will join current riders Andrew Hines and Eddie Krawiec, who is expected to clinch his fourth Mello Yello series championship simply by qualifying for the event.
Team co-owner Terry Vance explained that the decision to add a third bike was made to allow the team to gather data for next season and to provide a tribute to Ellis' team owner, Junior Pippin, who is continuing to fight a tough battle with cancer. Ellis is expected to wear his Pippin Racing leathers during the season-ending event.
"On Monday after the Las Vegas race, we had an opportunity to test our new Street Rod bike and we were pleased with the results," Vance explained. "We discussed it with Harley-Davidson and we agreed that it would be great to race the new bike in Pomona and Chip was a natural choice. He's not just a great rider, he's also a quality guy and he's worked with us in the past, so we know exactly what we're getting. We're also glad to be able to do something special for Junior, who has given so much to the sport."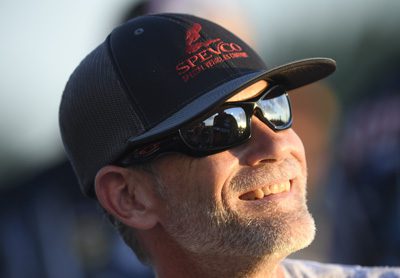 llis, a seven-time national event winner, competed in nine events this season but has been off the tour since the Charlotte event in September. He will become just the fourth rider to compete on a Vance & Hines Harley-Davidson joining current riders Hines and Krawiec and former rider GT Tonglet.
"I'm so excited don't know what to do with myself," said Ellis. "I'm shocked that the Vance & Hines guys would even ask me to ride their bike. On Wednesday, Terry called me and asked me if I wanted to come to Pomona. I figured that maybe they were short one of their crew guys and they just needed help for the weekend. When he asked me if I wanted to ride their new bike, I was floored. I didn't expect that.
"What really touched me was when Terry asked me to wear my Junior Pippin Racing leathers," Ellis said. "He said this was a tribute to Junior and I'm not afraid to admit that made me cry. It's awesome that they'd do that for Junior. He is in a tough battle right now, but I know he'll be happy about this. He's been a Harley-Davidson guy his whole life."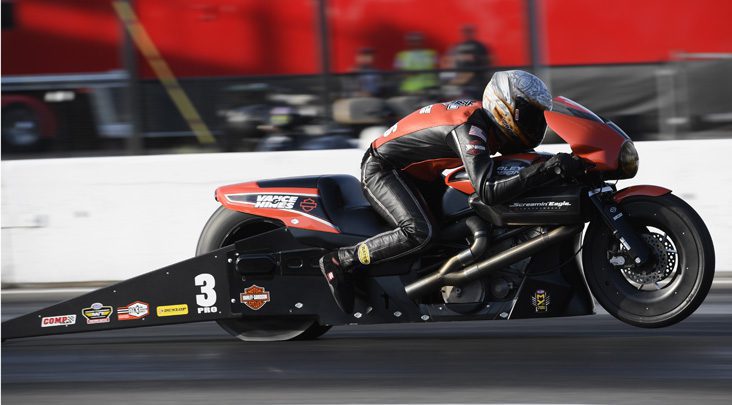 Five-time world champ Hines rode the new Street Rod during the Las Vegas test session and noted that the new bike produced comparable performance numbers to those turned in by Krawiec, who won the Toyota NHRA Nationals on Sunday. He is also excited to once again be working with Ellis.
"This bike has an all-new chassis and when I tested it on Monday it proved that it can run right at the front of the field," said Hines. "It put up numbers that would be respectable on any Sunday. That's why we decided to run it in Pomona. Having Chip as a teammate will be cool. He used to work for us and him and Eddie and I have never stopped being friends. He was the obvious choice for a third rider. We have respect for him and know that he can step right in and do a great job for us."
While Ellis has never ridden a Harley-Davidson Pro Stock Motorcycle, he doesn't expect to have a difficult time adjusting to the new Street Rod. Throughout his career, Ellis has ridden almost every motorcycle imaginable from a 220-mph Funny Bike to a six-second no-bar bike as well as Suzuki and Buell Pro Stock Motorcycles.
"The Street Rod does not have a front fairing, but my old Funny Bike didn't have one either, so I don't think that's an issue," said Ellis. "The Harley-Davidson also has a five-speed transmission while my Buell has a six-speed. I don't anticipate much of a change. Terry said, 'I'd love nothing more than to see you go out and win this race' but I'll be happy just to make some good runs, represent Harley-Davidson well, and give Junior something to smile about."
Learn more ELLIS ADDED TO VANCE & HINES HARLEY TEAM FOR POMONA on VANCE & HINES NEWS