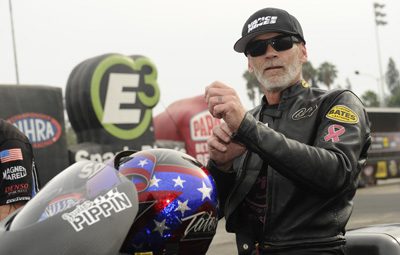 Ellis last competed in an NHRA event at the 2017 season-ending Auto Club NHRA Finals in Pomona, where he qualified No. 3, and rode a Vance & Hines Harley to a quarterfinal finish. Prior to that, he raced a V-twin entry for the late Junior Pippin.
"I haven't been on a bike since last November but Drew [Hines] called me a couple of weeks ago and asked me what I was doing. I said, 'What do you need me to do?'" said Ellis. "I have a great relationship with the Vance & Hines guys and I'm happy to help out any way I can. I enjoyed it when I worked in their shop every day and I enjoyed racing with them last November. I guess they think I'm the right guy for the job. Either that or they just like having a redneck on the team."
During his career, Ellis has become known as a rider who is able to extract maximum performance from almost any form of drag racing motorcycle. He has extensive experience on "no bar" bikes and he's also won seven NHRA events in the Pro Stock Motorcycle class, with his most recent victory coming at the 2016 fall Charlotte race. At that event, he beat current teammate Hines in the final round.
In his current role with the Vance & Hines team, Ellis will be asked to test a new chassis and other components that the Vance & Hines team has developed for the upcoming Countdown to the Championship playoffs, and the 2019 season. Following the Chevrolet Performance U.S. Nationals, Ellis will also have the services of Vance & Hines-backed Top Fuel Harley-Davidson racer, Doug Vancil, who will serve as a crewmember for Countdown events. Vancil is currently in contention for the championship in the Mickey Thompson Top Fuel Harley series. Vancil leads by just 18 points heading into the final event in the ten-race series.
"I'm just going to the races to have fun; no pressure," said Ellis. "Seriously, they have a new chassis and the latest and greatest new fuel injection from MoTech and they want to get some data for next year. They want to get a baseline so that's my goal. I'm just excited to be able to go out there and pop the clutch. It makes me feel good that I'm the guy they call when they need this sort of thing."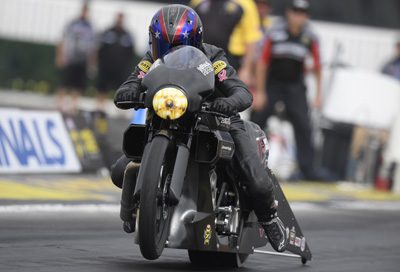 While Ellis is satisfied in his testing role, he also acknowledges that he will also be aboard a bike that should be capable of winning races. So far this season, Eddie Krawiec has four wins and Hines has five runner-up finishes. Collectively, Krawiec and Hines have a 40-14 record in elimination rounds and are first and second in the Mello Yello points standings.
"You know how these testing deals go; sometimes you can hit on a combination that's really good and you can get in there and surprise a few people," said the North Carolina-based Ellis. "I'm fired up about this. I'm even hitching a ride to Indy. I'm going to stow away in Greg Anderson's Pro Stock rig. I wouldn't miss this for anything."
Learn more ELLIS RETURNS ABOARD VANCE & HINES HARLEY-DAVIDSON on VANCE & HINES NEWS