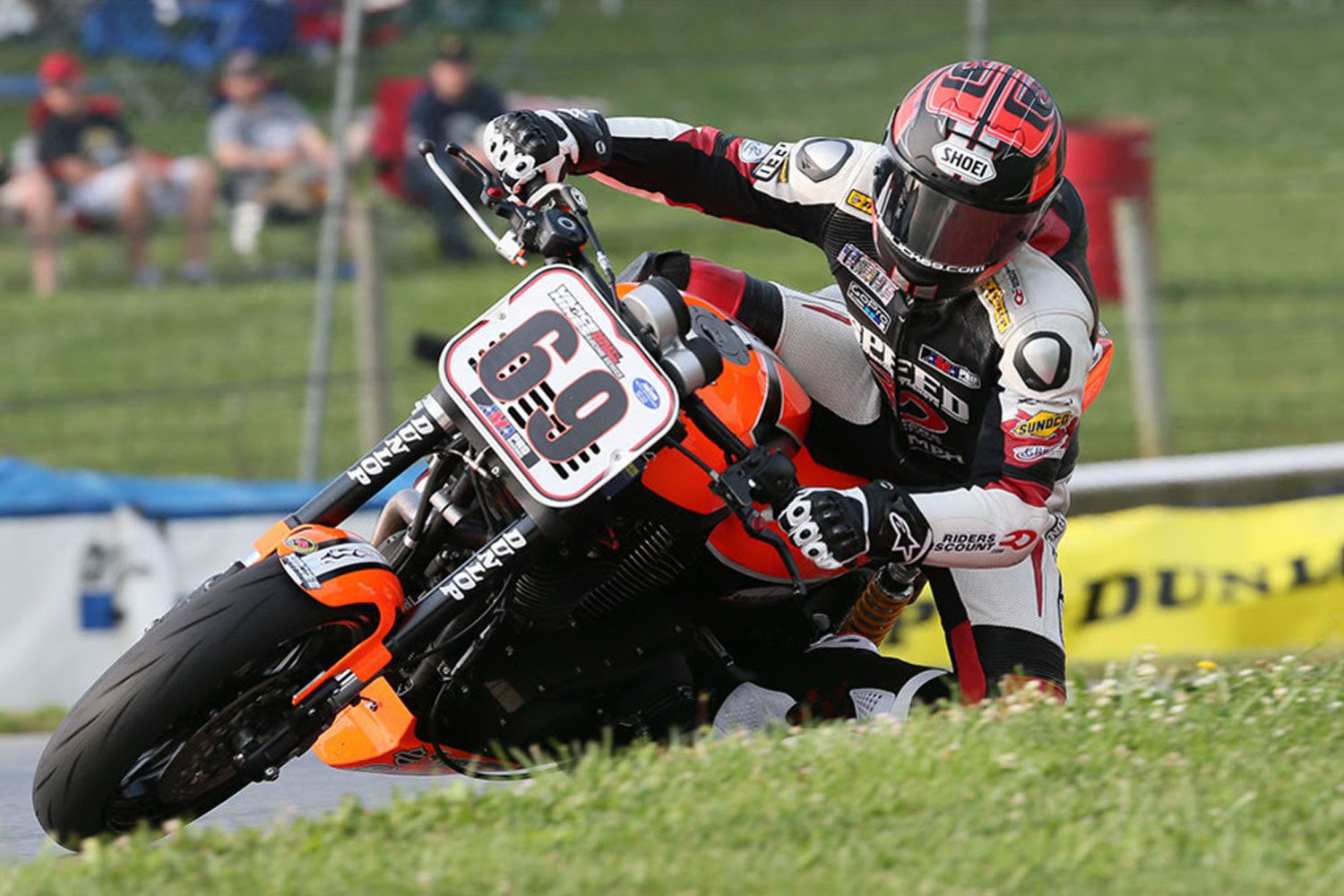 Courtesy of AMA Pro Racing
DAYTONA BEACH, Fla. (Sept. 12, 2014) – The AMA Pro Vance & Hines Harley-Davidson Series' very first champion is on the verge of being crowned its first two-time king.
With just this weekend's AMA Pro Road Racing season finale at New Jersey Motorsports Park remaining, Ruthless Racing's Danny Eslick holds a comfortable 16-point advantage over his closest competition.
The Oklahoman, who also boasts a pair of GoPro Daytona SportBike crowns, is very much in control of his own destiny, requiring just a safe and solid ride to seventh place or better this weekend in order to add to his championship hardware.
Eslick's worst finish to date in the class this season? That's right – seventh.
That certainly doesn't mean the outcome is assured. Just look to the seasons of the preseason title favorites, reigning champion Steve Rapp on the Suburban Motors Harley-Davidson and Josh Chisum Racing/Bartels Harley-Davidson's Tyler O'Hara.
Rapp has been plagued by repeated misfortune, removing him from realistic title contention almost as quickly as the season got underway, despite the fact that he's still the fastest man in the class on any given day.
By contrast, O'Hara carried his dreams of claiming his first title right up the most recent race at Indianapolis Motor Speedway. However, one crash later – his first of the year – he is no longer in the running. Instead, O'Hara has been forced to turn his attention to Rapp, whose Indy win has moved him to within striking distance of third.
Eslick's second concern – ranking only behind himself – is Rapp's Suburban Motors Harley-Davidson teammate, Ben Carlson.
Carlson is the last man standing with a shot at taking the Oklahoman down, although he'll need to finally break through and claim his first-career AMA Pro Road Racing victory to really apply the pressure.
The Wisconsin native has been admirably consistent, racking up five podium finishes, but that elusive first win has slipped through his fingers on the final laps of recent races. For Carlson, a win may feel every bit as good as a championship.
KWR/Millennium Technologies' Kyle Wyman has recovered well enough from an uneven start to the season to all but lock down the final season's top five championship finishers.
Meanwhile, a tight battle has evolved to decide the final five positions in the top ten.
Folsom Harley-Davidson's Gage McAllister kicked off the season in fine fashion with a runner-up showing at Daytona International Speedway, but he now finds himself just two points ahead of Aerostar Global Suburban Motors' Nick Hansen and another two beyond that up on Chili Pepper Racing's Hayden Schultz.
Series mainstays Josh Chisum Racing/Bartels Harley-Davidson's Josh Chisum and Ruthless/Trev Deeley Motorcycles' Darren James are not far behind as they round out the championship top ten heading into the '14 finale
How to Watch
FansChoice.tv is the official home for live streaming coverage of AMA Pro Road Racing and AMA Pro Flat Track events in 2014. The site also provides coverage of IMSA's development and single-make series, and NASCAR's touring and weekly series.
Learn more ESLICK LOOKS TO CAPTURE SECOND AMA PRO VANCE & HINES HARLEY-DAVIDSON SERIES CHAMPIONSHIP THIS WEEKEND AT NEW JERSEY MOTORSPORTS PARK on VANCE & HINES NEWS