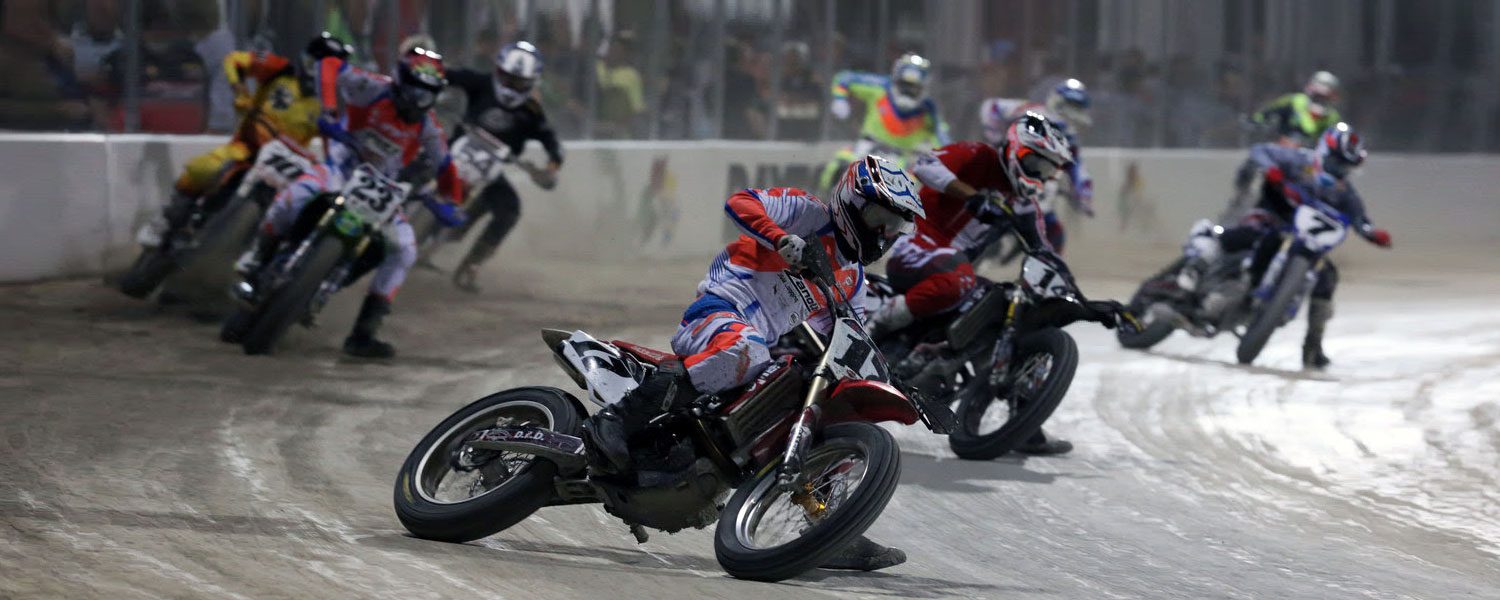 AMA Pro Racing officials announced today that the AMA Pro Flat Track season finale, scheduled for Friday, Nov. 20 at the Orleans Arena in Las Vegas, will feature a modified event format specifically tuned for the purpose-built short track. Riders will end the season on their single-cylinder machines and fans can expect to see an action-packed day with more racing than a typical Grand National Championship event due to the addition of B Mains for both Harley-Davidson GNC1 presented by Vance & Hines and GNC2.
The track created under the dome of the Orleans Arena will be designed by seven-time Grand National Champion Chris Carr. Measuring in at just under a tenth of a mile, the circuit will support a maximum grid size of 12 riders in each session as opposed to the standard 18 rider grid. Carr expects it to be like a "fist fight in a phone booth," with blazing-quick laptimes and non-stop action.
The modified grid sizes will result in more on-track drama and by the end of the night, fans will have seen 15 races. After the Heat races get the crowd fired up, the GNC2 riders will try their hand at a pair of Semis just like their counterparts in the elite Harley-Davidson GNC1 presented by Vance & Hines class. As a bonus, there will be B Mains for both classes to give riders one final shot at making the Main Events. If a rider has trouble early on, the B Main will be their chance to get back into the hunt, as the winner and runner-up will head to the night's main event.
Any Harley-Davidson GNC1 presented by Vance & Hines riders that elect to use a provisional start card will be granted a spot in the B Main, meaning they'll still have to race their way to a main event start. In order to provide an equal number of points-paying opportunities, championship points awarded to positions 13th through 18th in a typical event will be awarded to riders finishing third through eighth in the B Main.
For tickets and information on the AMA Pro Flat Track Season Finale, please visit https://www.orleansarena.com/event-calendar/ama-pro-flat-track. The AMA Pro Flat Track Season Finale is part of a big doubleheader weekend, which will also feature the inaugural Superprestigio of the Americas on Saturday night Nov. 21, an event bringing together the leading AMA Pro Flat Track racers to compete against top domestic and international riders from other disciplines of motorcycle racing.
Learn more EVENT FORMAT ANNOUNCED FOR AMA PRO FLAT TRACK SEASON FINALE AT ORLEANS ARENA IN LAS VEGAS on VANCE & HINES NEWS