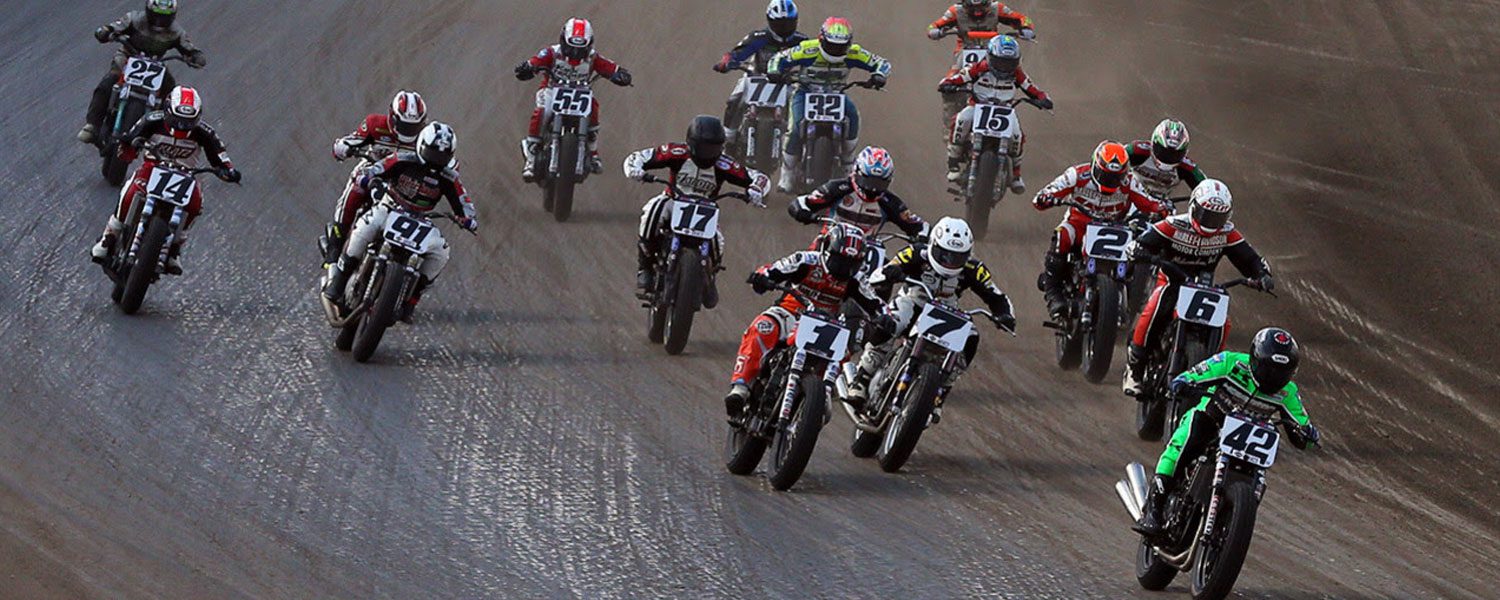 Courtesy of AMA Pro Racing
Round 8 of the 2015 AMA Pro Flat Track season, the Black Hills Half-Mile, will roar into action on Tuesday night, Aug. 4. The race will coincide with the 75th Annual Sturgis Motorcycle Rally. Fans can tune-in and catch every second of FansChoice.tv coverage from Black Hills Speedway in Rapid City, S.D. by visiting https://www.fanschoice.tv/watch-live/ama/flat-track.
In Harley-Davidson GNC1 presented by Vance & Hines competition, No. 1 Las Vegas Harley-Davidson pilot Jared Mees will look to extend his lead in the point standings, which remains at six over No. 42 Crosley Radio Kawasaki competitor Bryan Smith.
In GNC2, No. 67M Parkinson Brothers Racing competitor Davis Fisher also maintains a six-point lead in the point standings heading into Rapid City over No. 44E Southland Racing pilot Nick Armstrong.
FansChoice.tv Live Streaming Schedule for Tuesday, Aug. 4 at the Black Hills Half-Mile:
Practice/qualifying: 4 p.m. MT (3 p.m. PT, 6 p.m. ET)
Pre-race show: 6:30 p.m. MT (5:30 p.m. PT, 8:30 p.m. ET)
Opening ceremonies: 7:30 p.m. MT (6:30 p.m. PT, 9:30 p.m. ET)
Heat races: 8 p.m. MT (7 p.m. PT, 10 p.m. ET)
GNC2 main: 10 p.m. MT (9 p.m. PT, midnight ET)
GNC1 main: 10:30 p.m. MT (9:30 p.m. PT, 12:30 a.m. ET)
How to Watch:
FansChoice.tv is the official home for live streaming coverage of AMA Pro Flat Track events. The site also provides coverage of IMSA's development and single-make series, and NASCAR's touring and weekly series. Catch all the action at https://www.FansChoice.tv.
About AMA Pro Flat Track:
AMA Pro Flat Track is the world's premier dirt track motorcycle racing series and one of the longest-running championships in the history of motorsports. Sanctioned by AMA Pro Racing in Daytona Beach, Fla., the series is highly regarded as the most competitive form of dirt track motorcycle racing on the globe. For more information on AMA Pro Flat Track, please visitwww.amaproracing.com/ft/, follow us on Twitter, like us on Facebook or live stream the on-track action on FansChoice.tv.
Learn more FANSCHOICE.TV TUNE-IN ALERT: AMA PRO FLAT TRACK AT THE BLACK HILLS HALF-MILE on VANCE & HINES NEWS