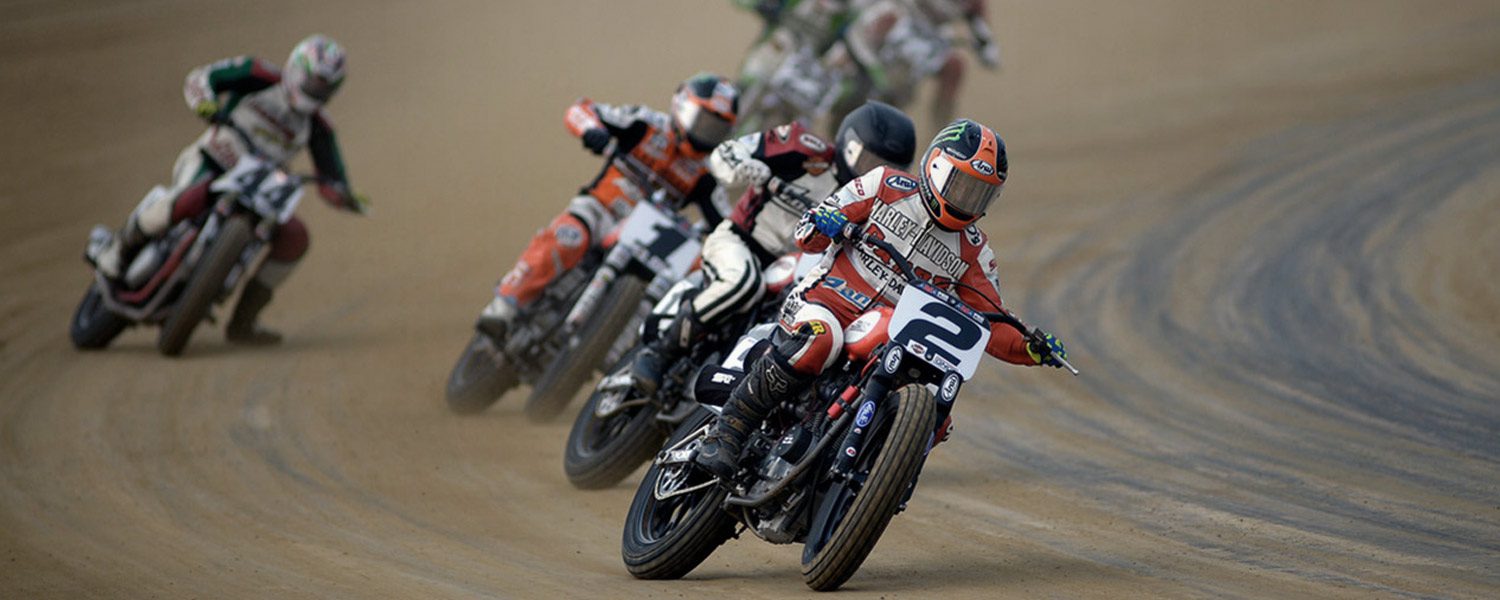 Round 7 of the 2015 AMA Pro Flat Track season, the Indy Mile, will roar into action on Saturday, July 11. The race will be the fourth of five scheduled Mile events in 2015. Fans can tune-in and catch every second of FansChoice.tv coverage from the Indiana State Fairgrounds in Indianapolis by visiting https://www.fanschoice.tv/watch-live/ama/flat-track.
In Harley-Davidson GNC1 presented by Vance & Hines competition, Kenny Coolbeth Jr. will be looking to earn back-to-back Indy Mile victories, as he put the No. 2 Zanotti Racing Harley-Davidson atop the box at the Indiana State Fairgrounds a year ago.
No. 42 Crosley Radio Kawasaki pilot Bryan Smith has won all three Mile events so far in 2015 and he'll surely be looking to make it four-for-four come Saturday.
Defending Grand National Champion and current Harley-Davidson GNC1 presented by Vance & Hines points leader Jared Mees will pilot the No.1 Las Vegas Harley-Davidson machine on Saturday in hopes of earning his first win of the 2015 season.
In GNC2, No. 67M Parkinson Brothers Racing competitor Davis Fisher extended his lead in the point standings last weekend with a second place finish at Du Quoin, and he'll look to build off his momentum on Saturday. Fisher was battling for the Indy Mile win in 2014 before he crashed and sustained an injury late in the race. Look for the second-year rider and GNC2 frontrunner to bounce back in a big way when the lights go green this time around.
FansChoice.tv Live Streaming Schedule for Saturday, July 11 at the Indy Mile:
• Practice/qualifying: 2:30 p.m. ET (11:30 a.m. PT)
• Pre-race show: 5 p.m. ET (2 p.m. PT)
• Opening ceremonies: 6:30 p.m. ET (3:30 p.m. PT)
• Heat races: 7 p.m. ET (4 p.m. PT)
• GNC2 main: 9 p.m. ET (6 p.m. PT)
• GNC1 main: 9:30 p.m. ET (6:30 p.m. PT)
How to Watch:
FansChoice.tv is the official home for live streaming coverage of AMA Pro Flat Track events. The site also provides coverage of IMSA's development and single-make series, and NASCAR's touring and weekly series. Catch all the action at https://www.FansChoice.tv.
Learn more FANSCHOICE.TV TUNE-IN ALERT: AMA PRO FLAT TRACK AT THE INDY MILE on VANCE & HINES NEWS