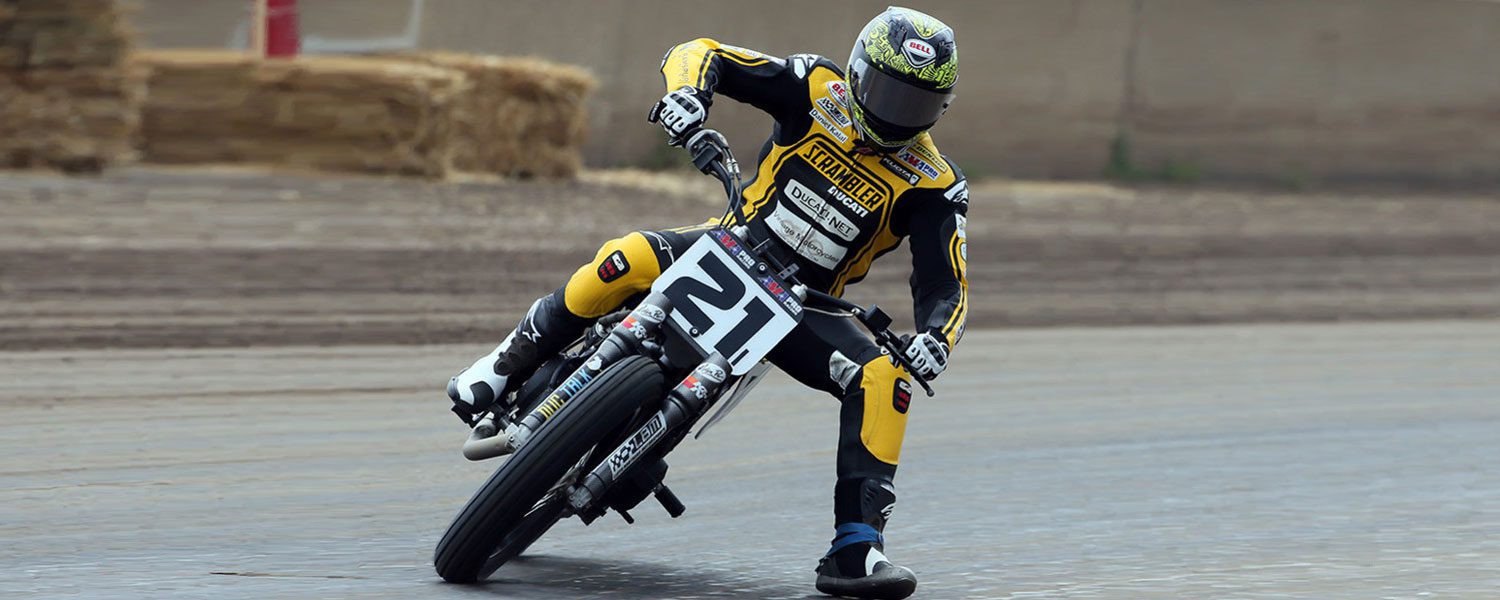 Courtesy of AMA Pro Racing
Round 4 of the AMA Pro Flat Track season at the Sacramento Mile on Saturday, May 30, is the first West Coast event of the season and the only Mile run in the Western part of the country in 2015. Fans can tune-in and catch every second of FansChoice.tv coverage from the Cal Expo Fair in Sacramento, Calif., by visiting https://www.fanschoice.tv/watch-live/ama/flat-track.
Bryan Smith will look to win his fifth straight Sacramento Mile in the elite Harley-Davidson GNC1 presented by Vance & Hines class. The No. 42 Crosley Radio Kawasaki rider has not lost at the California circuit since the race returned to the AMA Pro Flat Track schedule in 2011. Three-time World Superbike champion Troy Bayliss will make his second appearance aboard the No. 21I Lloyd Brothers Motorsports Scrambler-inspired Ducati, and he'll look to build off of the momentum he gained at Springfield after improving his lap times in each on-track session.
In GNC2, No. 67M Davis Fisher will try to extend his points lead, while No. 11Z Andrew Luker will attempt to get back on track with a strong performance in his home state.
FansChoice.tv Live Streaming Schedule for Saturday, May 30 at the Sacramento Mile:
Practice/qualifying: 2:15 p.m. PT (5:15 p.m. ET)
Exclusive pre-race show: 4:30 p.m. PT (7:30 p.m. ET)
Opening ceremonies: 6 p.m. PT (9 p.m. ET)
Heat races: 6:45 p.m. PT (9:45 p.m. ET)
GNC2 main: 8:55 p.m PT (11:55 p.m. ET)
GNC1 main: 9:25 p.m. PT (12:25 a.m. ET)
For Australian viewers, practice and qualifying begin at 7:15 a.m. AEST with the pre-race show scheduled for 9:30 a.m. AEST. Heat races are set to begin at 11:45 a.m. AEST with the GNC1 main slated for a 2:25 p.m. AEST start.
How to Watch:
FansChoice.tv is the official home for live streaming coverage of AMA Pro Flat Track events. The site also provides coverage of IMSA's development and single-make series, and NASCAR's touring and weekly series.
Learn more FANSCHOICE.TV TUNE-IN ALERT: HIGH-DEFINITION LIVE STREAMING OF SATURDAY'S SACRAMENTO MILE on VANCE & HINES NEWS