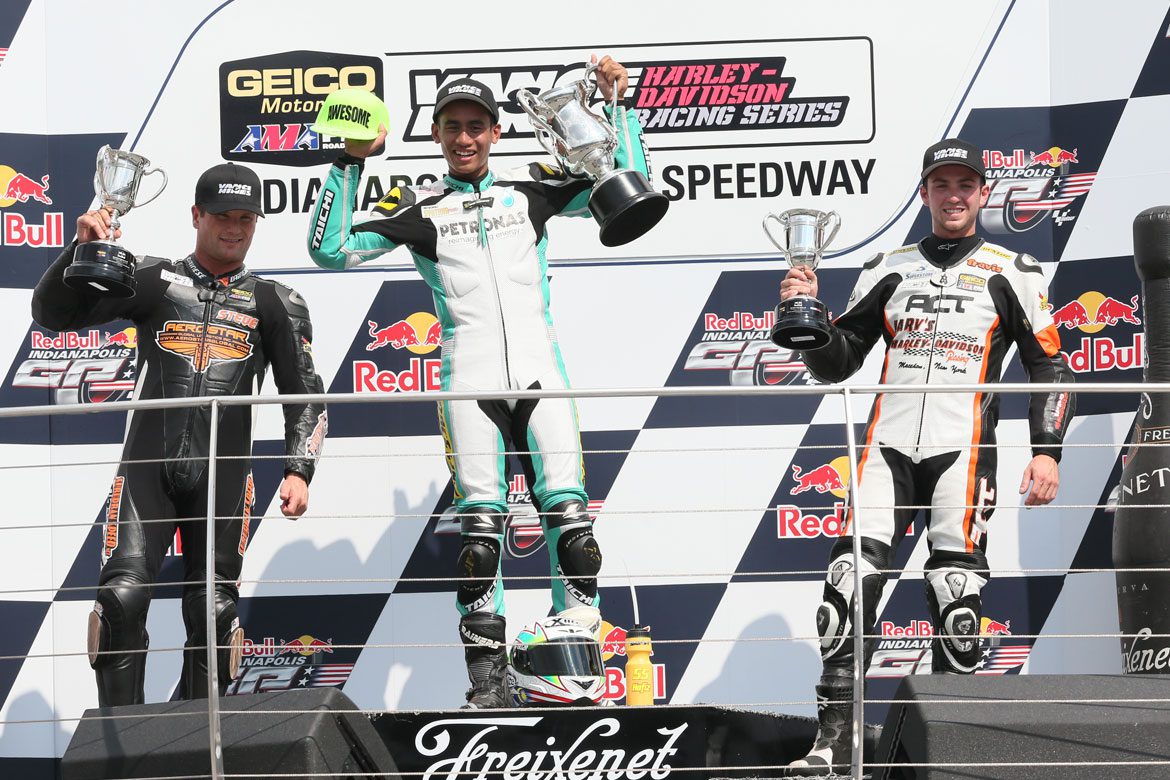 Courtesy of AMA Pro Racing
Round 3 of the 2015 AMA Pro Flat Track season at the legendary Springfield Mile on Sunday, May 24, promises to be one of the most exciting and memorable events in recent memory. Fans can tune-in and catch every second of FansChoice.tv coverage from the Illinois State Fairgrounds in Springfield, Ill. by heading over to https://www.fanschoice.tv/watch-live/ama/flat-track.
The eyes of the world will be on Springfield as Australian road racing legend Troy Bayliss will make his much-anticipated AMA Pro Flat Track debut aboard the No. 21I Ducati Scrambler-inspired 1100cc machine against defending Grand National Champion Jared Mees on the No. 1 Harley-Davidson, No. 42 Bryan Smith, No. 2 Kenny Coolbeth Jr., No. 6 Brad Baker and the rest of the Harley-Davidson GNC1 presented by Vance & Hines field in one of the most iconic races on the AMA Pro Flat Track schedule.
In the GNC2 class, No. 11Z Andrew Luker will try to extend his points lead, with No. 14A Dalton Gauthier and No. 67M Davis Fisher hot on his tail when the up-and-coming stars of the sport compete on twins for the first time in 2015.
FansChoice.tv Live Streaming Schedule for Sunday, May 24 at the Springfield Mile:
Practice/qualifying: 10:15 a.m. CT (11:15 a.m. ET, 8:15 a.m. PT)
Exclusive pre-race show: noon CT (1 p.m. ET, 10 a.m. PT)
Opening ceremonies: 1 p.m. CT (2 p.m. ET, 11 a.m. PT)
Heat races: 1:30 p.m. CT (2:30 p.m. ET, 11:30 a.m. PT)
GNC2 main: 3:30 p.m CT (4:30 p.m. ET, 1:30 p.m. PT)
GNC1 main: 4 p.m. CT (5 p.m. ET, 2 p.m. PT)
For Australian viewers, practice and qualifying begin at 1:15 a.m. AEST with the pre-race show scheduled for 3 a.m. AEST. Heat races are set to begin at 4:30 a.m. AEST with the GNC1 main slated for a 7 a.m. AEST start.
How to Watch:
FansChoice.tv is the official home for live streaming coverage of AMA Pro Flat Track events. The site also provides coverage of IMSA's development and single-make series, and NASCAR's touring and weekly series.
About AMA Pro Flat Track:
AMA Pro Flat Track is a national motorcycle racing series in North America and is considered one of the oldest forms of motorcycle racing. Sanctioned by AMA Pro Racing, the Series is highly regarded as the most competitive form of dirt track racing in the world. For more information on AMA Pro Flat Track, please visit www.amaproracing.com/ft.
Learn more FANSCHOICE.TV TUNE-IN ALERT: HIGH-DEFINITION LIVE STREAMING OF SUNDAY'S SPRINGFIELD MILE on VANCE & HINES NEWS