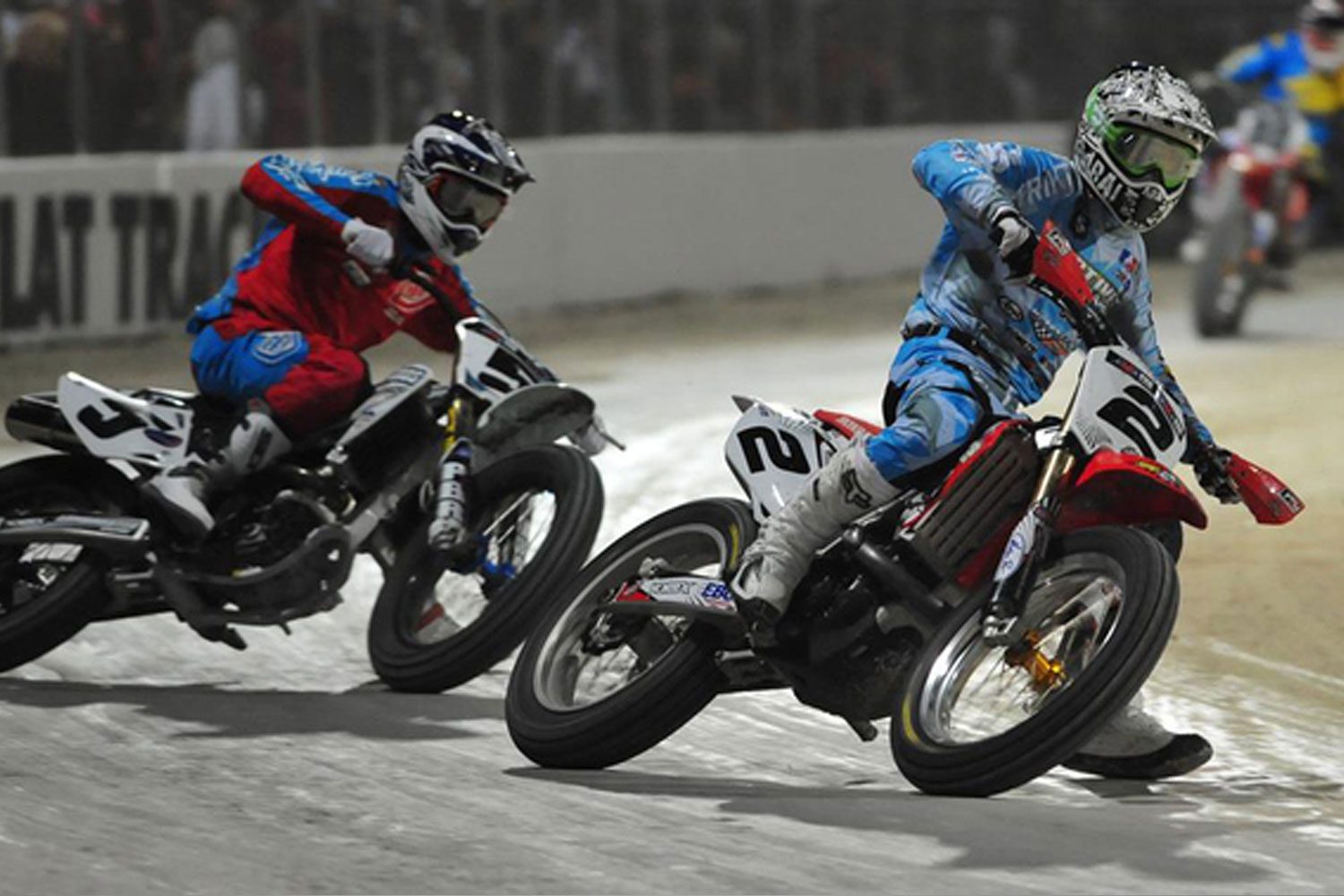 Courtesy of AMA Pro Racing
Don't miss the live online coverage of the opening rounds of the 2015 AMA Pro Flat Track season from DAYTONA Flat Track in Daytona Beach, Fla. Get the rundown below on how to watch practice, the exclusive online pre-show, every heat race and both exciting mains on Thursday, March 12 and Friday, March 13.
Catch all the action, both days here: https://www.fanschoice.tv/watch-live/ama/flat-track
Jared Mees will begin his GNC1 title defense at the "World Center of Racing" against the likes ofBryan Smith, Jake Johnson, Kenny Coolbeth and a field stacked with the best dirt track riders in the world.
Last year's runner-up Davis Fisher leads a pack of hungry up-and-comers in the GNC2 class.
If you miss a race, full replays will be archived on FansChoice.tv throughout the season.
Schedule for DAYTONA Flat Track Rounds 1 and 2:
Practice/qualifying: 3:30 p.m. ET (12:30 p.m. PT)
Exclusive pre-race show: 6:15 p.m. ET (3:15 p.m. PT)
Opening Ceremonies: 7:30 p.m. ET (4:30 p.m. PT)
Heat races: 8:00 p.m. ET (5:00 p.m. PT)
GNC2 main: 9:40 p.m. ET (6:40 p.m. PT)
GNC1 main: 10:10 p.m. ET (7:10 p.m. PT)
How to Watch:
FansChoice.tv will be the official home for live streaming coverage of AMA Pro Flat Track events in 2015. The site will also provide coverage of IMSA's development and single-make series, and NASCAR's touring and weekly series.
Learn more FANSCHOICE.TV TUNE-IN ALERT: LIVE STREAMING OF SEASON-OPENER AT DAYTONA FLAT TRACK on VANCE & HINES NEWS