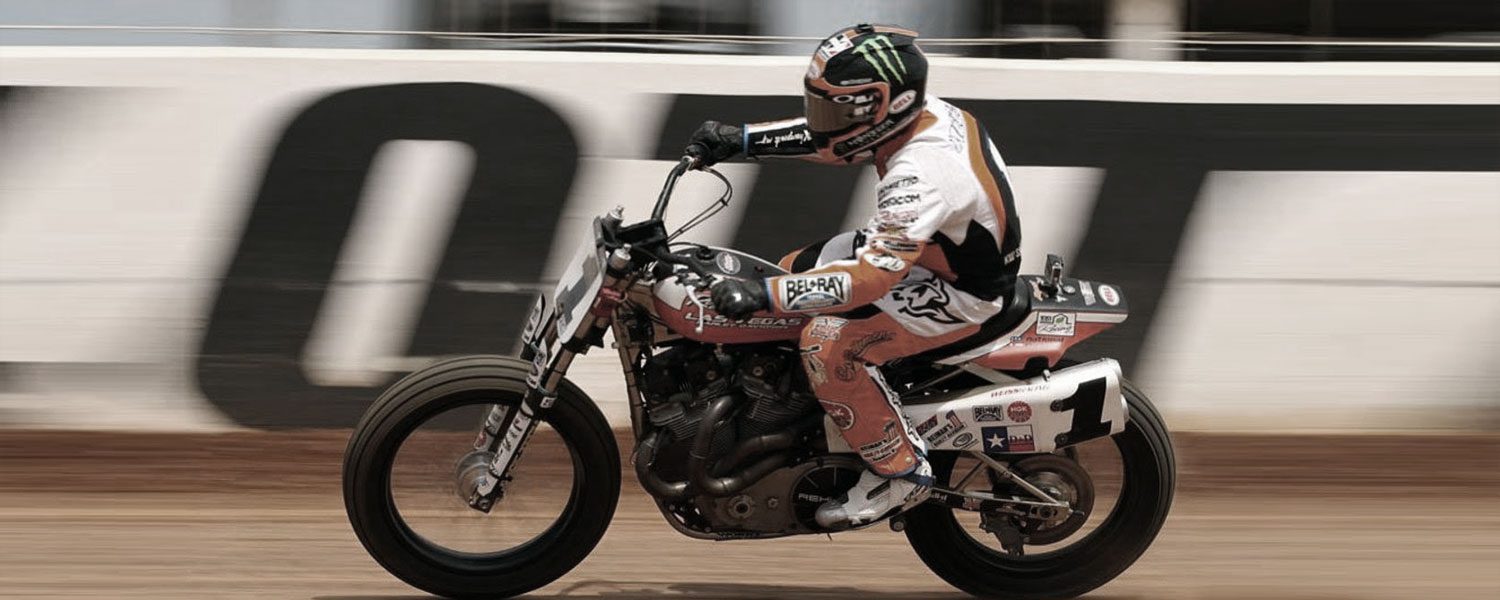 Flag-to-flag television coverage of the final five rounds of the AMA Pro Flat Track season will be aired on MAVTV as part of the Suzuki Presents SPEED SPORT television series. The Don Tilley Memorial Charlotte Half-Mile will kick off the fall run of programming on Thursday, Sept. 24 at 7 p.m. ET/PT and re-air at 10 p.m. ET/PT.
The one-hour broadcasts will feature highlights from the heat races, semis, Dash for Cash, as well as main event coverage for both AMA Pro Flat Track classes. To conclude each show, the Harley-Davidson GNC1 presented by Vance & Hines main will be featured in flag-to-flag coverage.
The media arm of SPEED SPORT will expertly repackage footage originally captured during the FansChoice.tv live streaming broadcasts, adding race commentary by Ralph Sheheen and Scott Russell.
"We're thankful to the folks at SPEED SPORT for giving the stars of AMA Pro Flat Track the opportunity to be showcased on MAVTV," said Michael Gentry, Chief Operating Officer of AMA Pro Racing. "With the quality live streaming production delivered through FansChoice.tv and the broadcast distribution with SPEED SPORT on MAVTV, we're working hard to deliver the excitement of AMA Pro Flat Track racing to the fans in as many ways as possible."
"We're excited to once again partner with AMA Pro Racing to bring some of the most exciting racing in the world to MAVTV," said Ralph Sheheen, president of National Speed Sport News and the voice of Suzuki presents SPEED SPORT on MAVTV. "Last year we were able to put AMA Pro Flat Track racing in front of MAVTV's devoted motorsports audience and to be able to do that again this year beginning with the Don Tilley Memorial, which was held in our backyard in Charlotte, N.C., is a great honor. We're looking forward to giving riders like Kenny Coolbeth Jr., Jared Mees, Bryan Smith and more the recognition they deserve on Suzuki Presents SPEED SPORT on MAVTV. We can't wait to get started."
The remaining rounds on the 2015 AMA Pro Flat Track calendar will also be included as part of the SPEED SPORT television series on MAVTV. A complete schedule of the MAVTV airdates is listed below:
9/24/2015 – Don Tilley Memorial Charlotte Half-Mile (Charlotte Motor Speedway)
10/8/2015 – Springfield Mile II (Illinois State Fairgrounds, Springfield, Illinois)
11/5/2015 – Roar on the Shore (Delaware Int'l Speedway, Delmar, Delaware)
11/19/2015 – Calistoga Half-Mile (Calistoga Speedway, Calistoga, California)
12/17/2015 – Flat Track Season Finale (Orleans Hotel & Casino, Las Vegas, Nevada)
Next up for AMA Pro Flat Track, the series heads to the Illinois State Fairgrounds this Sunday, Sept. 6 to take on the legendary Springfield Mile. For tickets and more information, fans are encouraged to call 217-632-0277 or 217-753-8866.
Learn more FINAL FIVE ROUNDS OF 2015 AMA PRO FLAT TRACK SEASON TO BE AIRED ON MAVTV AS PART OF THE SUZUKI PRESENTS SPEED SPORT TELEVISION SERIES on VANCE & HINES NEWS